It's true bypass to ensure signal path integrity and when the tuner is engaged your output is muted. The EHX-2020 can be calibrated to a reference standard of 436 to 445Hz in 1 Hz steps so being able to tune to and play together with instruments t... read more
CHECK PRICE ON
Reviews
Trusted musician and artist reviews for Electro-Harmonix EHX-2020 Tuner Pedal
2.0
Based on 1 Review
Doesn't work with a looper
I wanted to replace my Boss TU-3 with this because of the smaller footprint. Unfortunately, the EHX-2020 wouldn't pick up a signal from my tuner output on my looper. Seriously disappointing. Still a solid tuner, but you have to plug straight into it.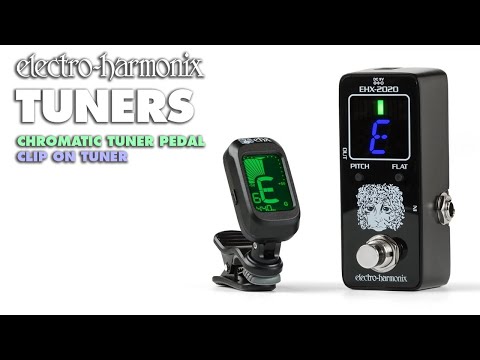 EHX-2020 Chromatic Tuner Pedal & Clip-on Tuner
Description
It's true bypass to ensure signal path integrity and when the tuner is engaged your output is muted. The EHX-2020 can be calibrated to a reference standard of 436 to 445Hz in 1 Hz steps so being able to tune to and play together with instruments that might not be at 440Hz is not a problem. It has a wide tuning range of B0-B7, plus three flat tuning modes so you can tune down ½ step, a whole step or a minor third.