Ultimate Guitar/Bass Tuner. Gives you 7 different tuning modes including Regular, Flat, Double Flat and Chromatic mode. This Behringer product has been designed to compete head-to-head with leading products on the market. Precise 7-segment LED and... read more
CHECK PRICE ON
Reviews
Trusted musician and artist reviews for Behringer TU300 Chromatic Tuner
3.5
Based on 18 Reviews
Good Little Tuner
Great basic tuning pedal. I just wish it would explain a few things better such as what the different "modes' are.
hasta el momento se ha portado bien, peor es un pooc lento sobre el escenario, quizás lo cambie luego
hasta el momento se ha portado bien, peor es un pooc lento sobre el escenario, quizás lo cambie luego
A tuner
I only replaced this because the Boss TU-3 has a more granular display, it tunes a guitar.
worth the money
totally worth the money, works perfectly
Simple Tuner (most of the time)
I bought this little inexpensive tuner mainly to cut the feed from my guitar and my loop station on the fly, just incase I needed to unplug and change guitars in the middle of a song. The pedal itself is mostly plastic and sometimes creates static noise is bumped. As for the tuning part of it, when it registers the signal, it's very accurate. However, the low E on a standard guitar can be hard for it to pickup. It does however pretty cleanly cut the audio coming through it when it's turned on, which was the whole reason I bought it. So, I can't complain too much.
Basic
I guess you ask for this when you look at the price, but the plastic box is flimsy, the inputs crackle, and most of all it takes ages to read the note you are playing so you can tune... especially on a bass or with drop tunings.
Lots of uses
I often use this as a killswitch, but it is a very accurate tuner and works like a dream for my bass and guitar
Good enough!
It's a pretty good pedal, it gets the job done. The only down sides is that the display is small, but it's not that bad.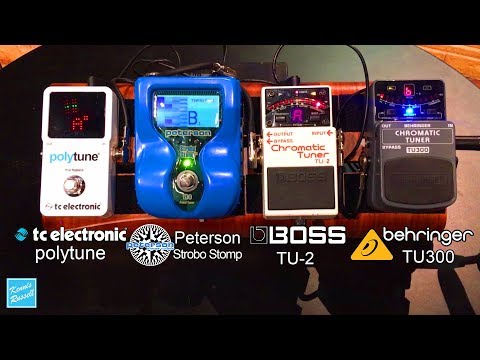 Ultimate Tuner Shootout: Boss TU-2 vs Behringer TU300 vs Peterson VS-S vs TC Electronics Polytune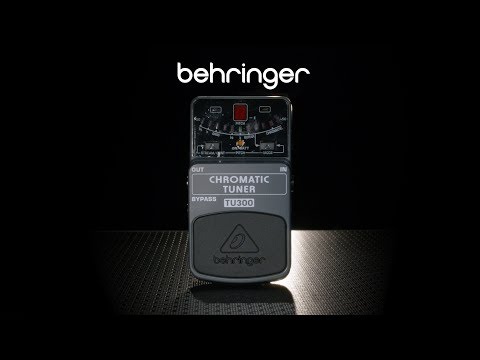 Behringer TU300 Chromatic Tuner | Gear4music demo
Description
Ultimate Guitar/Bass Tuner. Gives you 7 different tuning modes including Regular, Flat, Double Flat and Chromatic mode. This Behringer product has been designed to compete head-to-head with leading products on the market. Precise 7-segment LED and 11-point Stream Meter guarantee accurate tuning. Reference tone adjustable from 438 Hz to 447 Hz. Mute/bypass function for silent tuning. Status LED for effect on/off and battery check. Runs on 9 V battery or the Behringer PSU-SB DC power supply (not included). First-class electronic On/Off switch for highest signal integrity in bypass mode. 3-Year Warranty Program. Designed and engineered in Germany.