Reviews
Trusted musician and artist reviews for DigiTech Hardwire HT-6 PolyChromatic Tuner
4.5
Based on 3 Reviews
Very good
Really like this tuner, does everything you could want for a tuner very well and the polyphonics is really useful!
how does it stack against TC's polytune? that's the original so you need to compare them to have a good review. I know when this came out it was cheaper. How is the display on a dark stage? c'mon man, tuners are essential and finicky, review it!
The coolest thing on your pedal board?
Can a tuner be the coolest piece of gear you own? Most guitarist would probably say no. Guitarists who like quick and easy to use polychromatic pedals that have really pretty and easy to see flashing lights would say yes.
Clean and Easy
The Snarks are fine for tuning onesee-twosees and I generally look to them when on acoustic, but the HT-6 has been indispensable when running through an amp. Running the EVH through this box, and having the precision tuners to dial things in, the HT-6 is perfectly suited to tune the entire guitar in seconds. The foot switch cuts off output signal for tuning in isolation regardless of the ambient noise level. The display is easy read and I love that the full spectrum is displayed. It is worth noting that the HT-6 can also accommodate alternate tunings; however, my Musicman is a PITA when it comes to modified tuning on the fly so I don't use the feature. ~m
NOTE: After time, I've had the center LED drop out on the C chord. I can still tune, but obviously the pedal has some durability issues. I'm not gigging so to say the cause is wear and tear would be laughable.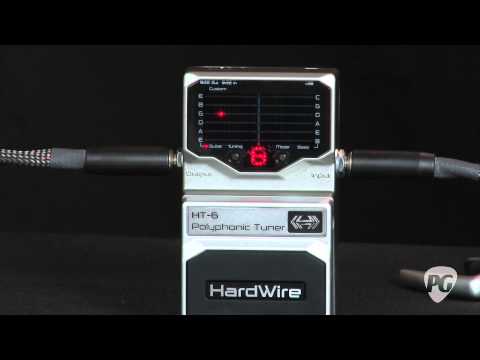 Video Review - Hardwire HT-6 Tuner
Description
Polyphonic chromatic tuner
Tune all strings at once
15 bright LED display per string
Standard, Drop D, and bass tuning modes