PolyTune Clip is here to change all that and bring about a revolution! Combining renowned state-of-the-art tuning technology with unprecedented good looks and functionality, PolyTune Clip gives all electric and acoustic players a tune-up that's un... read more
CHECK PRICE ON
AS FEATURED IN
Recommend Related Items & Pairings
This is where you can recommend to readers an alternative - or gear that goes with - TC Electronic PolyTune Clip. What gear sounds similar, is less expensive, higher-end or boutique, etc.?
ADD YOUR RECOMMENDATION
Best clip on tuner there is
Just pop it out of the box, clip it on and start tuning.
It's really easy to use, it does it's job accurately and best of all it's fairly inexpensive. The polyphonic mode is nice too!
Reliable
I have 3 as they are accurate reliable and take up little space.
Works well on 5 string bass but expensive
So far the only clip tuner I've tried which is responsive to the low B string on a 5 string. But the user needs to toggle this into the bass mode.
Do note the slow boot up time... takes 3-4 seconds.... It's quite long especially during a live set and you wanna tune in between songs. Hence I'd still go for a snark when I need to tune my guitar. It power on instantly.
The LED display flips automatically according to the direction placed. But I prefer a 360 swivel of snark for position to the exact angle. Do note the display panel gets scratched easily.
I will recommend this for 5 string bass guitarists. But for applications such as acoustic/electric/4 string bass, snark offers good value..
Couldn't ask for better.
It's easy to disregard the Polytune Clip as just another clip-on tuner; this couldn't be more wrong. I own the original Polytune and have been using it for years. It does everything from capo-focused guitar tunings to low bass tunings. This reliability is mostly present in the clip-on. It even outdoes the original PT when it comes to zeroing in on single notes. It has some limitations when it comes to bass (such as not being able to tune multiple strings) but these are mostly functions that I didn't trust my original to do in the first place. For the ones of you who play acoustic or electric guitar and have no interest in a pedal it's really simple: get one.
Everything you could ask for in a dicrete tuner that doesn't take up space on your board.
Worked perfectly straight out of the box, I haven't even looked at the instructions, and the plug-in version came with it free, so I can a polytune on the screen at all times when I'm recording too.
Addicting...
I got the regular, the mini and the clip version. And the iPhone app. It's great. The only con is the addiction to the PolyTune experience, you'll never go back to a standard tuner. And that's not good for your pockets...
Good clip tuner
I have tried a bunch of clip tuners before i got this one. Reliable and mostly sturdy. The clip is awesome because it's made from steel and does not break easily. The part of it i don't like is that the rest of the tuner is made from plastic. And that part of the tuner breaks easily. A bad thing for a live musician. Battery life is nice. The tuning is fine tho the poly side sucks for me because i often use 7 string guitars. It is not good with water or small kids
Probably best clip tuner.
It is quite good, but can have problems with lower tunings and/or the B string. Still other clip-ons that I had were way worse. The display is big and bright
5y
over 5 years ago
edited over 1 year ago
Very responsive, friendly and useful interface
Setting dropped tunings would have been a nice feature for the polyphonic mode –though I don't really care much about it as in fact I just use the strobe mode. Its plastic material seems a little weak/fragile to me. Anyway a really amazing product!
TC Electronic Polytune Clip Tuner Review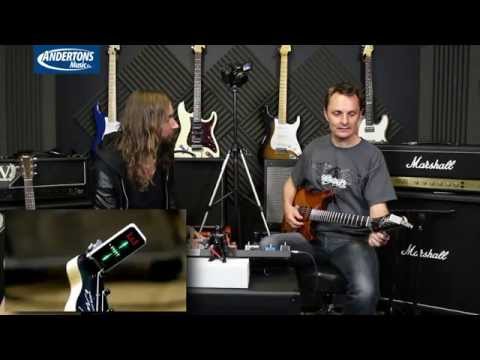 Andertons Exclusive! TC Electronic Polytune Clip Tuner
Description
PolyTune Clip is here to change all that and bring about a revolution! Combining renowned state-of-the-art tuning technology with unprecedented good looks and functionality, PolyTune Clip gives all electric and acoustic players a tune-up that's unmatched in speed, precision, flexibility and refinement. With the adaptive display, even left-handed players or those who may simply want to hide the tuner behind the headstock can use it too. PolyTune Clip is much more than just a clip-on tuner, it's a revolution! Perfectly combining state of the art tuning technology with an unprecedented attention to aesthetics and functionality, PolyTune Clip gives a tune-up that's unmatched in speed, precision and grace. Not only is PolyTune Clip the best PolyTune we've ever made - it's the best tuner by any measure.