The world's top-selling stage tuner, the BOSS TU-2, evolves and improves with the debut of the new TU-3. Housed in a tank-tough BOSS stompbox body, the TU-3 features a smooth 21-segment LED meter with a High-Brightness mode that cuts through the h... read more
AS FEATURED IN
* Product prices and availability are updated by Equipboard every 24hrs and are subject to change. Equipboard may receive compensation for purchases made at participating retailers linked on this site. This compensation does not affect what products or prices are displayed, or the order of prices listed. Learn more here.
Should have just waited and got this from the start. Went with a budget tuner (which works) but is not a pedal. Live and learn. There is a reason this is the industry standard.
great little pedal for quick tuning+power to other Boss pedals
A great little unit that quickly produces results on tuning. Brightness mode is good on most days except very sunny days (display gets a little washed out). TU3 (like TU2) offers several tuning modes and let's you program and save a specific tuning. Additionally, TU3 (like TU2) can be used to supply power to other Boss pedals. Good, straightforward pedal that does exactly what it says.
Just get one.
I mean, what can be said? It's accurate, rugged, has several different modes to choose from, and even has a 9v out to power other pedals. This thing will probably last longer than you will and it's not very expensive. Plus it's buffered so it's great to put in front of the rest of your pedals or even after to keep the signal even. You'll never regret grabbing one of these up, especially for cheap.
Bench Tuner
I used to use the tuner out live before I had a pedalboard. The screw that holds the battery door closed somehow bent and stripped out the whole that it was in, so I have taken a nail and shoved it in there so that it is permanently closed now. This tuner lives on my set up bench now for set up and restrings. I prefer the polytune to these Boss tuners, but it gets the job done on the bench and is built solid, besides that one screw.
Boss Pedal
Don't leave home or hit the stage without it. The standard in tuning
BOSS TU-3 Pedal Tuner Review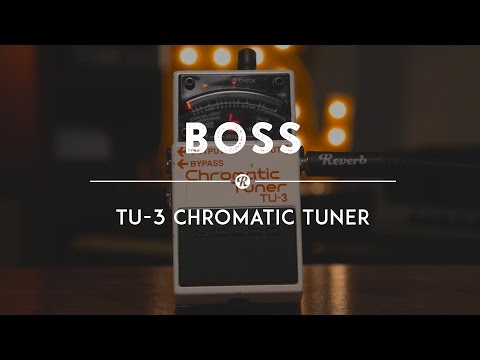 Boss TU-3 Chromatic Tuner | Reverb Demo Video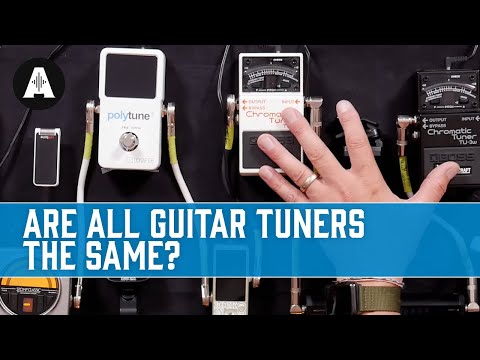 Are All Guitar Tuners The Same?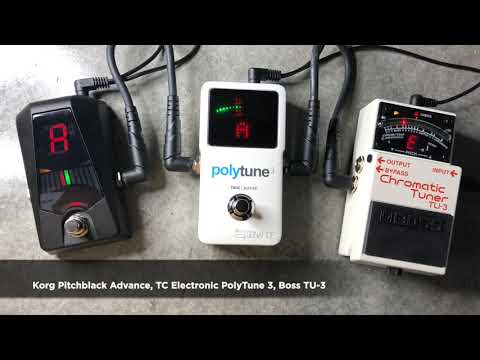 Guitar Pedal Tuner Comparison: Korg Pitchblack Advance vs. TC Electronic PolyTune 3 vs. Boss TU-3
Description
The world's top-selling stage tuner, the BOSS TU-2, evolves and improves with the debut of the new TU-3. Housed in a tank-tough BOSS stompbox body, the TU-3 features a smooth 21-segment LED meter with a High-Brightness mode that cuts through the harshest outdoor glare. Choose between Chromatic or Guitar/Bass tuning modes, and enjoy visual pinpoint tuning verification with the Accu-Pitch Sign function. The TU-3 incorporates a convenient Note Name Indicator that can display notes of 7-string guitars and 6-string basses, while the Flat-Tuning mode can support up to six half-steps. It's the new-standard tuner that no guitarist or bass player should be without!
Specifications
21-segment LED meter with brightness control
High-Brightness mode enhances meter visibility outdoors
Accu-Pitch Sign function provides visual verification when tuning is complete
Chromatic and Guitar/Bass mode (tune by string number, with support for 7-string guitars and 6-string basses)
Flat tuning is supported with Guitar Flat mode, which allows for drop tunings up to 6 semitones below standard pitch
Signal is automatically muted when the tuner is on
Supplies power for up to 7 BOSS compact effect pedals (with optional PCS-20A Cable)
Accessories:
Owner's Manual
Leaflet ("USING THE UNIT SAFELY," "IMPORTANT NOTES," and "Information")
Tech Specs