G-System delivers in a package almost too good to be true. The best of the best effects, complete integration and optimization of your gear and total control over your effects and sounds pedal board. And, the added Massimo Mantovani mod essentiall... read more
CHECK PRICE ON
Great live equipment, kinda oldie for actual standards...
The G System is a great piece of gear, built like a tank and with great options for sound. Not very friendly to use to use at first and it was designed in a time where digital distortion was not good in sound quality terms, therefore the loops to include different distortion pedals.
Pros:
-Great design and sound, very customizable and built to last forever. -The loops are great not only for Dist pedals but any that might be needed. -The presets allow to avoid the tap dance. -Every effect built in can be adjusted from a computer thorugh the USB, also the presets can be backed up and restored.
Cons:
-Effect chain can't be altered -When controlling amp channels from the unit, there's a minor delay between the change, not inmediate. -There's no amp simulation. -Pricy for actual products in the market.
True classic
So much to choose from in terms of effects - love it
Pro Effects at a cost
This was great - all the sounds you would ever want but only worked good with 4 cable. Used by Steve Vai and I used this setup for the 2013 Single "Crash and Burn".
Great gear for the way i use it./ sold it!
i use the clean/crunch and lead sounds from my The Valve 3/100 and the effects from the G System. I use it in the loop. That way it sounds best. Shortly i'm using a Banshee Talkbox which is great, but i can't connect it to the floor board (using the G system in the loop it has to be next to my amp due to cables etc). But i'll work that out.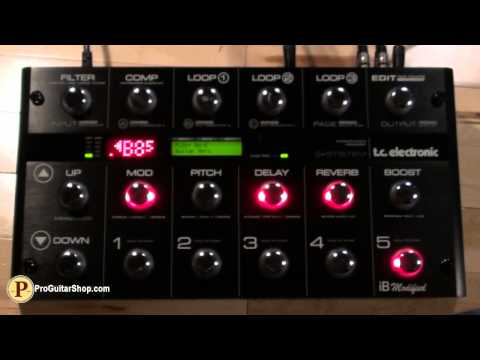 TC Electronic G-System iB Modified
Description
G-System delivers in a package almost too good to be true. The best of the best effects, complete integration and optimization of your gear and total control over your effects and sounds pedal board. And, the added Massimo Mantovani mod essentially optimises the input-design and upgrades a number of components, which results in a super-transparent tone with a very snappy response, added punch and optimal tonal transparency.