Modern and classic stompbox models in a powerful and portable package.
The Line 6 M9 Stompbox Modeler has enough stunning guitar pedal sounds to spark the gear lust in every guitarist-Swirling phasers, tangy choruses, syrupy sweet reverbs, and mo... read more
CHECK PRICE ON
Pass on the DL4 and go straight for the M9.
I was actually shopping for a DL4 and was pointed towards the M9. It takes up roughly the same amount of space on your board as the DL4. It does everything the DL4 does, and also the MM4, the DM4, and some other tasty effects. However, stay away from the distortion (yellow) effects. They are thin, tinny, and feel lifeless. All the other models are fantastic, albeit, not analog. I am finding new, but subtle, ways of using this to keep things interesting for the live performance environment. I highly recommend grabbing at least one expression pedal (you can use 2 for added control) to make full use of the M9. Try this thing, you won't be disappointed.
Great compact stompbox modeler
I love the M9 as it has a very good sound for a digital unit, a lot of effects in a very compact unit. I used it for modulations mostly, but it has very good effects for Delay, Reverb, Filters and synths, Od/Dist/Fuzz and it's not expensive. Whenever you don't need a lot of effects (you can use 3 of any at the same time, in the order you want) in a light unit, it's very useful.
Great pedal, but get the JHV3 mod
Stock, this pedal is awesome. It gives you tons of sounds that work well. However, get the audio mod and switch upgrade from JHV3. The stock switches are on the cheap side. The audio upgrade changes out internal components to higher quality ones and makes a huge improvement. 4 star rating for a stock M9, 5 star for a JHV3 M9.
4y
over 4 years ago
edited over 4 years ago
Ditto X2 made me buy this.
A couple years ago I bought a Blackstar ID 30 and Ditto X2... tried to loop through the ID30 ... epic fail. I try to keep it simple. Needed a good delay & chorus. Hearing about DL 4 decided to look further went to my local store and saw this. I didn't need or want a amp modeler multi effect board, I have the ID 30. Upon learning this was the POD 500 sans amp modeling and it was the DL 4 plus it was a workable solution to use with the Ditto X2.
While I have a low opinion of Line 6 in general, I bought it. What can I say, Delays are excellent and love the idea you can stack multiple delays... Or any effects. Easier than TC Electronic Flashback or Flashback Mini. You can set up multiple delays (effects) which beats bending over and setting and resetting for different songs.
Modulations are great too. Distortions sound a little thin but usable though I would not use them for serious performing or recording but, good enough for looping. Filters ...don't use them but nice to have should you need them. Reverbs are good. The 30 second looper is not bad either.
If I were to use one pedal this would be it. Build seems solid though I have read players have had issues with switches. Power supply is clunky. There are many effects to pull from if you need it most you will never use unless your name is Zappa. Foot print is about the same size as the DL 4 so for $100 more why not.
Use it in front of everything.
Surprised by how good this thing sounds, I use it all the time
5y
over 5 years ago
edited over 1 year ago
Excellent but still (just) a Line6
The M series are an amazing collection of effects and a very refreshing change from the typical multi fx board where you have to use the built in amp sims and cab sims. It is without a doubt a feature packed unit with very good sounding classic effects and some innovative ones also, however it is obviously guitar oriented since it misses some basic Bass effects. In the end, it is still just a Line6 unit and, although not bad, tracking for pitch shifting effects is nowhere near an Eventide for instance. Another limitation is the MIDI out port that does not have MIDI through implemented and is not programmable. A couple more turnings to the software and Line6 could sell an update that would turn the unit into a MIDI controller but they preferred to abandone the M series development.
It's great.
I use it mainly for delays and reverbs. It's a great unit, but you need to spend time tweaking around.
3y
about 3 years ago
edited 9 months ago
Suits some situations.
This is a great idea if you need to save space. Ideal for pit work or very tight stages. The effects are great and varied, there are even effects you will get no where outside of vintage pedals, seek wah comes to mind. The inbuilt looper is effective, not perfect but it works well. This system also makes sense for the casual player at a lower price than many other systems it is well worth it if you want lots of good quality pedals in a small space.
5y
over 5 years ago
edited over 5 years ago
the best thing i've purchased
Go for it if you want awesome delays, reverb, modulations and experimental crazy stuff.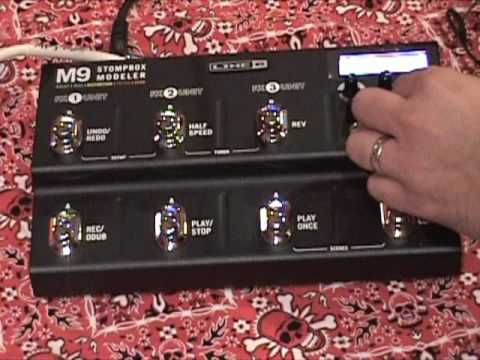 Line 6 M9 Stompbox Modeler guitar effects pedal demo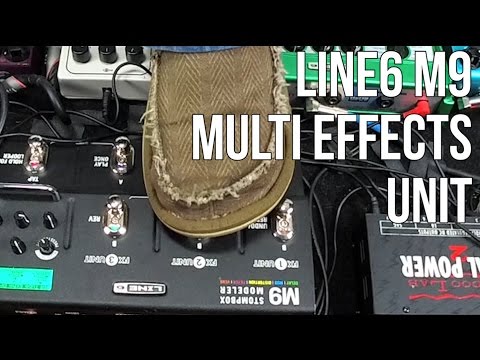 Guitar Gear Videos - Line6 M9 Demo multi effects unit for guitar - Marty Schwartz Gear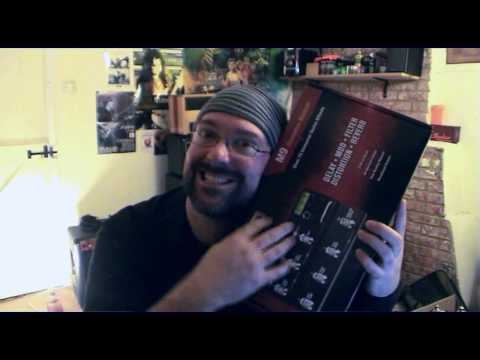 Sonicstate Line 6 M9 Stomp Modeller
Description
Modern and classic stompbox models in a powerful and portable package.
The Line 6 M9 Stompbox Modeler has enough stunning guitar pedal sounds to spark the gear lust in every guitarist-Swirling phasers, tangy choruses, syrupy sweet reverbs, and more. The comprehensive list of available M9 models features all the effects from best-selling Line 6 pedals. Access all the famous sounds from DL4 Delay Modeler, DM4 Distortion Modeler, FM4 Filter Modeler, MM4 Modulation Modeler, Verbzilla, Echo Pro, and more.
M9 Stompbox Modeler is set up like three FX units. Each effects unit can have two stomps at the ready, and any three effects can play simultaneously. Use one effect at a time, arrange effects in tried-and-true combinations, or create your own original blends.
Use the Line 6 M9 Stompbox Modeler to create 6 different stompbox arrangements, or pedal board "scenes"-one for your metal band, one for your punk band, one for your Top 40 gig-you get the picture. No more tearing up Velcro just to switch out one or two pedals. Plus, the Line 6 M9 pedal features MIDI in/out, for you to back up your scenes to your computer or control the unit with a MIDI controller.
Inspired by the simplicity of classic stompboxes, the Line 6 M9 guitar effects pedal is incredibly easy to use. Tweak your tones on the fly using the dedicated knobs and easy-to-read LCD window. Just turn the knobs and you're done-no menus, no saving, no hassles-and your tweaks remain, even after you power down.
Complete with a full-featured, 28-second looper, Line 6 M9 Stompbox Modeler allows for extended in-the-moment looping. It has all the necessary looper controls with dedicated footswitches to make looping easy: Record, Record/Overdub, Play/Stop, Play Once, Undo/Redo, Half Speed and Reverse (The looper can be used simultaneously with the three FX Units.).
The Line 6 M9 multi effect pedal features plenty of ins and outs. 1/4" mono/stereo inputs and outputs (with True Analog Bypass or DSP Bypass) let you put M9 Stompbox Modeler before, after, or between your other pedals. Connect expression pedals to the two 1/4" expression pedal jacks to morph smoothly between tones. MIDI in/out, which is perfect for backing up your "scenes", also makes the Line 6 effects pedal compatible with many popular MIDI control systems.
The Line 6 M9 guitar pedal is built tank-tough with all-metal construction. From the chassis to the footswitches, M9 withstands constant stomping. Together with its built-in chromatic tuner, the Line 6 M9 Stompbox Modeler's generations of sonic treasures and brain-dead-simple design will prove indispensable-not to mention highly addictive.
Check the Line 6 website for software updates that increase the power of your M9 Stompbox Modeler
Specifications
100+ stompbox effects, three simultaneous with three more at the ready
Create up to 24 pedal board scenes; Scenes back up to your computer via MIDI in/out
28-second looper with dedicated footswitches
Universal Tap Tempo syncs all time-based FX
MIDI control system compatibility
True analog bypass or DSP bypass
Built-in chromatic tuner
Plenty of ins and outs; 1/4" mono/stereo inputs and outputs; Two 1/4" expression pedal jacks; MIDI in and out
Popular Multi Effects Pedals