A single stompbox that eliminates the need for huge pedal boards and multi-effects pedals.
Zoom's MS-50G MultiStomp Guitar Pedal is the first of its kind. It offers the power of a multi-effects pedal and flexibility of an amp modeler in a singl... read more
Recommend Related Items & Pairings
This is where you can recommend to readers an alternative - or gear that goes with - Zoom MS-50G Multistomp. What gear sounds similar, is less expensive, higher-end or boutique, etc.?
ADD YOUR RECOMMENDATION
* Product prices and availability are updated by Equipboard every 24hrs and are subject to change. Equipboard may receive compensation for purchases made at participating retailers linked on this site. This compensation does not affect what products or prices are displayed, or the order of prices listed. Learn more here.
Great value swiss army knife pedal
This hits the spot in ways most multi effects units fall short. I love the interface, really intuitive - I felt like I had mastered it in about 3 minutes. I think the way they have it set up as a virtual pedalboard is genius.
While almost all of the presets are totally goofy (you can delete them all thankfully) and small handful of the effects are equally ridiculous, all of the meat-and-potatoes stuff sounds excellent. Thanks to the editor, you can choose which effects you want stored on the pedal, so you can delete those cheesy ones you hate and never have to scroll past them again. I was really impressed with their emulations of a Boss OD-1/SD-1 (Overdrive) and an Ibanez TS-808 (TS Drive).
With real-world analog pedals I tend to run an overdrive set for clean boost, into a slapback delay, into a subtle reverb pedal, then into the amp. I prefer to run pedals sitting on top of my amp instead of on the floor, just less stage clutter. Trying to find good-sounding and reliable pedals in a compact format to make this possible is tough without spending an arm or a leg. This pedal allowed me to condense that whole setup into a single unit, for about the price of one decent delay pedal.
All in all, I'm extremely happy with this pedal - now I have my live tone in a single grab-and-go box.
this is your new best friend
This is the kind of guy who saves your wallet while giving u loads of fun, cheap fx (there are some effects that are not so good, but it has really good reverbs, delays, distortions...), a pc editor (saving u some time dialing, saving and renaming stuff) can stack up to 6 fx (and sometimes only 2 becasuse some reverb and delays are bigger than the other fx for the processor) and fits anywhere in your pedalboard or as a standalone pedal.
It Does It All
...but with varying degrees of success.
It's a great toy for someone who wants access to a box full of effects (170 or so at last count), but there is no emulator in there that will sound as good as the thing it's trying to copy. Usually it's not even close.
Every time I play with it I forget how to use the mixed up interface of death and end up using it in the most simple way with one single pedal (if can stack 6 pedal emulations if you use it enough to remember how to work the dynamic interface buttons).
Not for serious work, but great as a toy to discover what you can do and where you need to go.
Awesome rockin' robot
This pedal is unbelieveable. If you're totally anti-digital, stop reading right now.
To the open-minded, effects addicted guitarrist, read my words: This is an awesome pedal. It will take more than 1 month to figure out how to use everything inside this pedal and it's a jack of all trades. Everything inside it is useful: I was able to go from Gilmour, through Lifeson and all the way to the 2000's metal with the effects inside this. Awesome pedal for tone-seeking. Period.
PS: If you're a new guitarrist, this is for you as well, because it's got pretty much everything you're going to need to discover your own style and sounds.
The Best Swiss Army Pedal
Great for filling in that whatever pedal on your board. Amp sims and dirt boxes are just okay, but everything else is amazing! Delays self-osc, modulations and filters are great, even has Univibe and Leslie. Must have for working musician.
Swiss army knife
I use this more in the studio for odd sounds. I use the octave down for my bass sounds along with its various amp models and i use the POG effect mixed with the rotary speaker and reverb to create organ sounds.
25d
25 days ago
edited about 18 hours ago
I like these so much I bought 2 of them.
I ignored these things for years. Too much gear around to worry about a Zoom Multistomp. I used a Boss GT100 alot (and still do), and also have a Boss GT1000, and just returned a Zoom G11. I wanted a SMALL multi I could stick in my guitar case and use for a guitar preamp, tremolo and reverb, and also had a tuner. This delivers. You can easily download more effects on this (links are all over).
Sometimes I use it in my amps effects loops, other times I use it in front of my (mostly) Fender amps sans loops. Or, I use it with a Whirlwind and plug it directly into a XLR into the board. Almost always clean, I use use a Fender Twin type preamp, one of the various reverbs (but usually Spring), and tremolo. I set it up to where I can footswitch the tremolo on and off, but I can also make a couple patches and cycle through them. I usually don't bother since all I really need is one core tone for most of my sets.
Normally I'll have one of the floor running into a Fender Princeton Reverb (which has it's own reverb and tremolo that sounds great), and use it for the tuner and like a Univibe or Delay. If I have 2 amps, I can run it stereo and ping-pong which sounds pretty cool in a small church. I doubt it would work that great in large venues but I mostly play small churches, nursing homes (where nobody really cares about tone), and the like .
The other one I stick on a portable music stand since that's the one I'll be cycling through to get different effects. These are small normal sized pedals but it would be great if they figured out how to stick a XLR jack on them, and maybe another jack (like the MS70 has) to run another controller with a couple extra switches on it. The MS70 does it since it's stereo through, this one isn't.
At home I use an adapter to power them, but when I'm playing out I just use rechargable ni-cad batteries so I can stick them whereever I want and have one less thing to worry about.
My second MS-50G is actually the MS-70CDR with stereo inputs and outputs that feed from the MS-50G which is the one I ALWAYS use.
Not all the sounds are absolutely great, but enough of them are to easily justify the price. Especially for what the go for used. I primarily play jazz, gospel, and old country. So for me, the compressor, reverb, tremolo/vibrato/vibe, tuner, phaser is worth the price of admission. Once it's set up it keeps me from lugging one of the big multieffect units or a bunch of pedals. And all for not for much more then a decent tuner costs.
Sweet Little Unit
Too many buttons, weird to get used to programming because sometimes this button is used for scrolling, sometimes it's a different button, etc. Other than that, I like everything about it.
Useful inexpensive pedal
Great multi-function pedal. Some patches are not bad. Zoom had recently released firmware update V3.0 which unlocks up to 172 effects. https://www.zoom-na.com/news/firmware-update-v30-ms-50g
Value for money and useful in situations when user has limited pedalboard space.
2y
over 2 years ago
edited about 1 year ago
Wide palette of possibilities
Using it mainly for temporary solutions and figuring out stuff I need - very good quality for that price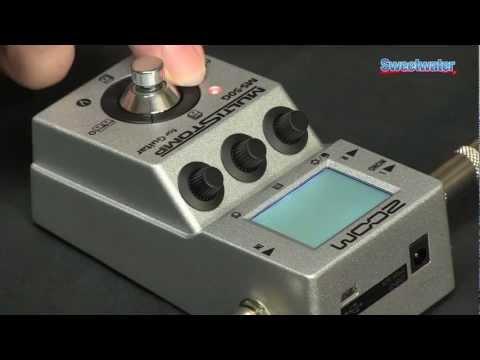 Zoom MS-50G Guitar Multi-FX Pedal Demo - Sweetwater Sound
ZOOM MS-50G Multi Stomp Review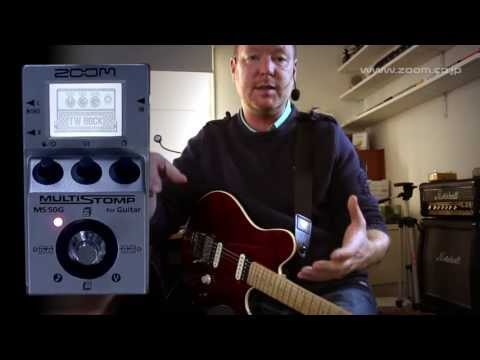 Zoom MS-50G Multistomp : (Part 1) General overview as direct device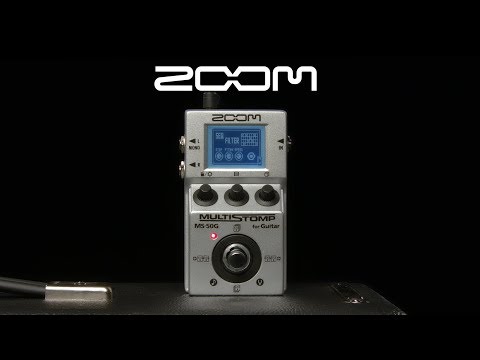 Zoom MS-50G MultiStomp Pedal | Gear4music demo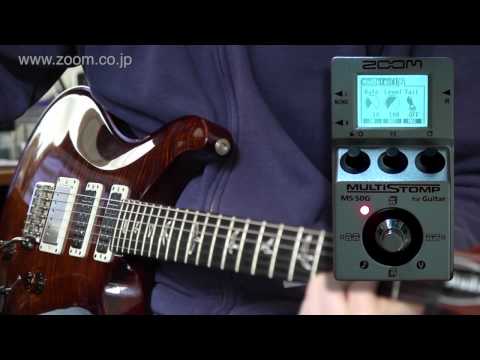 Zoom MS-50G Multistomp : (Part 3) The MS-50G as regular stompbox
Description
A single stompbox that eliminates the need for huge pedal boards and multi-effects pedals.
Zoom's MS-50G MultiStomp Guitar Pedal is the first of its kind. It offers the power of a multi-effects pedal and flexibility of an amp modeler in a single stompbox design. With 55 classic stompbox effects and amp models, easy-to-use interface, auto-chromatic tuner and versatile power options, guitar players will be astonished with how much this single stomp offers.
With the size and weight of a typical single stompbox, the MS-50G includes a thorough lineup of high-quality effects types. It features 47 stompbox effects and 8 amp models. Along with distortion, reverb, modulation and other classic effects, its amp models simulate some of the most prized pieces of live and studio gear.
The LCD shows the current effect in use, while the scrolling function allows you to easily view the flow of your effects chain. With this intuitive, easy-to-use interface, creating amazing sounds is a breeze.
The MS-50G allows you to utilize up to six effects simultaneously, as well as arrange them in any combination. This gives you the ability to craft classic sounds, as well as lush, complex tones. Leave the rules you learned behind and enjoy creative freedom with the MS-50G.
Add 55 effects to your pedal board
Cut down the size of your pedal board by adding in MS-50G to the mix. From a single pedal, you'll have 55 effects types waiting at your feet to be called-up no matter have often you need them.
Tweak your settings with ease
The MS-50G's front panel features three parameter knobs, which also function as buttons. These buttons can be used to open various menus, where you can then use the parameter knobs to tweak your effects settings to your liking. Remove and/or rearrange effect units, turn the AUTO-SAVE function ON and OFF, recall patches and more with ease and efficiency.
Realistic, high-quality audio design
The cutting-edge ZFX-IV DSP processor can execute sophisticated algorithms using 32-bit floating-point calculations. A sigmoid curve clipper helps create the smoothly clipped waveform characteristics of tubes, providing the most realistic modeling sounds and richest harmonic components to date.
Onboard auto-chromatic guitar tuner
Hold the footswitch down to activate the built-in chromatic tuner in an instant. Even on stage during a performance, all you need to do is move your foot to enable tuning. You can choose between a BYPASS mode that turns all the effects off and a MUTE mode that allows you to tune silently.
Tap the tempo using the footswitch
Use the Tap Tempo feature to set the tempo in real-time to the rhythm of a song as you play guitar. You can also use it to for delay times and modulation effect frequencies.
* The tuner cannot be used when the tap tempo function is active.
Program the order of your patches
With the MS-50G, you can program which patches are recalled and the order in which they appear. For example, you could select three patches-(?) CLEAN TONE, (B) HEAVY RIFF and (C) LEAD SOLO-so that you can cycle through them each time you press the footswitch. You can create and save up to 50 original tones in this way.
Presets that are available right-out-of-the box
The MS-50G includes 30 preset patches that can be used to get great guitar tones the moment you open the box. These patches offer a wide variety of guitar sounds that use famous stompbox/amp models and settings. You can use these.
Support for line recording
In addition to the 8 amp models from the G3 and G5, studio-level compressor and reverb effects are also built in to the MS-50G. The pedal's stereo output jacks allow you to use line connections for direct recording of its powerful guitar sounds.
Output modes for stage and studio
Different output modes for the amp modeling function allow you to optimize the MS-50G's tones based on how you connect it to your rig. In addition to having modes for the front inputs of combo and stack amps, the MS-50G can be used as a preamp when connected to a power amp input. You can also achieve realistic amp sounds optimal for recording by selecting the direct mode for line connections.
7 hours operation on batteries
Using two AA alkaline batteries, you can operate the MS-50G for up to 7 hours continuously. From rehearsal to the main stage, you can use the MS-50G with confidence. Power the pedal via AC adapter (sold separately) or USB bus, if you want to use it longer without worrying about battery life.
Stay up-to-date via USB
When connected to your computer and Zoom's website via USB, you can perform system firmware updates to keep the functions of your MS-50G on the cutting-edge.
Specifications
Single stompbox design
Easy-to-use interface includes LCD, footswitch, and analog-style cursor keys/parameter knobs
55 effects types (47 stompbox effects, 8 amp models) can be used in any combination
Use up to six effects simultaneously
30 preset patches ready for immediate use
Create and store up to 50 original patches
Integrated auto-chromatic tuner
Tap tempo function
1/4-inch input jack, two 1/4-inch output jacks
Up to seven hours of operation using two AA batteries (included)
Tech Specs
Popular Multi Effects Pedals