Boss ME-80 Guitar Multiple Effects
CHECK PRICE ON
AS FEATURED IN
Reviews
Trusted musician and artist reviews for Boss ME-80 Guitar Multiple Effects
4.5
Based on 22 Reviews
Low End Emulation
I owned the Bass version of this pedal for about a month. It's sound was so cheap and digital I didn't want to even use it. You are VERY limited to what effects you can use in sequence. Some of the more popular effects like Distortion, Flanger, Delay, Chorus, etc can be on the same pontentiometer. This means you have to pick which ONE you want to use at that time. The quality of each effect is very poor.
There are other entry level multi-effects pedals that do a much better job. The Digitech BP200 is a fraction of the price and with the right settings you can almost overcome the digital sound. BP200 have much stronger distortions and due to it being digital, you don't have to pick 1 effect at a time.
Not what I was expecting...
Having previously owned the ME-50, I had really REALLY high hopes for the ME-80. I'll keep this short and sweet. Maybe I got a dud? Who knows??
Features-wise, this thing is jam packed to the gills with everything that you could ever need in the studio, or at a gig. It's super easy to use and extremely versatile. Tone-wise... it left much to be desired. I remember my ME-50 sounding crisp and clear, and very close to the pedals it was emulating. The ME-80 however, sounds more boxy and compressed on nearly every setting.
Like I said, maybe I got a dud. Here's to hoping I did. For $300, I expected better sound quality. Would be nice if BOSS included an AC Adapter. Hell, even if they upcharged for it. Still would be better than having to run out and get one when you realize there isn't one in the box.
I sent mine back, and built my own pedal board for half the price...
Compact replacement for a pedalboard? Halfway there...
I used to break my back when I carried my big pedalboard to every gig and practice session. But after I got the Boss Me-80 I do not have back problems anymore. ;) No joking aside. Is it a replacement for my real pedalboard. Yes and no. I have more sounds available with the Boss Me-80 and it fits in my backpack instead of a huge case. But it's just missing something. It's not as rich in sound as my pedalboard, So at bigger venues i will still rely on my pedalboard.
The specs:
AD Conversion 24 bits + AF method AF method (Adaptive Focus method)
This is a proprietary method from Roland & BOSS that vastly improves the signal-to-noise (SN) ratio of the AD and DA converters. DA Conversion 24 bits Sampling Frequency 44.1 kHz Patches 36 (User) + 36 (Preset) Pedals Pedal switch x 8 Expression pedal x 1 Nominal Input Level GUITAR INPUT: -10 dBu AUX IN: -20 dBu Input Impedance GUITAR INPUT: 1 M ohm AUX IN: 27 k ohms Nominal Output Level Gt. AMP OUTPUT L/MONO, R: -10 dBu REC OUT/PHONES: -10 dBu Output Impedance Gt. AMP OUTPUT L/MONO, R: 2 k ohms REC OUT/PHONES: 44 ohms Recommended Load Impedance Gt. AMP OUTPUT L/MONO, R: 10 k ohms or greater REC OUT/PHONES: 16 ohms or greater Connectors GUITAR INPUT jack: 1/4-inch phone type Gt. AMP OUTPUT L/MONO, R jack: 1/4-inch phone type REC OUT/PHONES jack: Stereo miniature phone type AUX IN jack: Stereo miniature phone type USB COMPUTER port: USB type B DC IN jack Display 7 segments, 2 digits LED Power Supply Alkaline battery (AA, LR6) x 6 or Carbon-zinc battery (AA, R6) x 6 or AC adaptor Current Draw 200 mA Expected battery life under continuous use Alkaline: Approx. 7 hours Carbon: Approx. 2 hours
SIZE AND WEIGHT
Width 447 mm 17-10/16 inches
Depth 231 mm 9-1/8 inches
Height 70 mm 2-13/16 inches
Weight 3.6 kg 7 lbs. 15 oz.
Everything a basic guitarist needs.
Massive and endless customization is possible, provides 8 separate pedals and a solid stance for finding ones distinctive tone.
Almost a Pedalboard
This unit is about as close as you can get to using analogue pedals (along with a pedalboard feel) without breaking the bank and buying separate pedals. However, nothing beats using a good old-fashioned pedalboard but I would still recommend this to someone looking to use a lot of effects for a smaller price
the effects sound okay, but the amp and cab modelling is to be avoided at all costs
O'l reliable boss multi-fx
You pretty much have most of the boss analog effects in this beast. Great for gigs and events. With it's countless effects, you can pretty much create tons of your own sound or copy your favorite artist.
Great For Starters
This is a great investment if you're just starting out and don't want to sink a ton of money into a bunch of pedals. First things first the build quality is absolutely solid. The other major perk is having actual knobs to quickly dial in your tones. The reason for my 'mediocre' rating is due to the fact that although this multi-pedal does pretty much everything, it doesn't do any of it particularly well. The distortion and overdrive effects in particular suffer from sounding overly digital, especially at high volumes. I keep it in my chain for some of the delay effects and to fill in gaps here and there.
Easy To use
At first I thought this would be pretty shit, however I didn't have much to choose from with the budget I had at that time, and I wasn't into ZOOM or LINE 6. So I bought it anyways, tried staying positive about it and the strange thing was that, it surpassed whatever ive been looking for, to be frank I was looking for pedals and a pedalboard but I probably would've gotten about 4 legit pedals at max. This, however, was more than anything I could ask for within that budget. it gave me amazing tones, maybe 1 ctl but that's more enough for a pedal of that price. The Preamps sound accurate, a little disappointed on the Compressors I have, but Besides that, I'm definitely satisfied :D
Very good
The amp settings were ok, but everything else was very good. The effects were all perfect, and the build quality was spot on.
5y
over 5 years ago
edited over 5 years ago
aww come on, I've dealt with this exact Boss COSM unit before... give an honest review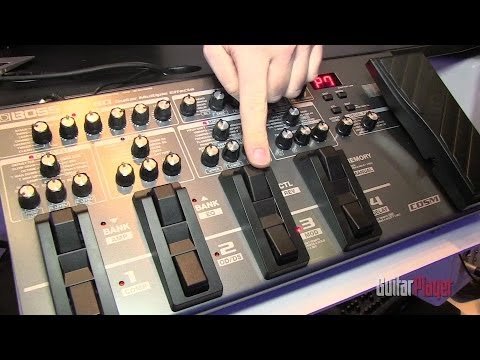 BOSS ME-80 Guitar Multiple Effects [NAMM 2014]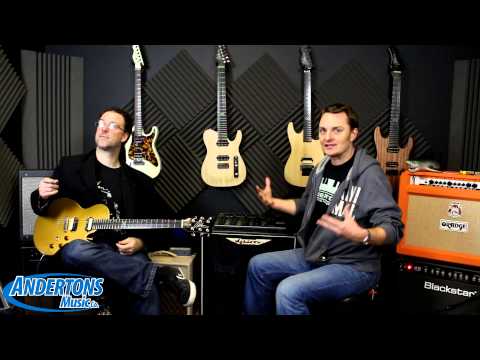 Boss ME-80 Guitar Multi Effects Pedal - Complete Demo!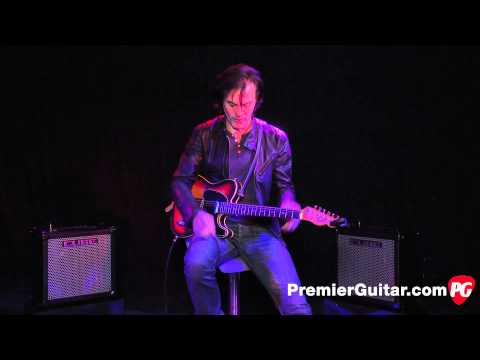 Review Demo - Boss ME-80 Guitar Multiple Effects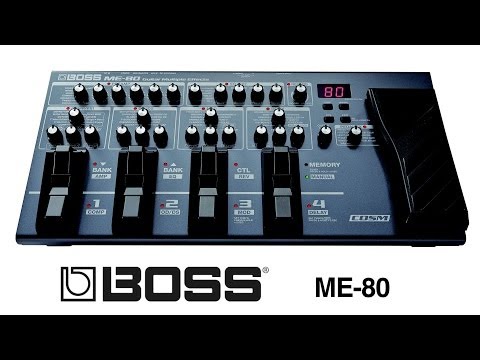 BOSS ME-80 Guitar Multi-effects Processor Demo - Sweetwater Guitars and Gear Vol. 64
Popular Multi Effects Pedals