Recommend Related Items & Pairings
This is where you can recommend to readers an alternative - or gear that goes with - Yamaha reface CP. What gear sounds similar, is less expensive, higher-end or boutique, etc.?
ADD YOUR RECOMMENDATION
Superb sound quality
I've bought this small keyboard to use it as an expander during gigs. Driven with a good masterkeyboard, it generates the most beautiful Rhodes sound I've heard in many years; as an old owner of a Rhodes 88, I'm quite used with its voice, and the Reface CP restores the full content of the wonderful electromechanic piano. The other timbres are quite useable in live context, except for the ridiculous Toy Piano. There is an hidden acoustic piano too, but it's nothing special. The built-in effects are effective and complete.
Great source of vintage sounds
This little keyboard has really impressed me. It's part of the Yamaha Reface line of single-purpose keyboards released in 2015, along with the DX, the YC and the CS. This one - the CP - exclusively models the old electromechanical keyboards so familiar from countless records by Floyd, Miles Davis, Mahavishnu Orchestra, Supertramp, etc etc.
You get a Fender Rhodes Mark 1 and 11 emulation, a Wurlitzer EP-200, a Hohner clavinet, a toy piano, and Yamaha's own CP electromechanical piano. I got it mainly for the Mark 1 Rhodes emulation, and it doesn't disappoint. It obviously doesn't quite have the mojo of a real Rhodes, but it sounds quite authentic. The Rhodes mark II is for you Chicago fans out there - I've never liked it, but it's there if you want it...The Wurli is pretty good if a bit polite, but you can sort that by bringing in a bit of grunge via the dedicated overdrive knob. The Clavi is less good - it sounds a bit plastic and honky, but it might pass in a mix. The toy piano might be useful if you're into sound design, and the CP piano emulation is great for capturing those early 80s Peter Gabriel tones.
Where it really wins though are the included effects, each with a dedicated knob. You get dirt (overdrive), tremolo/pan (depending on which model you've selected), a very authentic-sounding 4-stage phaser, a chorus (which works particular magic on the CP model - with a fast rate and high depth, you're into 'Ashes to Ashes' territory), digital and analog delay (the latter sounding more like a decent tape delay, which can self-oscillate. The digital delay can repeat indefinitely too at the highest feedback levels, creating a little sound-on-sound effect), an auto-wah (needs tweaking to find the sweet spot, as they all do) and a surprisingly cool and clean reverb to bring all the sounds to life and give them a sense of space.
All the controls are laid out in a WYSIWYG sort of way, so it's incredibly immediate, great for sketching out ideas.
There's a couple of downsides. The tiny keys are touch-sensitive (you can make the Rhodes and Wurli 'bark' in a satisfying way), but they're a bugger to hit accurately. They feel ok - quite good actually - but there's no denying that you'd be better off plugging a bigger controller keyboard into this to get the most out of it. Which brings me to the second point, which is that there's only a MIDI breakout cable rather than dedicated MIDI in and outs, which means you have to look after the breakout cable or you're stuffed. You'll also have to buy your own sustain pedal, as it's not included (and you will need it to get a really authentic Rhodes experience).
But these are fairly minor quibbles. This thing is ace, and it's a joy to get access to these old sounds in such a straightforward way. Recommended.
Oh yes; nearly forgot! There's a hidden acoustic piano. It's not the best, but it's useable, You can find it by turning the model knob selector in between any two models before powering on. You lose it again as soon as you go to one of the official models however, and the only way to get it back iis to power down and repeat the trick. I think this must be some sort of OS bug that a Yamaha employee 'accidentally' left in, perhaps because he/she felt that the toy piano was a bit of a useless preset (which it is, to be frank) and wanted to compensate us...
No BUS power?
This board would get fives stars were it to have USB power. However, when using as a MIDI controller, it must be plugged into the wall or full of batteries. The Reface is therefore pretty useless for anything outside of playing back the admittedly high quality onboard sounds. This seems like the sort of deficit that results less from any genuine difficulty, and more from thoughtlessness.
who would use this tiny little keyboard for a MIDI controller? seems like the onboard sounds would be the goal for accent parts live.... but that's me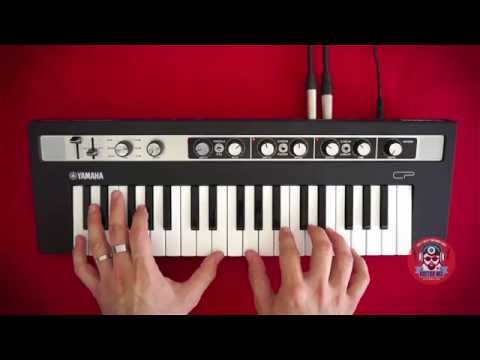 Yamaha Reface CP In Action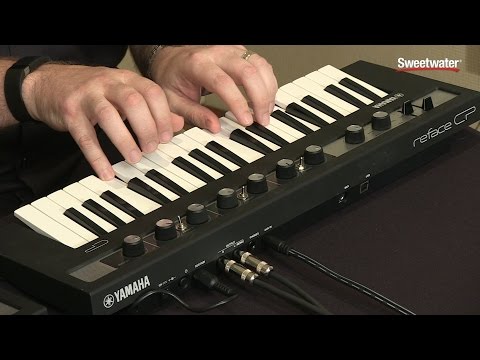 Yamaha Reface CP Synthesizer Demo by Sweetwater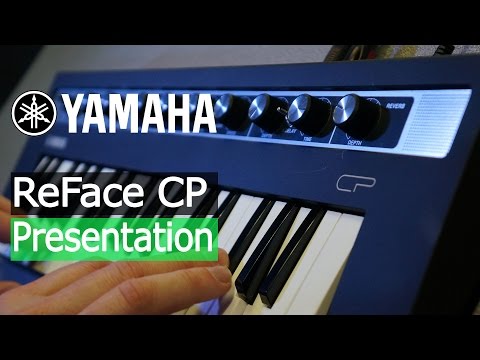 Yamaha ReFace CP - Piano Exclusive
Description
Yamaha reface CP Electric Piano
reface CP puts a van full of iconic 70s stage keyboards and vintage effects into a portable retro-styled package without sacrificing sound, playability or polyphony.