The legend.
What I can say about this pedal? It's incredible: it does only two things and it's the best at doing them. A legendary pedal that I feel lucky to own!
Fckn amazing
Crunch, punch, sexy chorus and pretty dope vibrato. Good to have that stereo out too.
There is Chorus... and there is CE-1 Chorus. Unbelievable...
The Chorus is really fantastic. What I also like about the pedal is that it adds some 'crunch' to your signal (With the Level knob at 2 and the button on high impedance). The Vibrato side is also very good. Build quality and looks of a tank. I love it!
Love the 80s? This will take you back further than VH-1 can.
This pedal's chorus is as legit as it gets. The chorus not only sounds great and has the appropriate tone to complement the effect- but the depth that the pedal provides puts other respectable chorus pedals to shame, even the subsequent 80s chorus stomp boxes that Boss produced. The CE-2 is nice, ladies and gentlemen, but put it next to a CE-1 and you'll never be satisfied with the CE-2 again, knowing that there's a superior chorus out there. The difference justifies the price tag. The only negative thing about this pedal is the circuitry. The foot switches themselves are misleading and you can't exactly turn on the vibrato without turning on the chorus. At the end of the day, though, this is comfortably the best chorus sound on the market.
this is a good pedal
makes a bright jangly sound that contradicts the dirty tone i get
You have an original CE-1? damn those are hard to come by
my dad got off a mate for christmas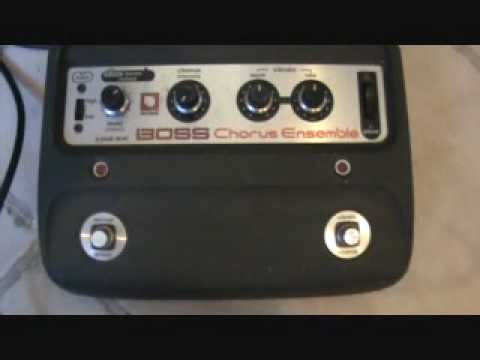 Boss CE-1 Chorus Ensemble demo