The TC Electronic Stereo Chorus Flanger is the ultimate chorus pedal. Sparkling, true stereo sound. Pitch modulation, chorus, or flange with 100dB quiet operation and 20Hz-20kHz frequency range. Features width, intensity, speed, and a mode selecto... read more
CHECK PRICE ON
Reviews
Trusted musician and artist reviews for TC Electronic Stereo Chorus Flanger
4.5
Based on 8 Reviews
4y
about 4 years ago
edited about 4 years ago
(Bass Review) you may want to check out the mxr bass chorus deluxe
i'd compare this to my mxr bass chorus deluxe and their both very simular.
get the tc electronic stereo chorus if you want a subtle chorus and pitch modulation. great natural tone, but more subtle than the mxr bass chorus.
the mxr bcd is just deluxe. you can set how dry or wet the signal is.
the size of the tc is slightly bigger. it's not a big difference. the tc stereo chorus can not be powered by a powet supply. it has a permanently plug built into it.
mxr definitely based the mxr bcd off the tc electronic stereo chorus. i'd suggest the mxr over the tc.
the mxr is smaller, can be powered by a 9v power supply, and it's dryer on the E string. overall a modern take on the tc electronic. also, their is the ebs unichorus studio version.
elegant
more a subtil kind of chorus. gives you nice and natural movements to your sounds.
TC electronic SCF
Essentially, the SCF combines three effect types. All of them modulation effects: Chorus, Pitch Modulation and Flanger. Operation is simple as you simply flick a 3-way switch to choose the effect type you want. From then on, the three control knobs are the same regardless of the effect type you've selected.
I use it only as a stereo chorus on my small board. First, you have a SPEED knob that defines – well – the speed of the modulation going on. Second, you have a WIDTH knob, which is equivalent to the DEPTH knob on many other modulation pedals. Finally, you also get an INTENSITY knob that works a bit differently in each mode. For chorus it sets the wet/dry mix balance, for flanger it sets the feedback and in pitch modulation mode it increases the intensity of the effect amount gradually.
Awesome!!
I use this for leads and funky sounds. It doesn't really have anything special attached to it, I just use it when I need to.
not my style
good for what it does but i don't like it
The Workhorse
The workhorse standard in the Industry by most of the great and pros in and out of the Studio. A truly magnificent and unfortunately discontinued Stereo Chorus.
Fantastic chorus pedal!
Since listening to Eric Johnson as a kid and then Jamie West Oram recently, I wanted a chorus that had a little extra punch. I also love the organic flange sounds of the pedal. This pedal is the perfect chorus and there is a reason its on a lot of boards!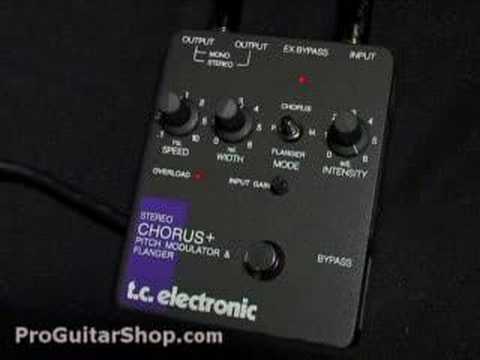 TC Electronic Stereo Chorus / Flanger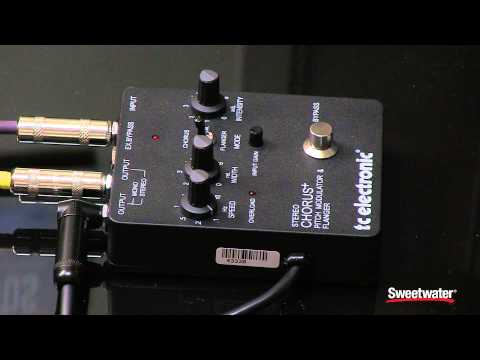 TC Electronic SCF Stereo Chorus+ Pedal Review by Sweetwater Sound
Description
The TC Electronic Stereo Chorus Flanger is the ultimate chorus pedal. Sparkling, true stereo sound. Pitch modulation, chorus, or flange with 100dB quiet operation and 20Hz-20kHz frequency range. Features width, intensity, speed, and a mode selector switch, plus gain-adjustment overload indicator. On/off LED and built-in power supply for AC operation. The absolute fattest, richest, chorus/flange sound in existence.