Boss CE-5 Chorus Ensemble
The CE-5 Chorus Ensemble is BOSS' ultimate compact chorus pedal, covering a wide frequency range and featuring high- and low-cut filters. This lets users create any kind of chorus effect--from a mild, natural chorus to the clear and penetrating st... read more
CHECK PRICE ON
AS FEATURED IN
almost 3 years ago
edited almost 3 years ago
Nice
Do not get this pedal confused with the song War Ensemble by Slayer, they are 2 totally different things.
amazing boss chorus pedal
This is an amazing chorus pedal from boss. It has a nice soft-fairy-jingly sound, really I cannot describe it. An amazing pedal overall.
One of the best chorus available !
Even if i'm not crazy about chorus this pedal is a must to sometimes add depth in your sound. The best chorus i ever heard is on a roland chorus amplifier but this is a good pedal to have in your arsenal.
One of the greatest chorus pedals
This is a fantastic chorus pedal. The range of this pedal is great, and even stands ground with the built in chorus from my JC-120. Highly recommended
Flexible and useful
Truth be told, I'm not a huge chorus fan, but you kind of have to have one. I don't know if this will stay, but it has been with me quite awhile. It has more control flexibility than I have ever used and it took awhile for me to find sound useful to me, but I'm there now, so it's part of the stable. With my current set-up, I have not quite found the Scofield sound, but that's probably more me than anything on my board!
Not too Much and not too little
perfect balance for any psychedelic backing. It doesn't emphasis the indie rock sound too much which is perfect.
The Survivor
The second pedal I owned. I've been playing guitar for over seven years now, instruments, amplifiers, and pedals have all come and gone. This one always stayed. Just a damn good pedal. I keep almost all the knobs at 1 o'clock.
Used and Abused
I purchased mine second hand and could tell it had seen a lot of use. Well, Boss builds some amazing tank of pedals because it still works and is AWESOME! Excellent Chorus pedal! I had a choice between the Chorus Ensemble and the Super Chorus. Glad I went with the Ensemble!
Numeric chorus but efficient in frequency setting for low and high ends
This effect is totally different of very known analog one but not bad, in the contrary it is very efficient even in the loop of the amp, and you get stereo signal, you can also put it in the front to wards 2 different amplifiers. Great clean sounds from Boss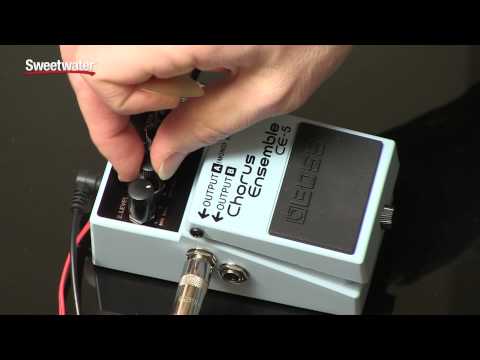 BOSS CE-5 Stereo Chorus Ensemble Pedal Review by Sweetwater Sound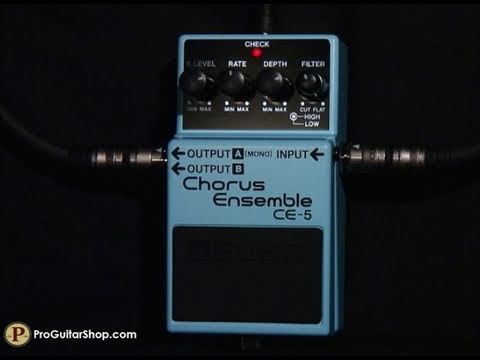 Boss CE-5 Chorus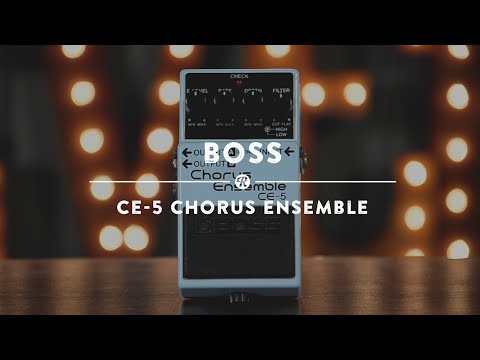 Boss CE-5 Chorus Ensemble | Reverb Demo Video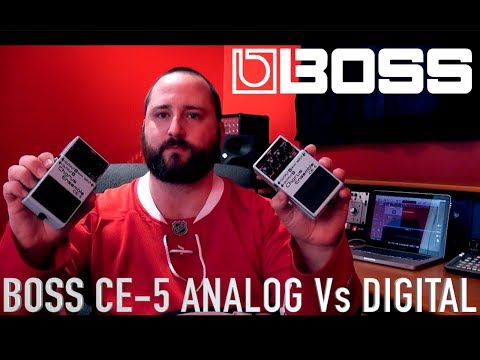 Shootout: BOSS CE-5 Chorus Ensemble (Analog) Vs. Boss CE-5 Chorus Ensemble (Digital)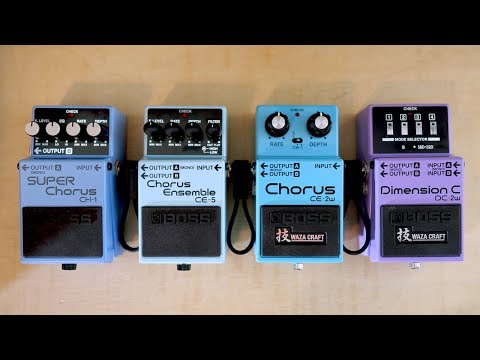 Boss Chorus Shootout + Opinion: CH-1 vs. CE-5 vs. CE-2w vs. DC-2w (in Mono & Stereo)
Description
The CE-5 Chorus Ensemble is BOSS' ultimate compact chorus pedal, covering a wide frequency range and featuring high- and low-cut filters. This lets users create any kind of chorus effect--from a mild, natural chorus to the clear and penetrating stereo chorus effect popular in contemporary music.