Uni-Vibe-style Guitar Effects Pedal with TonePrint Plus 2 Native Presets, Analog-Dry-Through, and Selectable True-/Buffered-Bypass Switching read more
CHECK PRICE ON
AS FEATURED IN
Gets it done!
I'm very sure that there are better Uni-vibe clones as well as high dollar vintage units, but for simplicity, affordability, and modern conveniences the Viscous Vibe will not be defeated. The tones available out of the box are both usable as well as flexible, and give a wide range of warble and wash to your playing. The ramp-up feature is fantastic, and allows for fun changes between sections of songs or for an interesting sonic swell when combined with distortion. The tone-print compatibility of this pedal is a HUGE plus, as there are many presets available online, but the real joy comes from building and applying your own! As with all TC electronic pedals, they always come in at a great compromise between affordability, versatility, and quality when compared to much more expensive modulation and delay units. I'm a huge fan of this unit, and as soon as I plugged it into my rig in our studio, my entire band instantly voted it a regular tone.
Irado!
Esse pedal oferece infinitas possibilidades, seu "vibe" é incrível, a gente alcança os sons do Hendrix, do Deep Purple, enfim, é um pedal q vc fica horas e horas descobrindo novos sons! Excelente!
Versatility is key.
There's a lot of tonal options with the Toneprint setting, but none are quite there. While it stays on my board for now, i'd like to get a Voodoo Labs Micro Vibe,
If you're still pointing to the Micro Vibe you may consider BBE's Soul Vibe. ;-)
Love the Toneprint
I own this Pedal now quite a while, and i like it very much! It has a cool "vibe" to it (Get it?) and also is very versatile. I recommend it to anyone, who wants to try vibe or odd effects.
P.S.: The Toneprint makes it even cooler
almost 3 years ago
edited almost 2 years ago
Amazing sound
I still have Strymon's rotary machine there to use it but, at least by now, I prefer to keep it archived as the Viscous Vibe has a bolder sound and smaller footprint. I tried analog options too but I prefer digital versions as these produce a cleaner sound –analog ones tend to produce some noise and therefore work better before gain stages so it's better to place them through regular amp inputs instead of FX loops (I used BBE's Soul Vibe for a tour as I like it anyways among them) .
Digital will never be able to do Univibe, but this ain't bad either
The Univibe effect ('what's that?' you say. Come on , you know this...it's Hendrix's 'Star Spangled Banner', it's Gilmour's clean guitar sound on Floyd's 'Breathe') is one of the hardest to simulate digitally. I don't know why, but Roger Meyer explains it very well in a book I've got (this one: https://wordery.com/guitar-effects-pedals-dave-hunter-9781617131011?currency=GBP&gtrck=c1NKRVpPM3ZrdHRUb0xZWE1SUlFSblJsaXVqRnc4NjE2Tkc1bnU0bWZnMXNocS9XOXZWZkM0RkN4QkU0R3VCeHdUbUVENFFMeDA5WjhUSXU5aEJpQ3c9PQ&gclid=EAIaIQobChMIxKzKou-51QIVQr7tCh22ww2vEAQYASABEgK1SfD_BwE).
The original Univibe was based on four photoelectric cells. It was a very analogue effect. The waveforms used were always changing smoothly and interacting with each other in a complicated way, which is why it's hard to replicate using the jagged bits. Something like that, anyway! I've never had the pleasure of playing through an analogue one, as the original Roger Meyer ones and the Japanese Shin-e ones are really expensive (think £500 +). So, I'm no expert. However, to my amateur ears, it sounds as though the DSP boffins at TC have got pretty close. You can hear the classic Gilmourish sound on the 'chorale' mode, and the more subtle vibrato mode sounds ok too. This is a toneprint pedal too, meaning that if you have access to a shiny Apple tablet device you can design your own Univibe sounds on the TC software and download it into the pedal. To be honest, the supplied toneprint sound is nice enough...
I've no doubt that if I had the dosh to spend on a real optical analogue Univibe, it would sound better than this. But I don't. And even the bloke who writes and edits the 'Gilmourish' site seems to think it's an acceptable affordable way to get reasonably close to the classic Univibe sound.
http://www.gilmourish.com/?page_id=4537
This new pedal really gave my sound the kick !
Thees pedals with toneprint are for me the best, Rich possibility for creating the sound that fits you.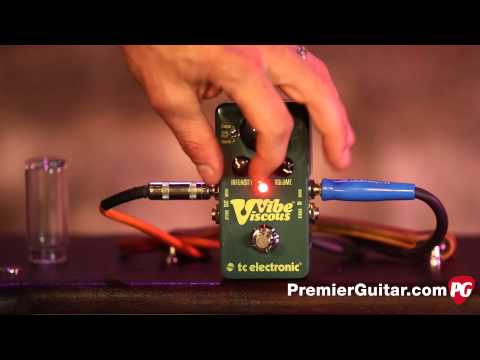 Review Demo - TC Electronic Viscous Vibe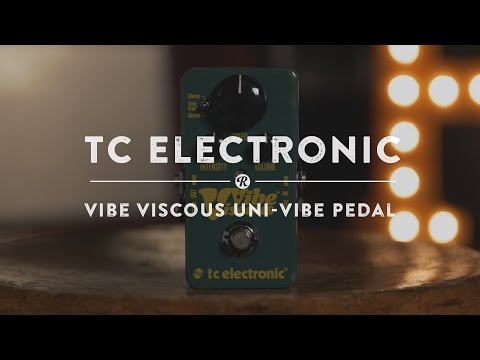 TC Electronic Viscous Vibe Uni-Vibe Pedal | Reverb Demo Video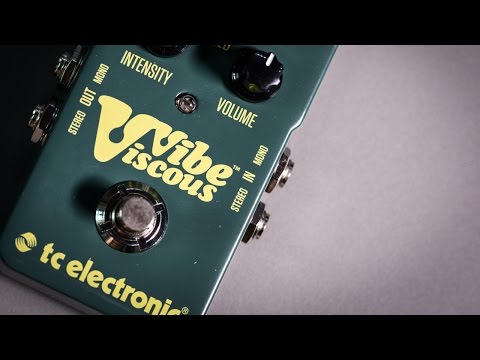 TC Viscous Vibe - IN DEPTH Review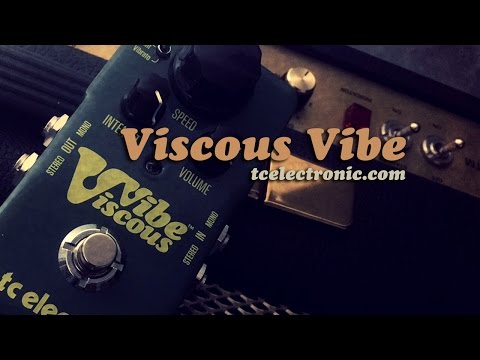 tcelectronic: Viscous Vibe - demo in mono and stereo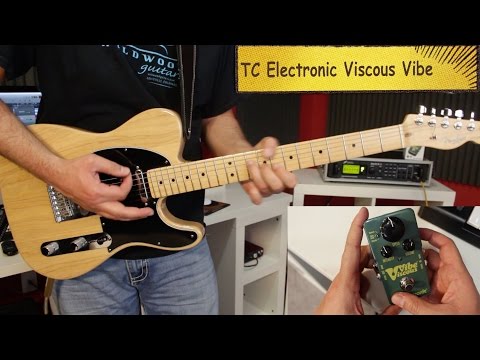 TC Electronic Viscous Vibe Electric Guitar Effect Review
Description
Uni-Vibe-style Guitar Effects Pedal with TonePrint Plus 2 Native Presets, Analog-Dry-Through, and Selectable True-/Buffered-Bypass Switching
Specifications
1:1 recreation of the legendary Shine-Ei Uni-Vibe
TonePrint enabled
Compact Design
Stereo I/O
True Bypass or Buffered Bypass
Analog-Dry-Through
9V/100mA