Tube Rotosphere® MK II has all the inspirational power of the legendary Leslie® cabinets. It not only puts the response of a tube-powered Leslie at players' toe-tips, it also boasts two rotation speeds and legitsounding deceleration & acceleration... read more
CHECK PRICE ON
Reviews
Trusted musician and artist reviews for Hughes & Kettner Tube Rotosphere MKII The Analog Leslie Simulator
4.5
Based on 3 Reviews
Sounds good, but....
It is bulky and a bit of a hassle. There are only two Leslie spin settings: fast or slow. Most of the time, the fast is too fast and there is no way to lower the speed. With the slow spin, many times it is too slow, with no way to increase the speed. It would be a great pedal if there was a control to adjust the spin speed of fast and slow, with no overlap (e.g. fast only slows to a point, and slow only speeds to a point). Meanwhile, the break works great and the drive gain is very nice.
sounds amazing with caveats
I've had this a very long time... it can do a pretty convincing leslie in the right circumstances. Its a little noisey unless you really screw around with the tube in it for the lowest gain option.... the wall wart PSU is chintzy and easy to break on the road. Mine is broken. I'm not sure whats wrong with it but tis ot the tube. It passes signal but the output is crazy low and there's no low end. I don't miss it enough to worry about fixing it. Very cool effect though, just not very road worthy. Mine saw a lot of action on keys, obviously.
Nice Pedal
It does what it says it does. It is a really nice leslie effect and I enjoy listening to its warm and clear sound.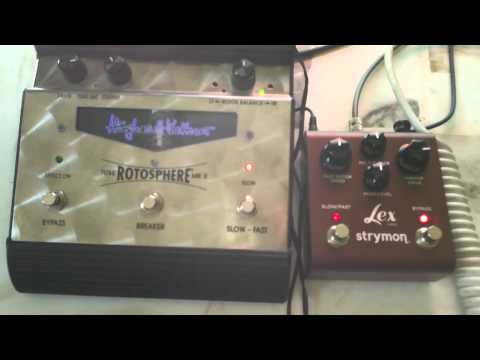 Strymon Lex Rotary vs Hughes & Kettner Rotosphere MKII
Description
Tube Rotosphere® MK II has all the inspirational power of the legendary Leslie® cabinets. It not only puts the response of a tube-powered Leslie at players' toe-tips, it also boasts two rotation speeds and legitsounding deceleration & acceleration effects. Rotosphere's spectrum ranges from clean to sizzling rock scream. In stereo mode, it serves up all the tonal complexity and dynamics of the real deal, a bona fide Leslie. In fact Tube Rotosphere MK II feels so real, that some of world's most celebrated players won't leave home without it!