Overdrive heaven is just a stomp away.
The TC Electronic MojoMojo Overdrive Guitar Effects Pedal is the overdrive pedal that will breathe life, magic and that certain something into your sound, making your playing stand out.
Guitarists ... read more
CHECK PRICE ON
Reviews
Trusted musician and artist reviews for TC Electronic MojoMojo Overdrive
4.5
Based on 21 Reviews
If you are into blues, you will love this pedal.
First of all, this pedal offers true bypass which ensures an unhindered input signal while not engaged. Now this is not a distortion pedal, its an overdrive pedal. And it does behave like an OD on an amp in a clean channel. With a little drive setting, and tweaking the bass knob near about maximum and the treble a little more than the 12'o clock position, you can really feel a great bluesy tone, ideal for soloing. But pushing an already over driven amp is where this pedal excels. Midway dirty on your amp,and Midway dirty on the Mojo, and you can get the signature Jimmy Hendrix style blues tone, nice harmonics and a fat thick OD. I use a Fender Squier Stratocaster, and this pedal absolutely loves the single coils. But if you want more color from your overdrive then this might not be the ideal pedal for you.
Goto Overdrive
Didn't need this pedal but $50 and being TC Electronic, why not? Surprise. compared it to Boss BD-2 Blues Driver I like the MojoMojo better because of the transparency of the Mojo and creamier tone I was getting for it.. Paired with the Dark Matter pedal I was able to get that Santana tone from a Roland Cube lite. (Bedroom Amp). Best for humbucking pups but works well with single coils. The tube like break up sounds better than the Soul Food but that is subjective.
Not Terrible
This is not my favorite overdrive. It doesn't like tube amps. It just turns your sound into a bass filled mud hole. IMO it works better to push a very clean amp to sound a little like a tube amp breaking up.
If you plug this into something like a vox you will get a dark, muddy, bassy fart tone unless you turn down the amp gain to super clean - and why would you turn off your tubes to turn on a cheap pedal? Exactly. Not for tube amps.
who wants to turn down a Vox? Unless I'm overing Day Tripper or something I want my AC30(s) in meltdown mode
It makes a good clean boost
I use the TC Mojomojo as a clean boost. I works to beef up an already distorted sound or to make a wah sound really meaty.
Nice pedal
Nice pedal but Ibanex still better, even the mini one is awesome. This one has a good result for the cost.
Not the Best
I'm usually somewhat forgiving with pedals, and have not played that many that are truly awful, but this one is just bad (at least with my setup). It's incredibly muddy and just bland. Used through the clean channel of my Fender Supersonic 22, and also as a boost on the gain channel, but neither sounded good at all.
Nice vintage tone pedal that is more of a drive channel for a clean tone amp
TC Electronic makes great pro-grade gear. This pedal is a crazy deal for the money. Its tone is more or less classic tube overdrive distortion, and if pushed goes into heavy/hard rock. The pedal sings and is great to tame an amp with weak control response. Works with any guitar and a nice pedal for the working drive part of your sound. The claim of it being more or less a drive channel for your amp is true. Very consistent and workable pedal - a must have. Used by Paul Gilbert and has the best review of it I ever found.
pretty good
The pedal is very smooth with the drive under halfway but over halfway you get some classic rock tones
Great full-on distortion/fuzz for bass guitar
If you're looking for an overdrive for bass guitar it's fine. But for me it works best as a big, disgusting (in a good way) distortion that doesn't lose bottom end thanks to the 2-band EQ and the voice switch that keeps more bass frequencies. It would be even better with a blend knob to mix in the dry signal for that purpose, but I get that it's marketed and made for guitar, and blend controls aren't always a concern for that market.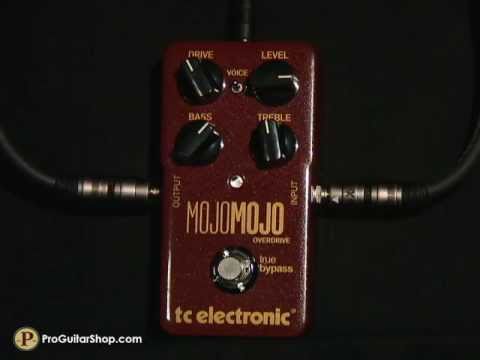 TC Electronic MojoMojo Overdrive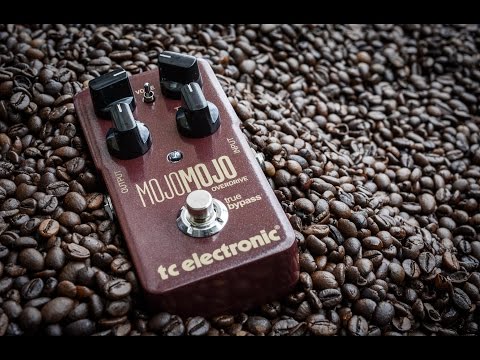 TC Electronic MojoMojo - Overdrive Pedal Demo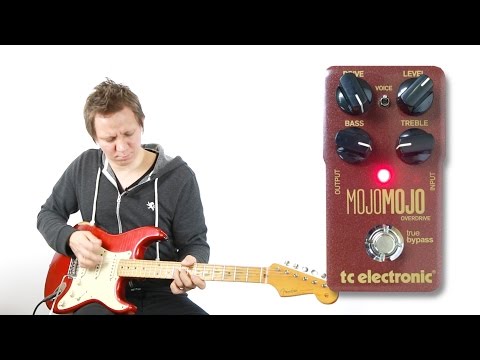 TC Electronic Mojo Mojo Overdrive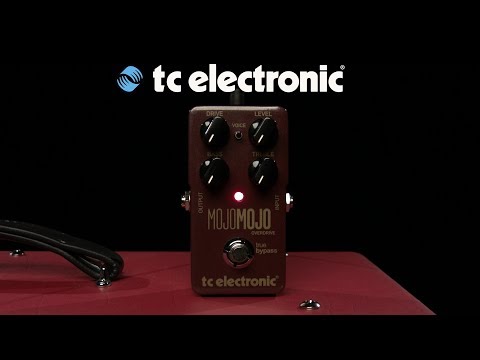 TC Electronic MojoMojo Overdrive | Gear4music demo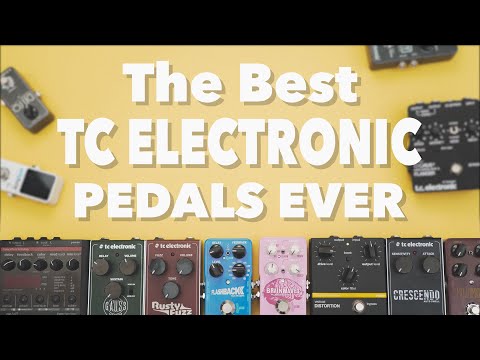 The Best TC Electronic Pedals Ever!
Description
Overdrive heaven is just a stomp away.
The TC Electronic MojoMojo Overdrive Guitar Effects Pedal is the overdrive pedal that will breathe life, magic and that certain something into your sound, making your playing stand out.
Guitarists everywhere are always looking for that little extra push over the cliff, a touch of magic to their sound that gives just that extra bit of bite, body and tone. MojoMojo Overdrive will give you that flash of perfection every time you engage it, providing a crisp and clear overdrive with a rock-solid bottom end.
A sweet blues lead, an extra chunky rhythm tone or a soaring solo, it's all there - and then some. MojoMojo Overdrive is equipped with separate bass and treble controls and a bass-response voice toggle that prevents your bass frequencies from ever disappearing when you step on the pedal.
For maximum mojo, MojoMojo Overdrive features true bypass, an easy-access battery hatch, a small footprint and the highest-grade components.
One of the reasons why this is such a dynamic pedal is the fact that TC Electronic use a special circuit that ramps up the voltage to more than 3-4 times the amount of your typical drive pedals. However, this added gain isn't used to squeeze more overdrive/distortion out of the pedal, but to dramatically increase the headroom and dynamics.
The result? One of the most alive overdrives you have ever heard, a pedal that defines all that is magic about overdriven sounds and a pedal that responds to your playing in dynamic and ultra-musical ways. It cleans up when you want it to and when you really dig in, MojoMojo Overdrive is right there with you.
Specifications
True Bypass - zero loss of tone
Drive, Level, Bass and Treble controls - total control of your overdrive sounds
Voicing switch - for an awesome mid-shift
Easy battery access - makes changing batteries fun! (well, almost)
Small footprint - save precious pedal board space
High-quality components - only the best will do when it comes to tone
Road-ready design - ready to follow you wherever your playing takes you
DC adapter sold separately