Reviews
Trusted musician and artist reviews for Ampeg Portaflex PF-500 Bass Head
4.5
Based on 7 Reviews
Great Club Amp!
This is a great lightweight solution for tone monsters. Everything is incredibly versatile and the midrange band selection is awesome. never had to crank it at a gig; plenty of power.
Pairs well with my Fender Aerodyne Jazz Bass.
I can't find one of these in person to test it out.
How loud is it? What would you compare it to?

Because of the lower wattage, does it growl at low volumes or does ti stay clean?
It's incredibly loud; 95dB to be exact. I really don't know what to compare it to, but there's a 350, 500 and 800 watt version. I have the PF-500. I'd put it against an SVT, although it's a solid state.

i'm not sure what you consider "lower-wattage" since the Portaflex head comes in 3 wattages, but the PF-500 and PF-800 models have both a compression and gain knob, and i've never experienced distortion at higher volumes. Solid state bass amps in my experience don't seem to distort unless you push the gain over the volume threshold.
Really great for a small price
I dont have any mean things to say about this: this amp is really great! It is very versatile, takes pedal very well, a lot of options, it is light, EQ is great too. It is really powerfull too, my bandmates are always shouting at me to lower my volume since I bought it. I don't see any inconvenients in buying this, I think it might be the best amp you could buy in this price range.
Great head that is easy on the back
Ampeg advertises this as their way to get that SVT tone in a small package that's easy on the back. It's not an SVT. If you're hellbent on that tone, go buy an SVT. But the sound this guy gives is still amazing and the weight is a fraction of what the larger amps are.
It's a fantastic amp for a working musician who doesn't want to lug a bunch of gear to a show.
Great SVT sound for a fraction of the cost
An Ampeg fridge and an SVT head are costly and quite heavy. Thank god they brought out this thing. You still get a lot of the sound of an SVT without blowing all your cash. Sure, the SVT is gonna sound better but this still sounds great and you can really get some nice tones out of this thing.
Heavy hitting, yet, lightweight
I picked this up because I was looking for an affordable substitute to an SVT head. For small gigs, rehearsals, and practice, I didn't want to be carrying around a 100lb box around with my 4x10 cabinet. I enjoyed the tone so much, that I often neglect my SVT, partly because I'm lazy, but mostly for convenience.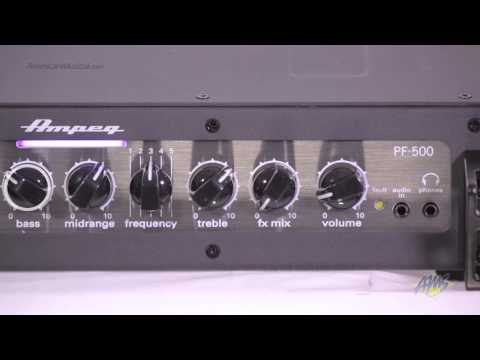 Ampeg PF500 Portaflex Bass Guitar Amplifier Head - Ampeg PF500
Popular Bass Amplifier Heads