The Boss OD-3 OverDrive Pedal gives you one of the most versatile overdrives on the planet. Features classic 3-knob configuration with level, drive, and tone controls that let you dial in everything from sweet bluesy sounds to screaming monkeys, a... read more
CHECK PRICE ON
Fantastic Overdrive pedal from Boss!
Great and transparent Overdrive! I like Boss pedals a lot and can't imagine a world without them! The almighty Bruce Springsteen even uses it! Come on, that your answer, right there! The Boss uses Boss!
Incredibly Underrated
Flatter, more ''open'' EQ response than a TS-type overdrive, with great bite and a PILE of volume. Classic rock on its own, or a vicious kick to the front end of your amp.
Great overdrive pedal
Um dos melhores overdrives que já tive. Consigo desde um od transparente até um overdrive mais rasgado. Muito bom!
Boss OD - 3 Overdrive Pedal
Purchased in 2014, this pedal is a solid rocker to get dirty tones over the top. Sold in 2016.
It kicks ass
this is the drive you need to kick the front of your amp off the planet. It's the ultimate classic rock sounding overdrive but can also be used as a punchy clean boost for strats that sound amazing. Roll off the tone and turn up the gain to get some sweet black keys fuzz sounds
top
great overdrive pedal, i'm using it on bass, + a preamp pedal i have that sound amazing
Overdrive Pedal
On my rig this turns my clean tone into a powerhouse, it can be used for a nice classic crunch but can also be used for a metal sound. Good overdrive pedal and easy and simple to use.
Really like this pedal for a nice overdrive
Great pedal in all honesty. I don't think the 'level' really changes the volume that much, which is a shame as I'm using this as part of my gain stages. Sound proper nice though!
Personalidad y presencia
Un saturador con mucha personalidad, para tener ese sonido que varia entre el canal limpio y sucio al momento de ejecutar frases de mayor expresión.
Al momento de hacer un solo lo ocupo como booster junto al DS-1 aumentando el volumen y la agresividad.
Very useful
It's really cheap. And I'm surprise with it's sound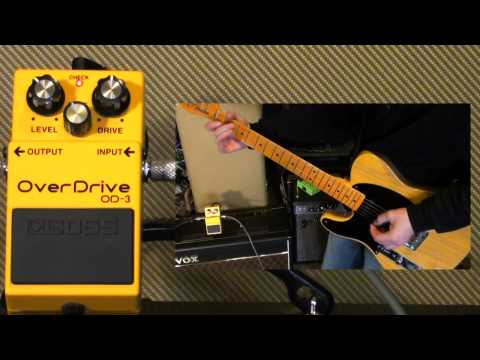 BOSS OD-3 OverDrive Pedal
Description
The Boss OD-3 OverDrive Pedal gives you one of the most versatile overdrives on the planet. Features classic 3-knob configuration with level, drive, and tone controls that let you dial in everything from sweet bluesy sounds to screaming monkeys, and more. The OD-3 Overdrive is backed by a 5-year warranty from Boss.