With loop mania sweeping the globe, BOSS proudly announces the most powerful Loop Station ever brought to the market — the RC-300. The new flagship looper features three synchronized stereo tracks with dedicated volume knobs and transport-control ... read more
CHECK PRICE ON
5y
over 5 years ago
edited over 5 years ago
Nearly perfect!
I'll start off with saying that my downside to the RC-300 is the size of the pedals themselves. I started off looping on the Boss RC-30 and much prefer its bigger pedals however, I have gotten used to the smaller scale pedals now.
I don't really use the loop effects function therefore I re-assigned the 'Loop FX' pedal to an 'all clear' pedal to delete all tracks to save me having to do it individually. Another mod that I did within the pedal is that I re-assigned the expression pedal to a loop mic kill-switch. Rock the pedal up to switch the loop mic off and push down to turn it on. This helps prevent unwanted sound bleeding into the loop mic when looping the guitar in.
Finally, I have made use of the sub-output on this pedal alongside the main output so that the RC-300 splits my guitar signal into 2 outputs in Mono so that the main output will control the mix of the recorded loops and the sub-output will control the guitar mix so that the guitar doesn't get drowned out by the loops and vice-versa.
What could be improved for maybe future builds is to have an output for each track so that all tracks can be equal in the mix when being played live. Other than that, this pedal and the other two pedals are attached to my Stagg UPC-688 pedal board flight case, Its a great investment. Happy looping!
How did you re assign the Loop FX pedal to all clear? And how did you get the expression pedal to be a loop mic kill-switch?
Hi danikib. To re assign the Loop FX pedal to all clear you simply press:
1.Memory edit, pres right arrow button to Assign1 Switch & ensure its set to ON. 2. Press right again to Assign1 Target & turn the middle knob till it gets to TRACK1 CLEAR. 3. Press right again until you reach Assign1 Source & use the knob to switch it to LOOP FX PEDAL. 4. Press right arrow till you get to Assign2 Switch and repeat the above process to set the Loop FX pedal as a clear pedal for track 2 & & exactly the same for track 3. 5. After you have completed these steps you then need to press the SYSTEM button & press right arrow once and change to Sys: LOOP FX PDL to ASSIGN by twitsting the knob. Then you press the WRITE button to save the settings in.
Repeat the above process for the mic kill switch except you change the assign4 target to INPUT MIC SWITCH and make sure its Source is EXP1 PEDAL and write it in.
I hope this helps?
Very easy and straight forward.
Its easy to use and is bread for jamming around and once you get something you like you can save it. Its nice to have three separate tracks to mess around with and break down your loop sequence. The fx pedal is a great idea but the sensors on it sometimes have to be re adjusted so you can use the full extent of the fx range.
Best Looper, but at what cost?
I've used this pedal almost every day for 4 years. It is a workhorse of a device with little-to-no limitations on length or number of layers. As a "starving artist", however, I must say that for the price, I expected a much more modular, high end board. This feels ripped out of the late 90's, with very little "ease-of-access" when it comes to modifying mappings. For this price, I should really have more control over what I can do on this board.
The flagship Looper as I speak. (1st Nov 2015)
I have owned this looper now for 5 Months or so and feel comfortable to offer my opinion. I wont bore you with repeating the spec as you can read for yourself online. The sound quality is the best I have heard and the fact that it records in stereo and and for any lenth of time for up to 3 hours with 90 memory slots means there are no issues over length and time. It seems the boss team have gon over every conceivable issue with previous loopers and corrected them with this one for instance , you can costomise reprogram almost every feature that you think should be diferent to your own spec. I use it as a studio recorder as the quality is CD (WAV) which can be relayed to your computer sequence editor. It is built like a brick outhouse and in the event of a nuclear strike will deliver your music to survivors with a few scratches. I love the headphone monitor socket that allows you to cut out ambient noise with concealed ear peices. Anyone who is contemplating a model that is cheaper in my opinion ought to save up and buy this as although the diference in price is substantial then so is the spec. It is not just bells and whistles but well thought out features.
Fiddle, Guitar, Vocals
I just purchased this pedal as I am finally taking time to put together my "one girl" act. I play fiddle, guitar, and sing. Hoping to do a lot with this pedal :)
Great For Getting Used to Multi-Track Looping
This was the pedal that I went with when I decided that I was going to play shows. It has 3 time synced tracks that you can record to. This was great when I needed to get my head around the idea of playing different parts to a song on different tracks. However, I did find some limitations with is pedal. There are only 2 outputs that can be used on this pedal. A "main out" and a "sub out". I really wished there was a third output so I could eq and put different effects on the channels separately. Also, to make sure that the processor in the board can handle the recordings, the audio gets compressed. Not too much at first, but once you begin to layer more and more on one track, the audio becomes distorted. And, I never really touched the on-board effects with the RC-300. They never really suited my needs.
Very intelligent.
Must learn much more about this thing. It's just high quality, knows a lot more and is more precise than me :)
Very extensive looper.
Very extensive looper. Also with good drum accompaniment. However, it took up too much space and I don't use it every day. That's why I got rid of it for a more compact looper. Also works great.
Gives good gain tone. However, it hides the real sound of the guitar.
My first multi-effect. Gives good gain tone. However, it hides the real sound of the guitar. I finally got bored of the gain tone.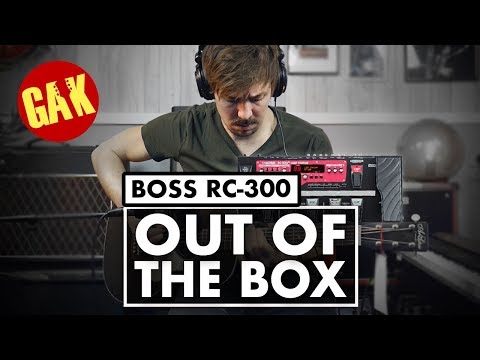 How To Use A Loop Pedal (BOSS RC-300)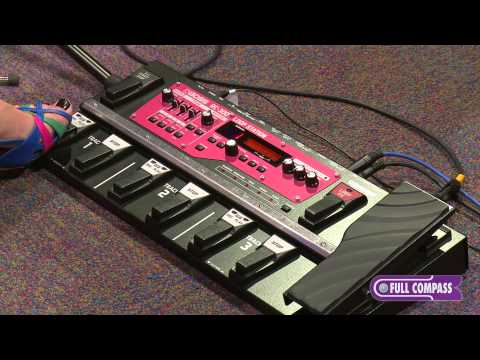 Boss RC-300 Loop Station Demo | Full Compass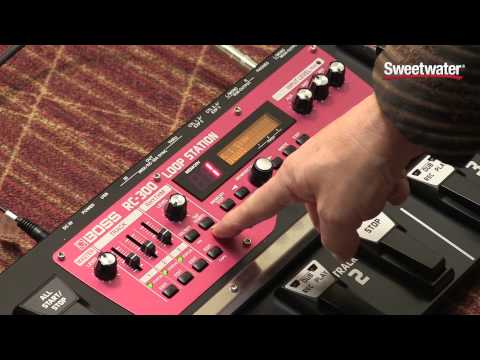 BOSS RC-300 Loop Station Pedal Review - Sweetwater Sound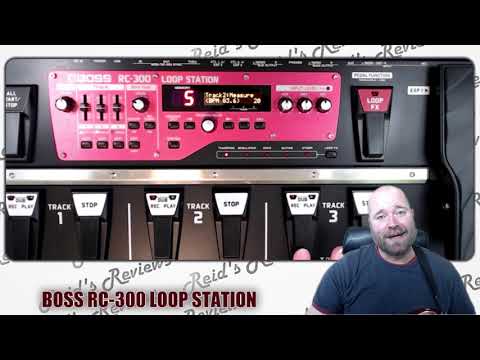 Monster or Manageable? Boss RC-300 Loop Station RC300 Looper Guitar Pedal Review, Reid's Reviews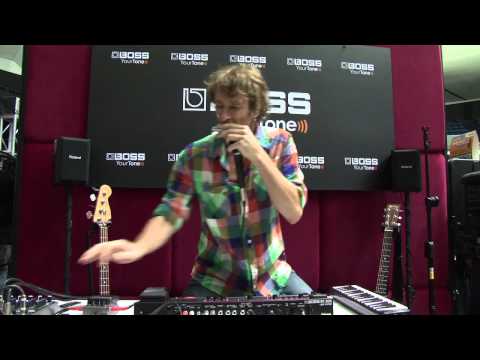 NAMM 2012 - THE BEST DEMO YOU'VE EVER SEEN! Boss RC300
Description
With loop mania sweeping the globe, BOSS proudly announces the most powerful Loop Station ever brought to the market — the RC-300. The new flagship looper features three synchronized stereo tracks with dedicated volume knobs and transport-control footswitches for each track. It's also equipped with pro effects, a master Expression pedal, and a deluxe, ultra-wide control panel for the ultimate in live-performance manipulation. Plug in your guitar, bass, keyboard, or instrument of choice and create amazing loops in real time. An XLR input is also provided, complete with phantom power, so singers, percussionists, violinists, beatboxers, or anyone with a mic'd instrument can get in on the act, too. The RC-300 lets you record for up to three hours directly to its internal memory, adding effects as you go. The USB port lets you save your loops externally, as well as import/export WAV files. Step into the most powerful and inspiring Loop Station in BOSS history. It's the creative powerhouse that musicians have been dreaming of!
Specifications
Three stereo tracks with dedicated footswitches and controls for each
Dedicated fader per track
Expression pedal for effects control in real time
Up to three hours of internal recording and 99 onboard memories
16 onboard effects optimized for looping
XLR Microphone input with phantom power
USB storage; import/export WAV files