Looper Pedal with 12 Minutes of Looping, Stereo Operation, 10 Loops, 1/2 Speed, and Reverse read more
CHECK PRICE ON
AS FEATURED IN
Reviews
Trusted musician and artist reviews for Electro-Harmonix 720 Stereo Looper Pedal
5.0
Based on 3 Reviews
Super useful tool for your sonic arsenal
At risk of sounding like one of those one of those 2nd grade math problems along the lies of "1 small box of cereal is $1 but a box of the same thing but twice as big is $1.50," But anyways that's ultimately what made me pick this over the 360. I'm sure that's a great pedal but I can't imagine doing without the backwards and half-speed settings.
I'm admittedly pretty bad at using loopers, so I mostly used it for those sounds at one point. Now I just double track loops and usually don't have any probelms but the aforementioned features are still amazing.
Great looper for a great price.
A great looper for a great price. I love the 'Reverse mode' to create some real great loops.
More or less sets the bar for a good looper.
Can store a lot of sound, the different soundbanks offer for a lot of loops to be pre-saved (great if you need one as a backup in the event that you're in a performing situation where you messed up the live loop but don't wanna make it too obvious to the crowd). The reverse function is really awesome especially for really trippy or droney musicians. At that perfect level of functionality where an inexperienced user can get good results on their first manual-free try, but with a high ceiling for mastery of its true utility.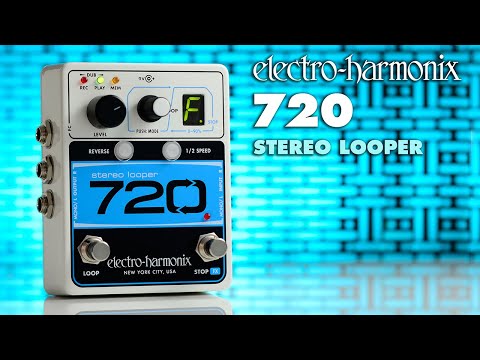 Electro-Harmonix 720 Stereo Looper
Description
Looper Pedal with 12 Minutes of Looping, Stereo Operation, 10 Loops, 1/2 Speed, and Reverse
Specifications
Extra-long 12 minutes of stereo recording time
10 independent loops
Undo-Redo, Reverse and ½ Speed Effects at the touch of a button
High-quality, uncompressed audio, 24-bit A/D/A converters plus 44.1kHz sample rate
Stereo in/out for enhanced usability… record two instruments at once
Foot controller input provides a way to use popular 3-button foot controllers to change a bank up or down, and gives access to instant Undo-Redo
Silent footswitches
Loop fadeout (trails) mode
Includes EHX9.6DC power supply