Building on EHX's looper legacy, the 45000 combines the familiar controls of a multi-track digital recorder with state-of-the-art features making it possible to create complex multi-track loops quickly and easily. Each loop has four mono tracks an... read more
CHECK PRICE ON
Reviews
Trusted musician and artist reviews for Electro-Harmonix 45000 Multi-Track Looping Recorder
4.5
Based on 2 Reviews
I love this beast
Very good looper I use it for live and to built my songs... I use it also like a multitrack recorder when i have to work out of my house..EHX quality..
Almost Ultimate
The 45000 works for me, but I think some people might struggle with the fact that it lacks a screen. For many loop stations, a screen isn't necessary because their functionality doesn't go far beyond the "record, overdub, play" formula that was popularized by the 16 Second Digital Delay back in the 80s. The 45000, however, greatly expands upon that functionality by offering four monaural tracks that can be endlessly overdubbed (as long as you've got free space on your SD card), and a fifth stereo track that is used as a "mixdown", essentially allowing you to record all four phrases together as one phrase, each one occupying whatever position in the stereo spectrum you desire. Interestingly, you can even turn the pan knobs for each track whilst the "mixdown" track is recording, and that motion will be recorded as well, giving your mixdown track automated panning motion. You also have the ability to change the pitch of the loop as a whole with the "tempo" slider, which can give you some very ominous sounds indeed when the "tempo" slider is dropped to its lowest setting. "Reverse" is another useful tool if you're after a more ethereal, less-familiar sound. I find sometimes that, if I record something and don't quite like the way it sounds, or think the melody could use a little something to make it right, I hit the "reverse" button and find that I like the way that sounds better than I liked it playing forwards. Now for the downside: Performing memory changes on the 45000 is difficult without the foot controller made specifically for the unit by EHX, as you must hold down the "stereo mode" button for two seconds, and then hit "reverse" to travel backwards through your saved loops, or "octave" to travel forward. This is a little tedious, but I find it works better for me than spending $140 on a foot switch. That brings me to another feature I hadn't mentioned: the "Octave" button simply shifts the loop down to half-speed, which has the same effect as moving the "tempo" slider down, though I don't think the tempo slider allows for a full octave of pitch alteration. Every looper I have ever owned has fallen short in some way or another, and I think this one is the closest any of them have ever come to being perfect in my eyes.
hey do you know if this is the effects looper Thom was using on stage at Glastonbury festival 2017?
Yes it is! Looks like may be modded; Thom seemingly applied velcro to the face and removed all his knobs for some odd reason. https://imgflip.com/i/1rlzu3
Thanks Kaine :) Awesome.. VL3X for sale it is then :) Do you know if it can be used for both guitar AND vocals, and at the same time ? Also can you import tracks into it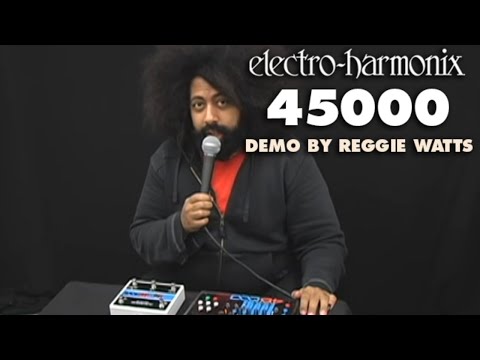 EHX Reggie Watts explores the new 45000 multi-track looping recorder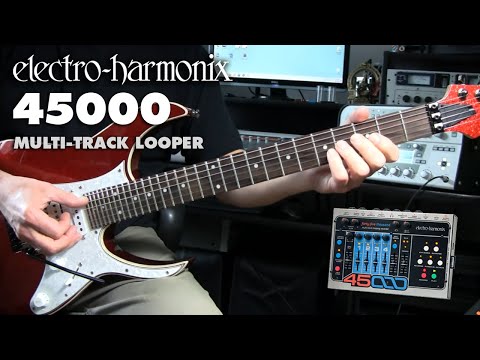 Electro-Harmonix Update 45000 Looper Drum Loops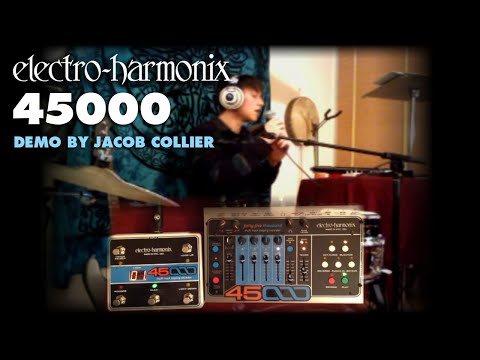 EHX 45000 Multi Track Looper by Jacob Collier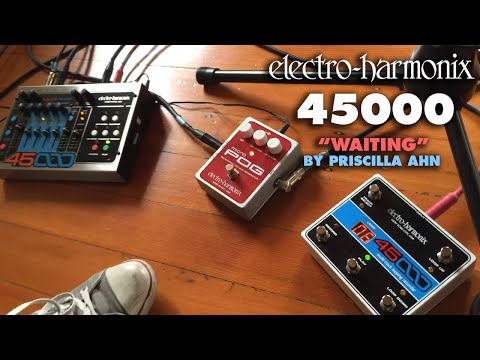 Priscilla Ahn - Waiting feat. EHX 45000 Multi-Track Looper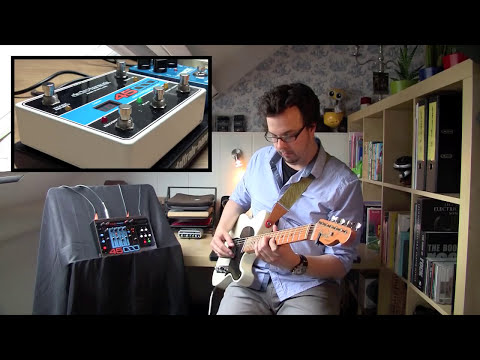 Electro-Harmonix 45000 Multi-Track Looper
Description
Building on EHX's looper legacy, the 45000 combines the familiar controls of a multi-track digital recorder with state-of-the-art features making it possible to create complex multi-track loops quickly and easily. Each loop has four mono tracks and one stereo mixdown track. The 45000 records non-compressed, 44.1kHz/16-bit CD quality audio direct to a removable SDHC card (4 to 32GB). Each card holds up to 100 individual loops accessed with the optional 45000 Foot Controller (sold separately). Loop speed is adjustable over a two octave range, and reverse recording and playback are also possible. For extra convenience, a built-in metronome to a separate Monitor Out and a Headphone Out are also included.
Specifications
Includes a 4GB card delivering up to 125 minutes of recording time
Import .Wav audio files from PC or Mac
Auxiliary Input mixes MP3 players with the loop output
Stereo mixdown track frees tracks for re-use
Overdub or punch in/out recording
Quantize or non-quantize (free running) modes
MIDI Clock Sync as master or slave
Most user parameters are MIDI controllable
USB port enables backup/restore with PC or MAC
Popular Looper Effects Pedals