Create incredibly smooth volume swells or control your effect pedal parameters with the Dunlop DVP3 Volume X. Small and pedalboard-friendly, the DVP3 is solidly-built and ready for the road. It's housed in an aluminum chassis with aggressive non-s... read more
CHECK PRICE ON
AS FEATURED IN
Reviews
Trusted musician and artist reviews for Dunlop DVP3 Volume (X) Pedal
4.5
Based on 14 Reviews
Simple, versatile and great.
I went with the Dunlop Volume X because of it taking care of the breakable string that other volume pedals use and expose a bit. This one is built like a tank and you could just go volume working with the tuner output, or go try the expression function on it with other pedals. I've had for a few days now that I'm writing this and I can confidently say my playing has been smoother and I've found ways to achieve fun stuff with other pedals on my pedalboard. Didn't expect this much fun so soon, but so extra glad I bought it.
Volume (X)
When I first saw this I was a little skeptical, Ernie Ball has been making fine Volume Pedals for ages, and as Dunlop and Ernie Ball have always been like brother companies Dunlop had never touched volume pedals. But when Ernie Ball bridged the gap and made other pedals this was seen as a go ahead for Dunlop to work on this, the Volume (X). This pedal however new, is extremely well built. It has a much more smooth and solid design, with a better contact. It does exactly what I want it to.
Great Volume pedal
Put a buffer in front of it and it's perfect. wide sweep, smooth feel, built like a tank. :)
Nice volume pedal, but the DVP1 feels nicer
This is a very stable volume pedal but it feels not as precise as the DVP1, both have adjustable tension but the DVP1 feels more gradual while this one a little more erratic when performing sensible movements. I bought this one because I wanted to have the optional expression feature but I had to sell it as it didn't fell comfortable. Now I have the DVP1 and I am very happy with it!
Wonderful volume pedal
This is a new pedal of mine but it's got great grip and so far is super reliable. Plays very well with all types of pedals, especially reverb and delay.
Solid VP
It turns me up and down. I got this because I didn't wanna deal the annoying string issue that Ernie Ball's VPs have. I've had this for over a couple of months and it hasn't let me down yet!
Smooth and loads of features
Originally I bought this as an expression pedal because I seriously couldn't find a single expression pedal with a full heel to toe sweep until this one. Then one day, I gave up on the expression pedal idea, and was ready to sell, when I used it as a Volume Pedal and now, it never leaves my rig!
Awesome
I a simple volume pedal that can also be used as expression pedal. I dig it.
Top of The Line Volume Pedal
If you're like me and have neighbors with paper thin walls, a volume pedal will come in handy when you're experimenting in the bedroom (Schwing!). What I like about this volume pedal is it comes with a separate connection for the tuner, which if nothing else, eliminates the impedance of one extra pedal in your chain.
Great Working Volume Pedal!
Works as it should. Nothing overly fancy of this volume pedal. Smooth treadle for the most part. Great for effect swells!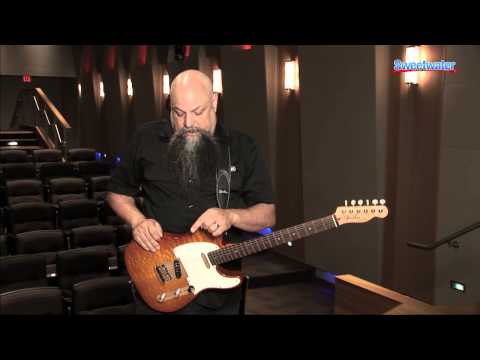 Dunlop Volume (X) Pedal Demo - Sweetwater Sound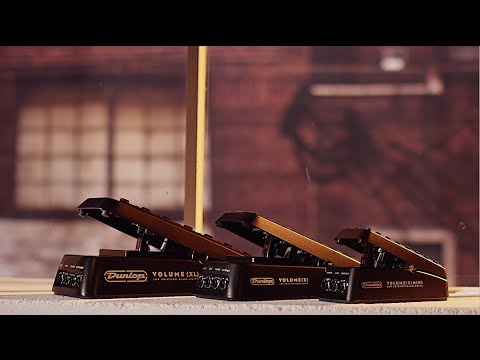 Dunlop Volume X Pedals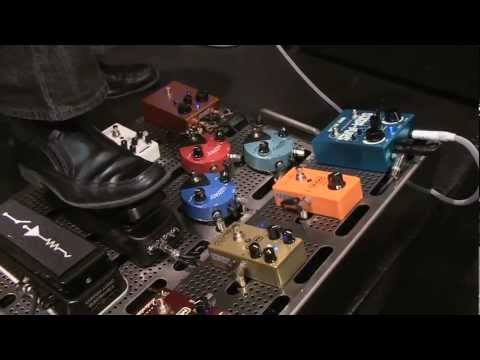 New Dunlop Volume (X) Pedal [NAMM 2013]
Description
Create incredibly smooth volume swells or control your effect pedal parameters with the Dunlop DVP3 Volume X. Small and pedalboard-friendly, the DVP3 is solidly-built and ready for the road. It's housed in an aluminum chassis with aggressive non-slip tread and comes equipped with our patent-pending Low Friction Band-Drive for a smooth range of motion without the fear of breakage or change in feel or range. For maximum comfort and precision, the DVP3's rocker tension is fully adjustable.
When using the DVP3 as an expression pedal, you can use the internal pot to set the minimum level of the parameter you're controlling with the rocker. If you want to reverse the function of the heel-down and toe-down positions, the DVP3 has an internal switch that allows you to do so.
Along with Volume, FX and Output jacks, the DVP3 also features a convenient Tuner output for silent tuning onstage.
Specifications
Small and pedal board-friendly
Solidly-built and road-ready
Convenient Tuner output for silent tuning onstage
Aluminum chassis with non-slip tread
Fully adjustable rocker tension
Popular Volume Effects Pedals