The Strymon Blue Sky Reverberator is a reverb effect pedal with way more features than just about any other Reverb pedal we've ever seen (perhaps with the exception of the Eventide Space, but the Strymon is a lot easier to use). The Blue Sky gives... read more
CHECK PRICE ON
Reviews
Trusted musician and artist reviews for Strymon blueSky Reverberator Pedal
5.0
Based on 30 Reviews
Maybe the best Reverb Stomper
BlueSky is an unbelievable reverb pedal. It's probably the best sounding and most versatile reverb pedal that I've used. The pedal is a stereo one so it has two ¼" connections for both input and output and is powered by a nine volt power supply. It's not rackable at all since it's a stomp box.
The sound of the BlueSky is some of the smoothest reverb I've heard come out of any device. It's stunning how accurate it sounds and what's more is its amazing versatility between the three reverb types and modes. It has a depth to it that I haven't heard in any pedals before and only seems to be present in the real deal in things like true plate and spring reverbs.
The setup of this pedal is extremely easy, as is getting a good sound out of it. It has five knobs - one for to choose the type of reverb, one for tone, one for time, one for decay, and one of mix. These controls are basic and manipulating it is easy. Types of reverb include hall, chamber, gate, spring, and plate.
The BlueSky is the best sounding reverb unit I've used. It isn't cheap for a pedal but you pay for the best in ultimate control, fidelity, and versatility in reverb sound. It's a pro's pedal but that doesn't mean us in the great unwashed masses can't at least try it an pretend we are one of those "special people."
Amazing, versatile reverb!
I was never really pleased with the reverb tank on my Blues Jr...this thing was well worth the money! You can spend hours playing with it and dialing in the perfect reverb sound. It'll do anything from subtle surf rock spring reverb to insane spacey shimmers. Not cheap, but you really get what you pay for!
Best reverb out there!
I started using a Strymon Bluesky reverb after finding out that Ahab uses it on all of their albums. I have to say it really has to be one of the best sounding effects pedals I've ever heard, period. Besides having a multitude of different reverb settings it quite simply cuts through the mix no matter what kind of rig I'm using. Strymon has made many fine pedals but I would consider this their flagship product.
Worth the extra money.
The legends told of this pedal are all true. It is absolutely without a doubt the nicest sounding reverb pedal I have ever heard. The tones and pads you can lay down with this thing are so beautiful and add so so much if you know how to use it. Strymon has always made quality stuff and this is no different. Although the price is high I still rate it 5 stars because it was worth every penny in my opinion. The shimmer effect is amazing and on max decay you can create some really beautiful ethereal sounds. Pair it with a looper and you can make your own orchestra with just your guitar. One of my favorite purchases ever!
LUSH
The blueSky contains a simple mix of classic reverbs that are able to be expanded into beautiful ambient designs that preserve the clarity of your tone. Reverb is one of my favorite effects and something I researched intensely before dedicating my rig to one pedal. Purchased years ago, my blueSky continues to provide a wide range of subtle echoes and atmospheric pads that always fit well in a live set. Only complaint would be: No secondary functions and would love this pedal more if there's cloud,bloom and magneto type of reverb from the Big Sky
Own it - swear by it.
I've gone through many reverb units. This will be the last one I buy
The nicest sounding reverb i have ever owned
This is a little more costly than your average pedal but if you love reverb you will be smitten with this! There are so many different sounds you can get out of one box, and the quality of sound is unbelievable! The added 'favourites' button also essentially makes it like two pedals in one!
Beautiful
What i realize while using this pedal, is that The bluesky cuts off some of the gain/overdirve/drive/distort which is sent to it. On my chain, i run my guitar through a drive pedal into a delay than into the bluesky. I realize the bluesky roundoffs the drive a little bit. Which is actually great to me. it blends the sound well. Especially when you are running a cheap drive on your signal chain which is not as good sounding as a OCD or Fulltone, the bluesky just beautifies anything. I could say it grinds the rough edges of the driven signal.
my favorite combination from this pedal is the Plate and Mod. It gives a brighter modulated reverb compared to the room and mod which gives a deeper reverb.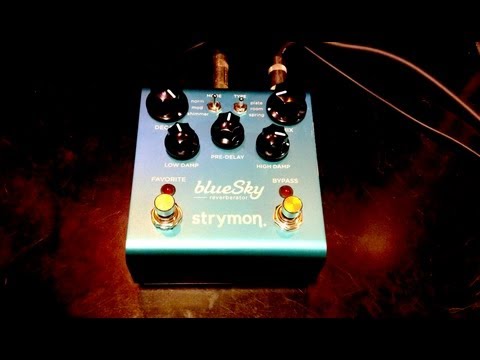 Strymon BlueSky Reverb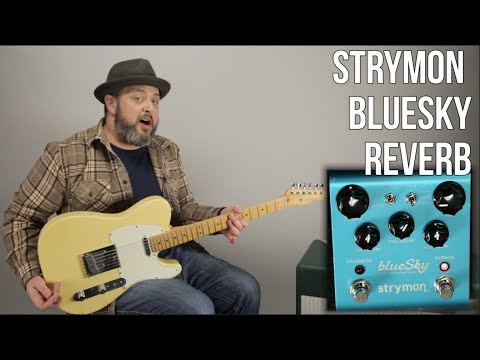 Strymon Blue Sky Reverb Demo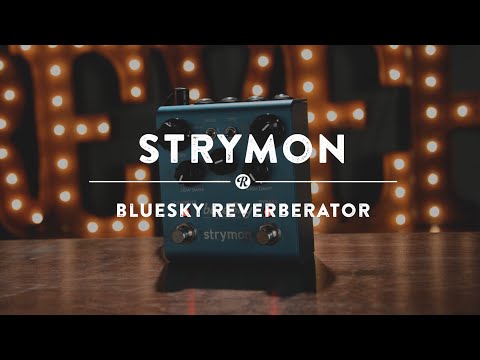 Strymon blueSky Reverberator | Reverb Demo Video
Description
The Strymon Blue Sky Reverberator is a reverb effect pedal with way more features than just about any other Reverb pedal we've ever seen (perhaps with the exception of the Eventide Space, but the Strymon is a lot easier to use). The Blue Sky gives you control over the size and tone of your reverb, and even pre-delay: an important control left out by most reverb pedals. The Blue Sky also has stereo input and outputs so you can use it with other stereo effects to create huge lush tones!
Popular Delay & Reverb Effects Pedals