Reviews
Trusted musician and artist reviews for Marshall 1959HW Handwired Plexi Amp Head
5.0
Based on 1 Review
Very nice amp but extremely loud.
This amp was on my "want" list not my "need" list. I love the headroom it has and the sweet sound it has. It's the 2005 hand wired head so it's sweeter than a normal 1959. It's a basic no frills amp. Like my 2061, I jump the channels together now so I can adjust out the sometimes piercing shrillness of the stratocaster. This amp is loud. This amp makes the vibro king seem normal, and that's a loud amp. Seriously, without some attenuation it would be very difficult to use this anywhere but outside and stadiums. It's playable at lower levels but it's not warm until you get the volume up to around 4. At at that volume it's unbearable in a confined space. I'm going to try putting the cabinet on it's back to see if that works so the sound it's jetting forward in a deafening way. I'm only running it through a Marshall 2 12 cabinet. I can't imagine a 4 12. Don't get me wrong I love this amp and I'll keep it for life. But if you are pondering one and trying to justify how you will use it in your rig playing small venues, borrow one before you buy. Still, it's the real thing everyone lusts after. Dynamic, responsive, warm and loud, really, really loud.
you can use her full tilt at 500 seat theaters... done it
Wow. I think it would be very difficult to have a balanced stage sound. This thing is just so loud. I'll let you know how it works when I try it out. I'm glad you've been able to do it, that means there's hope. Have you tried the palmer Banamassa Speaker Simulator with it (the -25db feature)? I've lost enough hearing already so I'm sensitive to overall volume levels.
no, when I had a plexi, showman and a JMP I played through stacks of cabs and just used a little hotplate attenuation for small venues, never more than -4dB
its not that loud
I mean yeah its loud, but if you have a heavy hitting drummer and a bass player with a VST and a pair of balls you kinda need the reserve power.... the main thig is being intelligent with cabinet positioning as 4x12s are beamy (other than hiwatts) and you will sound louder depending on where the thing is pointing in relationship to the soundman and certain members of the audience... using my big rig I was told to turn down or turn up in disparate venues and there was little consistency from stage to stage... also, don't put yourself in your floor wedge, just get kick, snare and bass
errr, bassist with an SVT, typo, sorry
I've experimented and I see what you mean. It's still very loud, but workable. This amp doesn't sound like I desire until 4-6 which is very loud, but I can put a 2-12 cab firing up. Thanks for you advice and recommendations.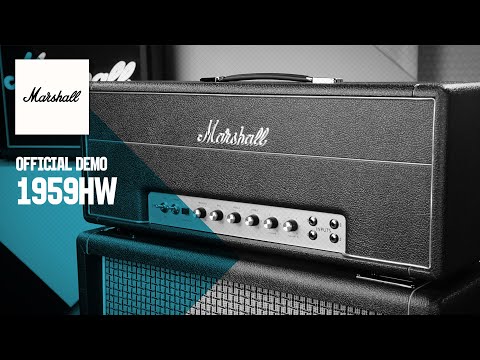 1959HW | Product Demo | Marshall