The Roland RE-201 Space Echo, has been reborn as the BOSS RE-20 Twin Pedal! read more
Amazing simulation of the famous Roland RE-201, with the spacious, analog tone of the original Space Echo
Faithful modeling of the RE-201's tape flutter and magne...
CHECK PRICE ON
I've "had" it. Had the good sense to sell it. A pale reflection of a over hyped tape echo at best...
Love this? Try a real 201, then move on to the far more impressive Multivox & Korg options. Not even a comparison.
Great Digital Tape Delay Pedal
I love this pedal, it has all the features the old RE-20 had in a digital compact stompbox. Bad feature: No presets or memory. Good stuff: great, great sound, tap tempo, built as any boss: like a tank.
Great pedal
It is not like the original but better than the plugin ... has as its strong point that does not require maintenance and is easy to carry
Best tap echo simulator
This Boss pedal is better than any boutique tape echo emulator. It is based on the specific model Roland RE-201. The ramp up feature is unique. Guess what this pedal is even great for vocals. Creepy dark trails it has which I love. Sci-fi soundtrack tool. Try it with a Fender Rhodes, a match made in Heaven.
Definitely a keeper
Bought this pedal over a year ago, still using it for recording, doing gigs or just jamming around, from reverb, slapback to oscillation this pedal can do it, although the only drawback is, it doesn't feature the ability to save preset, however the tap tempo feature in this pedal able to compensate that drawback.
This is the business
Great pedal, vintage sounding SnapBack, nice reverb, and that tap tempo, speed up the pedal is just too good not to play with.
wacky delay
this is one of my favorite delay pedals, and its modeled after one of the greatest tape delays in my opinion (re-201) this thing had amazing characteristics, it can be a little overwhelming with how different it is but trust me you get used to it and learn how to manipulate it.
the real space and chorus echoes are really finicky pieces of kit that can sound downright bad, no joke, I have owned them... when wel maintained and with the gain dialed in just so the are great, but the right gain settings on the input and output vary substantially when you swap guitars
Almost like the real thing with some advantages too.
There are some settings that this can do that the real thing doesn't, and, of course, the Intensity on this is nowhere near it's analog predecessor. Obviously easier to travel with. Love them both. I also have the UAD plug-in version of the RE-201.
Beautiful digital emulation
I've seen a lot of my favorite artists use this as a portable substitute for their RE-201s on the road and it gets the job done. You can create the spaciest most atmospheric tone with the Roland Space Echo. It's such an amazing pedal even by itself and I highly recommend buying one for yourself if you're a fan of lush, dreamy warbley tape delay than this. Especially a tape delay with tap tempo and tape that never breaks!
Childhood dream sounds come true
Any cure fan gets why this pedal is a must have.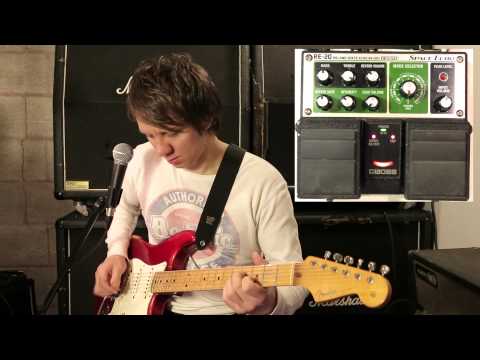 Boss RE-20 Roland Space Echo RE-201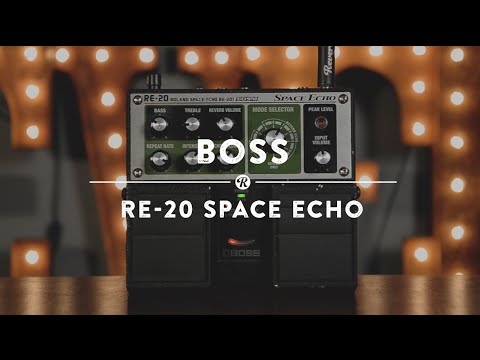 Boss RE 20 Space Echo | Reverb Demo Video
BOSS RE-20 Roland Space Echo Review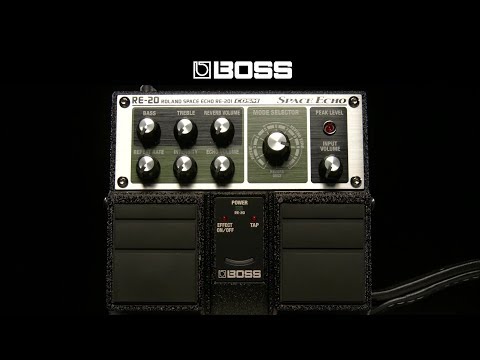 Boss RE-20 Space Echo Pedal | Gear4music demo
Description
The Roland RE-201 Space Echo, has been reborn as the BOSS RE-20 Twin Pedal!
Amazing simulation of the famous Roland RE-201, with the spacious, analog tone of the original Space Echo
Faithful modeling of the RE-201's tape flutter and magnetic head sound saturation
Tap input pedal allows delay time to be set by foot
Longer delay time than the original RE-201
Control parameters such as REPEAT RATE, INTENSITY, and more via Expression pedal
MODE SELECTOR knob with 12 placements just likes the original Space Echo
Popular Delay & Reverb Effects Pedals