Sequential Circuits Prophet VS Vector Synthesizer from the year 1986. - 8 Voices - 4 Oscillators per voice - 96 preset waveforms + 32 user waveforms - analog 24 dB/oct lowpass Curtis CEM3389 VC... read more
Recommend Related Items & Pairings
This is where you can recommend to readers an alternative - or gear that goes with - Sequential Circuits Prophet VS. What gear sounds similar, is less expensive, higher-end or boutique, etc.?
ADD YOUR RECOMMENDATION
Sequential Circuits Prophet VS Vector Synthesizer from the year 1986. - 8 Voices - 4 Oscillators per voice - 96 preset waveforms + 32 user waveforms - analog 24 dB/oct lowpass Curtis CEM3389 VCF - analog VCA CEM 3360 - Arpeggiator
SOLD BY
AVAILABILITY
REVIEWS
PRICE
* Product prices and availability are updated by Equipboard every 24hrs and are subject to change. Equipboard may receive compensation for purchases made at participating retailers linked on this site. This compensation does not affect what products or prices are displayed, or the order of prices listed. Learn more here.
Reviews
Trusted musician and artist reviews for Sequential Circuits Prophet VS
4.5
Based on 1 Review
The last in a noble line that lived up well to its name. A monster synth with some cool and distinctive features.
Interesting to think that this auspicious beast from 1986 was Sequential's first digital synth, but the penultimate one to bear the "Prophet" moniker before the company folded a year later. However, without it (and some of Sequential's residual boffins), the popular Korg Wavestation would not have turned out the way it did. Initially something of a test-bed for a range of ideas - including digital wavetables, the capacity to arbitrarily crossfade between selected waves across 4 oscillators, envelopes that went beyond the standard ADSR steps and which featured loopable stages - they all ended up in the Prophet VS. There are 96 waves available in RAM and a further 32 that are user programmable. Essentially what this meant was that you could set up any combination of the RAM waves in the 4 oscillators (each with their own volume) and save that as a new single waveform - a neat way of expanding the sonic palette. It was possible to import sample data into the RAM, but that was (is) a little complicated. Mixes between the 4 oscillators could be programmed using a dedicated Envelope and LFO allowing for some great, animated, and unpredictable patches, and this was a significant part of the VS's charm. The vector joystick also allowed realtime control over the oscillator mix which would override whatever was programmed in the patch setting. This was all routable through an analogue (Curtis chip) resonant filter, and on top of that was a modulation matrix allowing a ton of flexible routings. It's often overlooked, but the onboard arpeggiator was worth spending time with as it was damn near a sequencer, you can program your own steps and store them as part of a patch. And with the keyboard featuring a programmable split point, it was possible to set up some cool, sequencer-like patterns on one half of the keyboard whilst playing solos or pads on the other half. A slightly more quirky feature (initially a programming accident which Dave Smith insisted that the designers keep) is the random patch generator achieved by pressing the Enter button and patch button no.2. You're then treated to some serious, sonic psychedelia - rarely possible to play a tune with, but an ear-opening demo of what the VS can do. And you'll never hear the same one twice! (unless you save it). All in all, I think it's a shame the Prophet VS didn't fare a little better in it's time. Whilst it's spirit was certainly revived in the Korg Wavestation and the Yamaha SY22, I for one am very happy to have the original blueprint in my collection. It's one very powerful and versatile synth.
it was also hugely influential on some of my favorite digital synths from Ensoniqs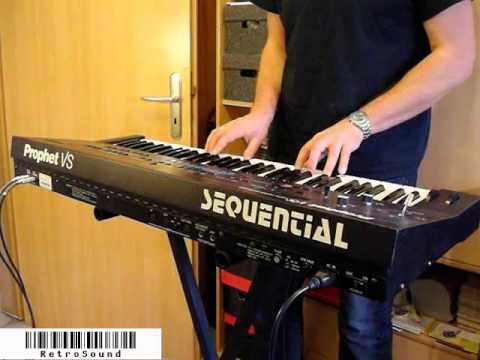 Sequential Circuits Prophet VS Vector Synthesizer