Shure Super 55 Dynamic Microphone
The Super 55 Deluxe Vocal Microphone features a signature satin chrome-plated die-cast casing, supercardioid polar pattern, vibrant blue foam behind the grille, and tailored frequency response for natural vocals and speech. An integrated, swivel s... read more
CHECK PRICE ON
Reviews
Trusted musician and artist reviews for Shure Super 55 Dynamic Microphone
4.5
Based on 9 Reviews
Amazing, Metal, and Vintage look and feel.
Best Microphone ever, Love The nostalgic look, and the super metal feel.
1MMI 1st Studio mic
1MMI 1st Studio mic, used for vocal and drum pick up
clear and crisp
Mic is great for the vintage sound... I use it with my cover band for certain songs to get the tape style recorded sound while live. Never had a feedback issue unless you cup it.
if it would sound as good as it looks i'd be very happy :D
I don't like the sound too much, but since i got it a s a present and looks good on videos i still use it but there are many better sounding mics
3 dressed up as a 9
Doesn't quite have the dynamic range or the punch needed for my voice. Seems to lack presence. If I use it, I need to spend some time dialing it in to something that sounds reasonable. Looks great though.
As seen in our music video
I use this mic in our music video for "Drytooth", which can be seen here https://youtu.be/NUBlx9tTa-k . It's a solid mic but the diaphragm is sensitive, in the sense that you need to sing straight into it to get the full quality (unlike a standard performance mic where you can wobble around its perimeter and expect the same sound and volume). The mic belongs to my singer, who can be seen using it from time to time as well.
Clear sound and great for low and medium frequencies
I believe that this being one of James Hetfield's signature Microphones says it all by itself, but this microphone is a completely worth investment. With a great quality and pureness of sound, this mic is perfect specially for low and mid frequencies and it does cope perfectly well with a good reverb pedal or effect. Best microphone I ever had and I'll surely use it for a really long time.
Says it all? Like it definitely says that you can use it to growl "Its off to Never never land.... Hruuwah!" into it? Right?
@jimmarchi1 Not sure what you meant by that (if it was a compliment or the opposite) but I think that's a great reference, and this mac is incredibly good for both studio and live presentations.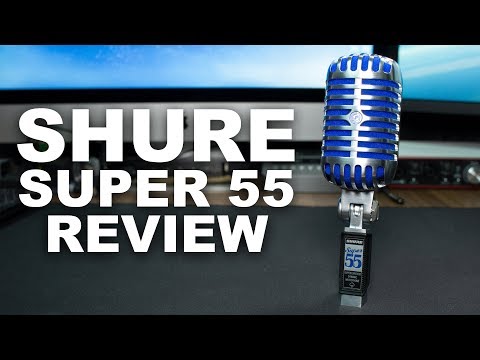 Shure Super 55 Deluxe Vocal Microphone Review / Test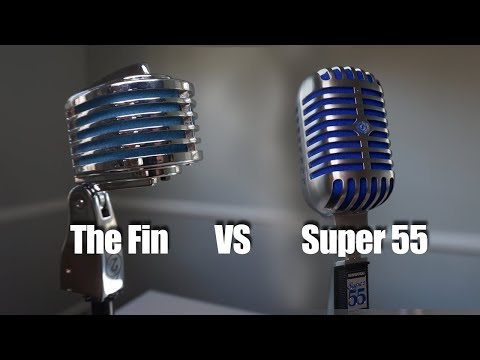 Retro Cool Mics: Heil "The Fin" and the Shure Super 55
Description
The Super 55 Deluxe Vocal Microphone features a signature satin chrome-plated die-cast casing, supercardioid polar pattern, vibrant blue foam behind the grille, and tailored frequency response for natural vocals and speech. An integrated, swivel stand mount is included.
The combination of updates make the Super 55 the ideal choice when looking for a dramatic-yet affordable-improvement in sound quality with an unmistakable vintage design. It's great for stage, studio recording, podcasting, and other sound applications where a stand-mounted microphone with a classic look is desired.