Recommend Related Items & Pairings
This is where you can recommend to readers an alternative - or gear that goes with - D'Addario EXL110 Nickel Wound Regular Light Electric Guitar Strings. What gear sounds similar, is less expensive, higher-end or boutique, etc.?
ADD YOUR RECOMMENDATION
D'Addario EXL110 Nickel Wound Regular Light Electric Guitar Strings
SOLD BY
AVAILABILITY
REVIEWS
PRICE
* Product prices and availability are updated by Equipboard every 24hrs and are subject to change. Equipboard may receive compensation for purchases made at participating retailers linked on this site. This compensation does not affect what products or prices are displayed, or the order of prices listed. Learn more here.
Reviews
Trusted musician and artist reviews for D'Addario EXL110 Nickel Wound Regular Light Electric Guitar Strings
4.5
Based on 26 Reviews
amazing guitar strings. super reliable.
I stopped buying Dean Markley strings for these strings as they are a lot more reliable and give you that nice warm 'New-String sound' for a lot longer, in fact, i changed my strings about 3 and a half weeks ago and they still have that nice sound. These strings also feel super amazing and i would recommend these strings to every guitar player out there!
There's something about D'Addario
I've tried different brands, but always come running back to D'Addario. They give me just the right tension and feel. It is the perfect balance for playability versus tone.
Just the perfect one
The perfect gauge and the perfect brightness...
The Best Strings You'll Ever Use
This is just my opinion, but the D'Addario EXL110 Lights are the best strings out there, whether it's Sweetwater, Amazon.com, or any other site that sells strings, if you can find these strings, buy them.
Nice sound for low price, needs an additional 1st string
I change strings on my guitar every couple of months. I am not a heavy picker by any means, but the 1st breaks sometimes. Goes to show it's not my fault, because it can survive until the next string change sometimes. It would be better if they included an additional 1st string.
Amazing
Amazing strings, last a long time and can handle alot.
standard tuned strats string choice
I like using these on standard tuned stratocasters and replacing the 10 E with an 11 making it 11,13,17,26,36,46
I only use this strings
It was the first string gauge that i bougth and i have like them so much that i haven´t try other brands.
Great Strings, Great Price
The strings last a long time, don't break easily and a pack of 3 is only $15 ($5 for a pack). Great Quality, low price.
Good Strings.
The Strings Are Reliable. Then Sound Pretty Good, And Last A Good Amount Of Time. Good Tone, Good Stuff.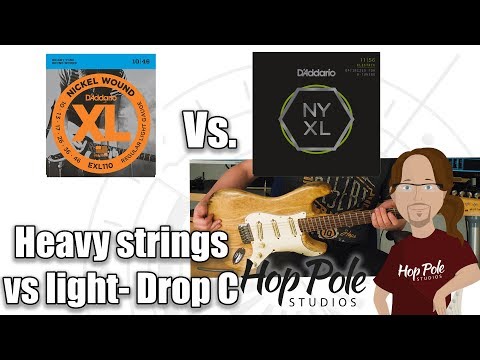 Heavy Vs Light guitar strings - featuring D'Addario NYXL and XL
Add Details
Help add a description of D'Addario EXL110 Nickel Wound Regular Light Electric Guitar Strings
ADD DETAIL