D'Addario NYXL Nickel Wound Light Electric Guitar Strings (10-46)
CHECK PRICE ON
AS FEATURED IN
Reviews
Trusted musician and artist reviews for D'Addario NYXL Nickel Wound Light Electric Guitar Strings (10-46)
5.0
Based on 9 Reviews
Hands Down Best Strings.
Regular D'addarios suck. This is the best. A bending haven. 2 steps, two and a half steps up or more, these are a beast. As the packaging says. PLAY FEARLESSLY
My perfect guitar strings
When I first tried them I knew these were the ones for me.
The best strings on the market
These are my all time favorite strings. Every single employee at the guitar shop where I work swear by these. The new NY Steel core wire stays in tune longer and lets you bend further. Overall, best sounding strings I've ever used, and the only strings I put on my electric guitars.
Overpriced
It's basically the same thing as the regular XLs. Very slightly better, but not by much. If you can afford to drop $13 on a set of strings then go for it. They are definitely the best strings in existence. However, they're not more than twice as good as the regular XLs like the price might suggest.
Doesn't last as long compared to Ernie Balls
I tried these strings to replace my Ernie Ball strings, and within a few weeks most of them broke already (really).
Bendable
These strings are really nice and very easy to bend.
never break
The longest life strings i ever had. You have to try one pair of them!
The best strings I have ever played with, by far.
These strings have such a nice feel to them while playing, and just everything about is better than ANY Ernie Ball strings. Ernie Ball strings tend to have this annoying, and super disgusting tin can sound. Those are cheap strings ($5 or so).
Although D'Addario's NYXL strings are just a little expensive ($15 or so), they are actually worth it. They sound clean, they sound professional, and I have never had any issues with them.
Love these!
Do you love the feel of strings that have been broken in? Well these strings give you that exact feeling and break in as soon as you put them on + they are pretty damn hard to snap!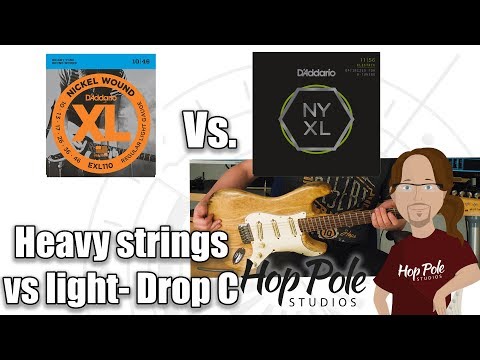 Heavy Vs Light guitar strings - featuring D'Addario NYXL and XL
Add Details
Help add a description of D'Addario NYXL Nickel Wound Light Electric Guitar Strings (10-46)
ADD DETAIL