Divine reverb for mere mortals. Down from the heavens comes the Holy Grail, a compact digital reverb guitar pedal that is priced so low thou shalt not covet thy neighbor's reverb tank any longer. The Holy Grail will make you a believer with its em... read more
CHECK PRICE ON
Reviews
Trusted musician and artist reviews for Electro-Harmonix Holy Grail Nano Reverb Guitar Effects Pedal
4.5
Based on 28 Reviews
Good quality build and sound.
A well built unit (I'd expect nothing less from EHX). Even though it's a one-trick pony, it is very good at what it does.
Nice!
Dreamy, vibey, beuatiful reverb. Not so versatile, but it does what a reverb is supposed to do. You don't throw it on to pretend to sound big. You lather it across your guitar sound when you want to speak to someone's empty soul. Thats what its for.
Great reverb pedal
A great and affordable pedal. I love the Flerb option and use it often as a complement along with Strymon Bigsky.
12 months ago
edited 3 months ago
Great
recently replaced my rv-5 traded the boss for this and I love it so
Not so natural with acoustic guitars
I've used this pedal a lot for concerts, but my Fender amp Reverb sounds more natural for acoustic guitars. But it's a very good pedal.
Great little reverb
Recreates great reverb tones of the 60s and 70s, not so much a fan of the Flerb setting but I'm sure it'll grow on me!
It's a reverb.
Pretty good. Used the "Flerb" setting on a couple songs on our second album. Only downside is a slight volume loss out of the pedal when it's engaged.
Great for professional sounding, filling out reverb
The Holy Grail features three types of reverb: hall, spring, and flerb, which is a flange+reverb setting. Each setting sounds great and fills out the tone of whatever one is playing very well. It can be used for ambient swells or delay work, or to round out a driven sound. The amount of reverb is modifiable, and the pedal could not be easier to use. I recommend this pedal very much for the price for those looking for a professional sound.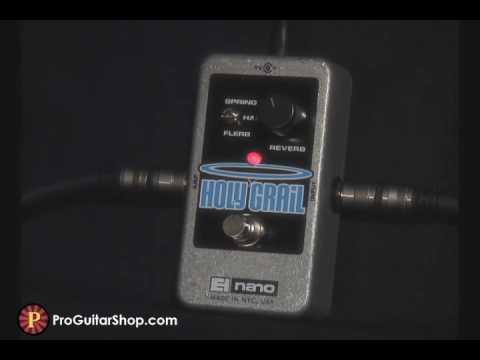 Electro Harmonix Holy Grail Reverb Nano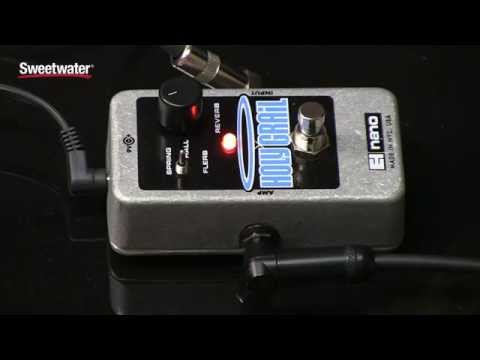 Electro-Harmonix Holy Grail Nano Reverb Pedal Review by Sweetwater Sound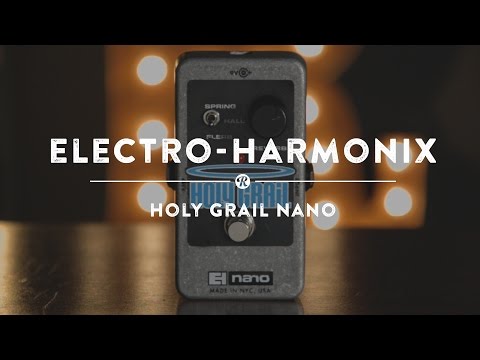 Electro-Harmonix Holy Grail Nano | Reverb Demo Video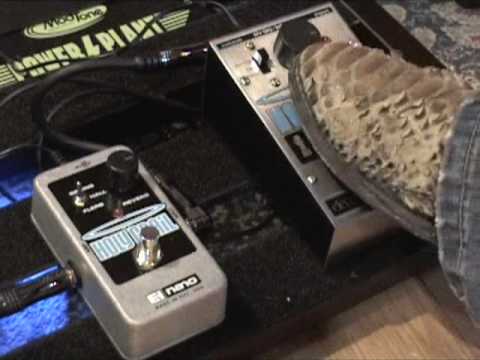 Electro Harmonix Holy Grail vs NANO Holy Grail REVERB guitar effects pedal shootout
Description
Divine reverb for mere mortals. Down from the heavens comes the Holy Grail, a compact digital reverb guitar pedal that is priced so low thou shalt not covet thy neighbor's reverb tank any longer. The Holy Grail will make you a believer with its emulation of classic Spring reverb so faithful that even Dick Dale couldn't tell the difference. Next, get lost in the lush spaciousness of the Hall reverb and ask yourself, "how did they fit Notre Dame into such a small package?" Finally, reach enlightenment with the haunting Flerb.
Specifications
Small, easy to daisy chain die-cast chassis
Classic Spring, Hall and Flerb reverbs
9.6DC-200BI power supply