Reviews
Trusted musician and artist reviews for D'Addario NYXL Nickel Wound Light Top/Heavy Bottom Electric Guitar Strings (10-52)
5.0
Based on 9 Reviews
The best strings I have ever used.
I tried a set when they were first released and I was hooked immediately. The clarity is unbelievable and they last longer than any set of strings I have ever used. I refuse to use the other strings on the market. They are incredibly inferior to the NYXL sets.
I see you are a PRS fan, you should check out this guy; https://equipboard.com/pros/simon-mcbride
I know it's not the music you like but damn if he isn't talented! Like and Irish John Mayer.
I will give him a listen for sure. I like all kinds of music. I mostly play Rock and Metal but thats just because I feel like it challenges me more as a player and I dont really have a formal music background. I love listening to a lot of the classically educated guys and blues and jazz players.
Best Strings I've ever used.
The nyxl's play good out the packet. they feel almost lived in already. They hold their tunings well and bend like crazy. its stated that these ones last longer and I'm yet to see one break. I'm going to be using them across all my instruments.
Nice strings.
Nice and bright tone, a little heavy for my style of playing. Don't snap very fast.
Amazing strings. nice sound.
Great bright strings. Don't snap easily. A little heavy for 10 gauge strings.
NYXL are those magic strings that every metal guitarist needs.
Stable, bright, last longer than just about anything else, they may be expensive but they don't require replacing as much eighter. I'm a big fan of these.
Great tone
These are very good and last for a long time, barely any break in period. Sound good the second you put them on, rarely go out of tune
Great Strings
Best strings I've ever played. I've tried many different brands and many different gauges, but for standard or drop D, nothing else comes close.
best strings on the planet.
Only strings i have used. I tried Ernie Ball strings and they dont hold a candle to D'Addario.
10-52
These are some really great strings. They've beaten all other strings I like. However, they aren't cheap. If I had my way I'd use D'addario for all my string needs. But I can't afford it. I love these strings. But my wallet doesn't.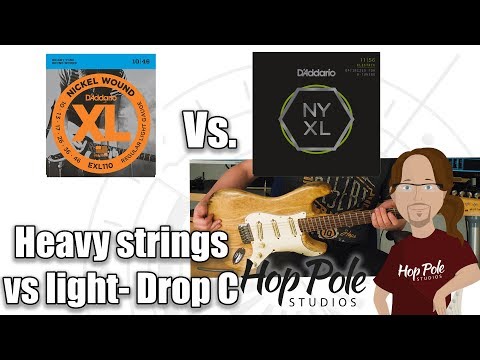 Heavy Vs Light guitar strings - featuring D'Addario NYXL and XL
Add Details
Help add a description of D'Addario NYXL Nickel Wound Light Top/Heavy Bottom Electric Guitar Strings (10-52)
ADD DETAIL