The TRIO listens to the way you play and automatically generates bass and drum parts that match your song. Just plug your guitar into TRIO, press the footswitch to teach TRIO your chords and rhythm, then press the footswitch again to start playing... read more
CHECK PRICE ON
Great fun!
Want to do a 15 minute guitar solo and not have your band mates roll their eyes continuously and willing you to stop - here's the answer! It is actually a great practice tool and I can see it's promise in the realm of songwriting too.
OK for the garage/ bedroom
This is a good songwriting and practice tool. Mine arrived with no instructions, but its simple enough to get going. The drum sounds arent great, but the bass is passable - ideally you need the additional footswitch for greater control also. I wouldn't recommednt this for any kind of live effort though as its a bit "random" in it's backing track creation
Great idea, needs some improvements
It's an incredible tool for practicing. I love that I can just throw down an idea and hear come to life with bass and drums. It can definitely use some improvements though, particularly with the listening function.
A little tricky for live performance
This is a great tool for improving ones solo ability and is a lot of fun. However, It is a bit ticklish to work with and I would not want to use it in any live setting. Perhaps it is a learning curve, but I find that I lose what I was trying to work with accidentally, quite frequently. Even with the additional footswitch, it is still a pain in the neck.
Fun 3 piece band with a mind of it's own.
You play what ever chord progression you want and it builds percussion and bass line from it. From there you can pick different versions/times that you want. It includes guitar effects and a headphone jack. I prefer my looper which let's me play what I want to play... not what it comes up with.
4y
over 4 years ago
edited almost 3 years ago
Band in a Box
My dad has a ton of stuff (I feel like I'm repeating myself here :P ).. anyway the other night I went into his music room and found this little sucker NIB, still in plastic with the ebay receipt on it. Close to $170 retail I guess? Anyway I asked him about it and he had a $100 off ebay cupon ( he lives on that website) so it cost him like $50 or something + Shipping. ANYWAYS. I bust it out finally this afternoon and messed around with it, he told me how to use it but there was a cute little diagram of how to hook it up and on the back it has very simple, easy to follow instructions on how to use it.
I guess they even make a footswitch (which he of course has, somewhere...), but even without it, the thing is pretty cool/decent. He also said they recorded real nashville drummers and bassists! How cool is that!
On to the review. The technology blows my mind, because somehow, if you play something fairly simple (2-5 chord progressions), it will usually come up with a basic drum track and a fairly complex bass lines, at times its almost a walking bassline (Im not a bassist lol). Maybe 1/6 times, OR if I'm trying to do something too fast or metal-ish, the drums somewhat fit but the bassist sounds like he's high on acid or something. But I'm really stunned at how far technology has come. So there's a tempo knob (changes drums and bass tempo obviously), a mode button (Jazz to R&B, to Alt Rock, blues, even country, AND you can even go in between genres!), there is also a time signature knob thingy (I have only played drums like 15 times in my life, if that) which on the left side is strictly 4/4 time. Turn it clockwise fully to achieve a 3/4 time signature for the backing drums and bass.
Overall very cool to jam with, after I get bored with the key or w/e I'll just turn the bass down and riff off the drums..the only good musicians I played with growing up were Lead guitarists (MAYBE like 2 or 3 of which I would consider above avg back then at least), and ONE good drummer for a while, so my rhythm is pretty good already, but its still pretty fun... and if nothing else its motivation to jam alone more..
:)
EDIT: One other gripe, you can hit the guitar FX and get a little distortion, but there is no way to change/modify this distortion, and I figured there would be a clean out, but there isn't appearantly, unless I'm a total idiot haha. Anyways, my only fix would be to have a small/medium amp near by, and either plug ur guitar into it and set what you want then play it through the other amp clean. THEN go about soloing/riffing/song-writing on your main rig. Alternatively, play clean or enjoy the digitech standard distortion. OR, you can get another guitarist to play clean through it, jam with her/him AND the pedal, and BAM. Full band. Sort-of. Its fairly well done, and still fun.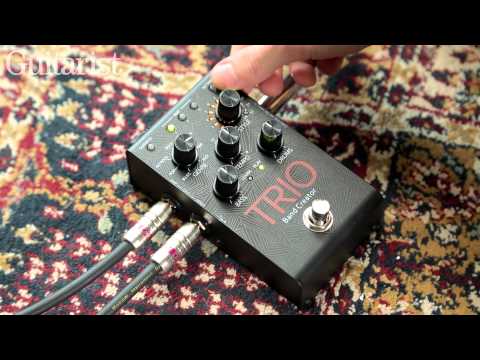 Digitech Trio Band Creator effects pedal review demo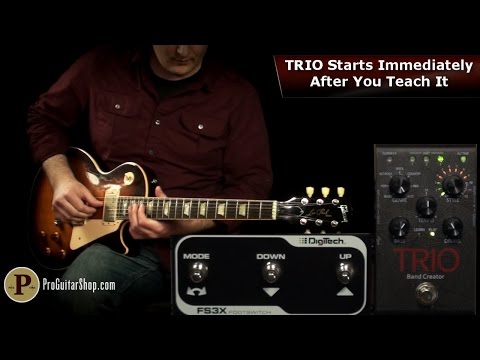 Digitech TRIO Band Creator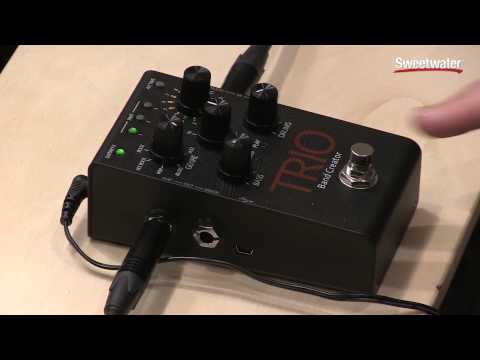 DigiTech Trio Band Creator Pedal Demo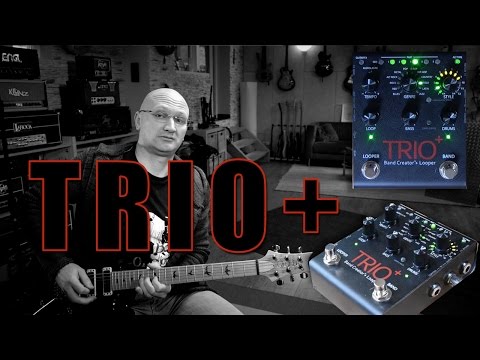 Digitech Trio+ Band Creator - MEGA IN DEPTH Review and Tutorial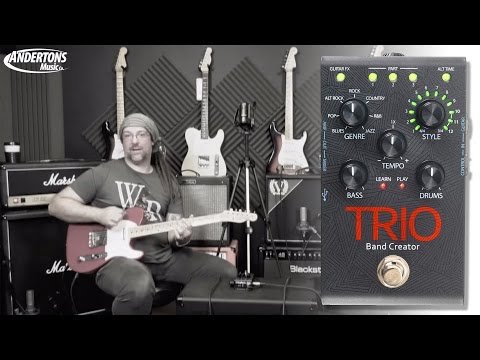 Digitech Trio Pedal
Description
The TRIO listens to the way you play and automatically generates bass and drum parts that match your song. Just plug your guitar into TRIO, press the footswitch to teach TRIO your chords and rhythm, then press the footswitch again to start playing with your own personal band!
The TRIO provides seven music genres to choose from including: Blues, Pop, Alternative Rock, Rock, Country, R&B, and Jazz. Up to twelve song styles are available for each genre and you can select between 3/4 and 4/4 time signatures.
The TRIO can learn up to 3 different song parts which can then be recalled on-the-fly as the song plays back. An optional DigiTech FS3X Footswitch can be connected to the TRIO for easier, hands-free selection of song parts and styles.
The TRIO offers independent Genre, Style, Tempo, Bass and Drums controls; Guitar and Control Inputs; Amplifier, Mixer and Headphone Outputs; Built-in Guitar Effects (relative to music genre); a Soft Click Footswitch and includes a 9V DC adapter.
An effects pedal that learns your songs and gives you a band to play with.
Specifications
Seven Music Genres and Twelve Song Styles Per Genre to Choose From
The TRIO can learn up to three different song parts that can recalled on-the-fly
Adjustable Tempo & Alternate Half Time/Double Time Variants
Bass & Drum Level Controls
Hands-Free Control Using a DigiTech FS3X Footswitch (optional)
Amp & Mixer Outputs
Headphone Output w/Level Control