Get those Jimi sounds.
Use the Electro-Harmonix Stereo Electric Mistress Flanger Pedal to generate the slithering, panoramic textures of "Axis Bold As Love." Manually flange or freeze your sound... read more
AS FEATURED IN
Get those Jimi sounds.
Use the Electro-Harmonix Stereo Electric Mistress Flanger Pedal to generate the slithering, panoramic textures of "Axis Bold As Love." Manually flange or freeze your sound in Filter Matrix mode. Chorus and Flanger work together seamlessly for unique stereo modulations. The Electric Mistress pedal is colorful and seductive!
Controls: Rate, Flanger Depth, Chorus Depth.
1/4" input and output
DC power input for battery replacement.
LED indicates whether effect is engaged or bypassed.
Tech Specs

| | |
| --- | --- |
| Bypass | true bypass |
| Analog/Digital | digital |
| Mono/Stereo | stereo |
| Power | 9V |
* Product prices and availability are updated by Equipboard every 24hrs and are subject to change. Equipboard may receive compensation for purchases made at participating retailers linked on this site. This compensation does not affect what products or prices are displayed, or the order of prices listed. Learn more here.
Reviews
Trusted musician and artist reviews for Electro-Harmonix Stereo Electric Mistress
4.0
Based on 12 Reviews
5y
over 5 years ago
edited almost 4 years ago
Cool!
A very wide, warm and rich flange/chorus sound which can do anything from Robert Smith to the Smiths to Siouxsie to...
It can go really fast and warbly, or it can be subtle and shimmery. Below a certain 'rate', you can manipulate its comb filter for manual jet flanging, old-school goth style. Cool.
A word of warning though; this sounds very different to the deluxe Electric Mistress, which is a pure Flanger/matrix thing. A lot of people do prefer that one, and if you're after, say, the Gilmour sound circa 'Animals', that's the one to get, not this one. This is more of a dual-purpose chorus and flanger for all-round modulation duties. It's not the best chorus or flanger sound in isolation, but combined they're lovely.
Great pedal!
When using this great pedal, you are really starting to sound like Andy Summers or David Gilmour.
4y
over 4 years ago
edited over 2 years ago
Some quality tones
There's a lot of interesting sounds to get out of the Electric Mistress, though the name may be somewhat misleading; the addition of a chorus pedal sets it apart from the vintage tone everyone seeks, and lacks the detailed controllability of other models. While it's simple design makes it easier to get a great tone out of, this isn't a pedal designed to do subtle; think Andy Summers/Police style tones.
Great for adding some extra flair to a rhythm section, but those looking for Gilmour-ish flanged lead tones would do better to turn to Mooer's ElecLady
my friend bought one of these back when it came out, I was really underwhelmed.... Mike Matthews rarely releases an effect that's not mind-blowing (even the ones that aren't useful are usually cool), but this was just a boring effect
Digital flanger/chorus pedal
Good: + Two effects in one pedal + Stereo + Great High Pitch Expressiveness + Filter mode
Bad: - Digital - Buffered bypass - No a lot of low end
suck
I do not like the new stereo electric mistress... I do not like the new clone theory... I do not like what EHX is doing to their classic modulation pedals AT ALL. I can't give this thing away. I've sued it as a chorus on occasion on keyboards.
Yeah...I think they should have called it something else. It's nothing like the vintage Electric Mistress that true Gilmour/Andy Summers fans want. I just think it's a nice chorusy flanging thing, but it bears little relation to what old-timers would call a Mistress.
traded it ina big lot of junk for some other junk I might actually use
free your inner gilmour...
I bought this as a flanger for one song my covers band play. i didn't care for it mainly but its earned a place on my board as a keeper. as a flanger its great and as a chorus/flanger thing its great. as a chorus its rubbish... got mine cheap at 55 quid including the wall wart. its not the best 55 quid ive ever spent...(ive been to Amsterdam, but that's another story) but its up there.
Great
I love the swirling or pulsating sound this pedal gives. Can shimmer on slow rates or wobble on fast settings, then you can mix a Chorus to it.
From Gear Setup:
Awesome
One of my favorite pedals, hope to get a classic one
Simple yet Powerful
This baby is the first pedal I own from EHX. A cool mix of Chorus and Flanger with only three knobs. Still, the controls are enough, plus there is an awesome matrix mode to create even more weird sounds. Must say it is well-made, tight and has huge comfortable knobs. I like how it looks in the pedalboard: the LED has few different states so that it shows not only the maximum position of the envelope, but also the mid-state. Perfect, will go for more EHX for sure!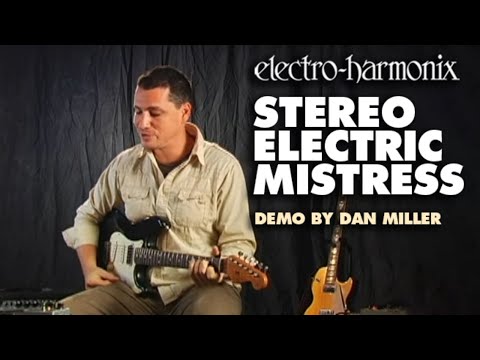 Stereo Electric Mistress - Demo by Dan Miller - Flanger/Chorus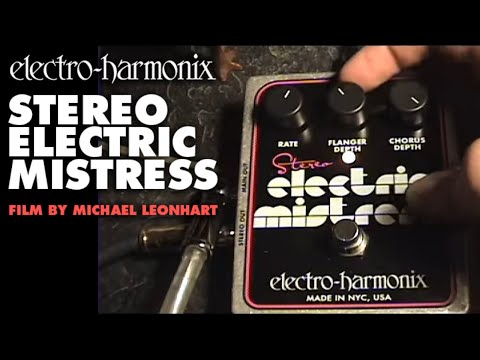 Stereo Electric Mistress - Film by Michael Leonhart - Flanger/Chorus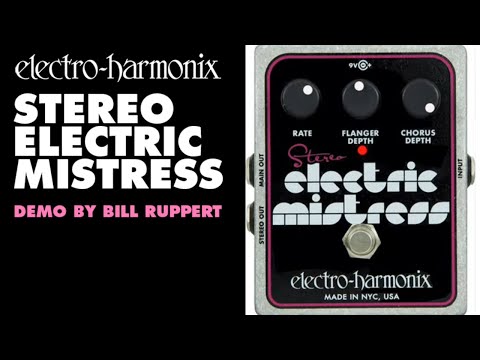 Electro-Harmonix Stereo Electric Mistress Demo - by Bill Ruppert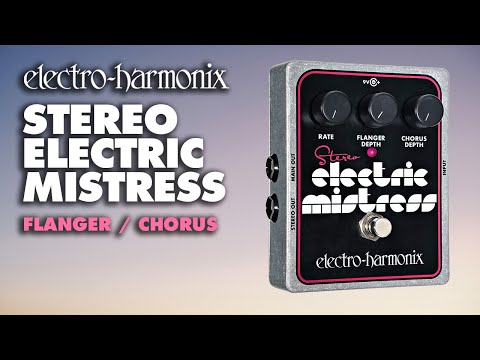 EHX Stereo Electric Mistress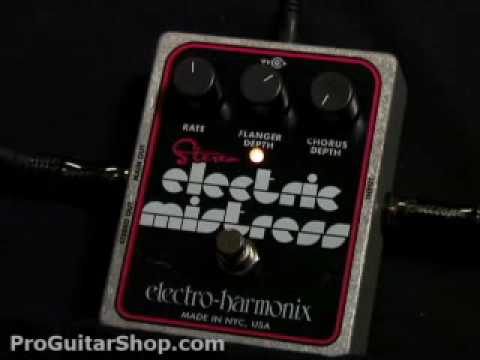 Electro Harmonix Stereo Electric Mistress
Electro Harmonix Stereo Mistress Review
Popular Flanger Effects Pedals