The Clyde Deluxe Wah Pedal is the updated version of a Fulltone standard. The Deluxe version of the Clyde wah has all the features that players have come to know and love about the original, but now it has a 10-step variable input level control, i... read more
CHECK PRICE ON
AS FEATURED IN
Sounds great, Built tough
A versatile, well built, flexible and most importantly great sounding wah. I have a Dunlop, but this is always on my pedal board. I don't use wah a lot, but it's easy to get hooked on this pedal, it's excellent
It's the best wah that money can buy.
This wah pedal is pricey but unlike some other so-called boutique wah pedals, this pedal is by no means overpriced. Other wah pedals like the ones from Dunlop, VOX, Wilson Effects, etc don't even come close to this pedal in terms of quality. All three wah modes sound great, but the "Jimmy" and "Shaft" modes are my favorite ones. The range of this wah is just perfect and the huge sweep of this wah lends excellent controllability. Another cool feature is the onboard buffer/booster, it's fuzz friendly, it's transparent, and it also ensures that there's absolutely zero volume loss when I step-on the wah. As for reliability, mark my words, this wah pedal is so rugged that it can pretty much take a nuke and still work fine. Buying this wah is like a one-time investment, it's so well built that it will last you for your lifetime (maybe even outlast you).
I get it, this Fulltone wah must be mighty and stuff and you really like it but the way you have downplayed other brands ain't right. Have you ever played through a Dunlop Cry Baby DCR-1SR or a DCR-2SR rack-mount wah unit? I don't think you ever had, or else you won't be bashing Dunlop over here. Dunlop makes all kinds of wah pedals, it's not right to base your judgment on their entry-level wah pedals. As for your rather tall claim "Other wah pedals like the ones from Dunlop, VOX, Wilson Effects, etc don't even come close to this pedal in terms of quality.". That's highly debatable. Have you ever tried the Sonuus Wahoo, or the EMB Audio Pedal Wah (by Ampli-Fier). I don't think you have tried them or else you won't be making such tall claims about the Fulltone Clyde Deluxe being the best quality wah ever made.
No, I haven't tried the rack-mount wah units from Dunlop, but it doesn't matter. Their internal construction is not of the same quality as the Fulltone wah pedals. Those rack-mount wah units use PCB based construction which is nowhere as good as the hand-wired construction of the Fulltone. I see no point in shelling out $600 on a wah that isn't even hand-wired. As for Sonuus Wahoo, seriously you think that wah is good. It may have the ability to produce different kinds of sound but answer this simple question of mine. How many of those sounds are usable in the real-world? As for the EMB Audio Pedal Wah, there's nothing even distantly vintage-sounding about that pedal. The appeal of the original EMB Audio rack wah died out after the '80s and '90s, the EMB Audio Pedal Wah was pretty much like beating a Dead Horse. Unlike the timeless vintage-sounding wah pedals, such modern wah pedals are just passing fads. Not to forget at the end of the day, it too is a PCB based wah, I see no reason in spending above $200 on PCB based wah pedals.
Wait a minute, so according to you, the Dunlop rack-mount wah units aren't great because they ain't hand-wired, that has to be the most snobby and ignorant garbage I've ever read in my life. When it comes to providing a high amount of tonal options wah pedals seldom come close to rack-mount wah units. However, according to you, they are not good because they use PCB, hats off to your cuckoo logic. You know the amp you use and the new Fender amps use PCB too, so by your logic maybe they're horrible too. So according to you the original EMB Audio rack wah and its predecessor the EMB Audio Pedal Wah were just passing fads, that's interesting because you know what guitarists like Kirk Hammet and James Hetfield were the very first musicians who pre-ordered the EMB Audio Pedal Wah when Ampli-Fier released it, they still command a hefty price tag in the used market. Not to forget the fact that with the right tuning and texture setting it can produce all kinds of vintage wah tones too. The only thing you need to do is learn how to use it. Maybe the thing which is obsolete over here is your ability to learn how to use a new and advanced product. As for Sonuus Wah, I find the tones in that wah pedal extremely usable. Its extended tones work really great for Avant-Garde sub-genres of Metal, Ambient Music, and Industrial Metal. I liked the tones generated by that pedal so much that I even plan to get that pedal for myself. Maybe playing too much Blues has restricted your creativity. I think you're just infected with the Blues Musician Syndrome, so get well soon Kevin, because your condition is making you spew illogical stuff.
I'm with you Tim... PCB is far more consistent and handwiring is only useful in tube amps where it doesn't sound any better if its done well BUT because of the heat? Hand wiring is better for reliability in a hot amplifier. Even the ebst doube sided PCB traces are succeptible to heat and cold and anything less than mil spec board is prone warping and cracking.... in a tube amp. In a wah? LOL no reason for handwiring. Its just that the early vox wahs were hand wired as were old fuzz faces and tonebenders.... some of them were built really badly too. And they were incredibly inconsistent. There are awful old clydes and good ones.... this is a marketting gimmick. And if you want a boutique wah you're overpaying for get a Teese, not mike fuller's gizmo, at least Teese is a nice guy.
I never claimed hand-wired construction is better than PCB, but in a vintage style wah the kind of wiring matters because it impacts the tonality. All vintage wah pedals were hand-wired so it's pretty obvious in order to sound like them their modern equivalent should be hand-wired too. The kind of wiring impacts the signal flow of a circuit. As for my point about not paying $600 for a PCB based wah, I still stand by that point. It doesn't matter if it is rack-mount or whatever extra feature it may have, $600 for a wah that isn't even hand-wired is plain foolish. I just gave my opinion on the EMB Audio Pedal Wah, you're free to disagree with it, we all have different opinions. If it was such a great pedal why no one else other than those who play modern genres adapt it? As for my lack of willingness to learn how to use complicated wah pedal like the EMB Audio Pedal Wah. Well, we all have our own different learning capabilities, after all, God created us different from each other. Yes, you're right playing Blues may have made me less creative by your standards because at the end of the day we don't experiment with new soundscapes in Blues. Blues is not about wild experimentation with soundscapes or display of technical prowess, it's about pouring your heart and soul in the music and connecting with the listener through your soul.
James, buddy, I wholeheartedly agree with you. I would never pay such ridiculous prices for this Fulltone wah. The whole hand-wired effect pedal thing is just pure marketing gimmick. The consistency of hand-wired effect pedals is complete bonkers. Even pedal guru Brian Wampler uses PCB construction because it ensures a high degree of consistency. I can bet in a blind test many of these hand-wired wah snobs won't even hear any difference. This guy Kevin is blinded by his snobbery. The worst thing I saw about his comments is how he completely dissed Dunlop products like the DCR-1SR or a DCR-2SR just because they use PCB construction. Top musicians like Rob Cavestany, Slash have been using those units from the '80s and '90s to date without any problem. When a firm makes a $600 wah unit with a lot of adjustable settings then a hand-wired approach will be completely foolish, because it will be like playing Russian roulette with the quality control. Too bad snobby people like Kevin can never comprehend such stuff. I have met snobby Blues players before, and Kevin sounds like one of them. It's kinda disheartening to see that Blues which was actually a genre that never cared about gear has slowly become the genre with so many gear snobs.
look, I build handwired stuff, sure, but 1 offs for myself, no sense making a PCB for 1 unit
now, I'm not trying to flame the OP here precisely, just pointing out some simple facts any builder will likely concur with
Fulltone Clyde Deluxe wah
Mine Clyde Deluxe is a limited edition (in white).Older version without a switchable JFET buffer. Sounds great! 10-step Variable Input Level Control True-Bypass w/ bright side-viewable low current Pilot light status indicator 3 selectable modes: Wacked Jimi" (Clyde Standard) Shaft
Great wah!
I use the Jimi sound, but the others seem workable too. I figured if Trower uses it it's got to be good, an it's great! The more I get used to it, the more I love it 🥰
Solid, feature packed, and expensive
Fulltone makes great stuff. The Clyde Deluxe is packed with cool features- three different wah styles (Hendrix, funk, and their own take), a switchable JFET buffer to make it fuzz friendly, and a resonance trimmer (to adjust bass response and gain) mounted on the circuit board.
Its built like a tank, has heavy duty pots, and an easily adjustable treadle. However, its a $200 wah pedal. Unless you're REALLY into wah or don't care about money, you should probably get a CryBaby and spend the other $150 on more gear. The response on the Clyde is better than the CryBaby. You get more pedal travel over the range of the effect, making it easier to control. But its a lot of money for a wah, no matter how well its made.
Like all the Fulltone stuff, this pedal is built like a tank with quality parts and meticulous wiring.
The Wah Pedal's 3-way mode switch and variable input control pot will let you dial in almost any type of wah sound you can imagine.
one of the best wahs
I used Dunlop wahs like everyone else for years wondering why I never got those killer wah sounds people like Robin Trower got...it was the crap Dunlop!!! I learned how to get better tones out of one and started modding Dunlop wahs. i did a very good job, but there's only so much one can do using a crap wah to mod in the first place. Heard about Fulltone, checked out the Clyde...fell in love with it and got the Deluxe and I still use it!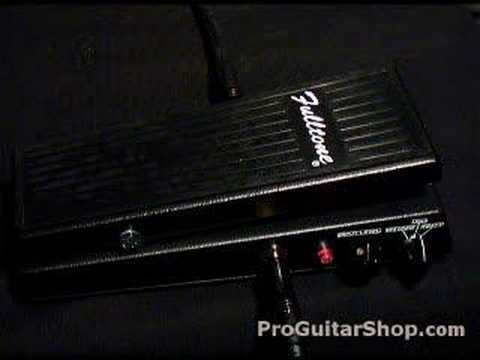 Fulltone Clyde Deluxe Wah Pedal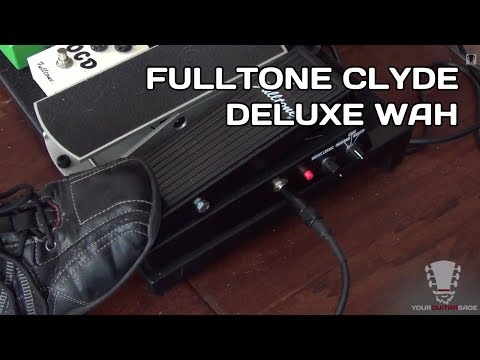 Fulltone Clyde Deluxe Wah Guitar Effects Pedal - Gear Review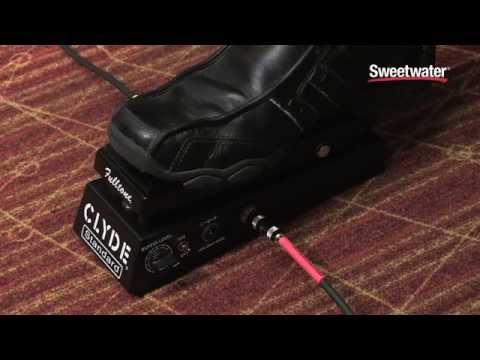 Fulltone Clyde Standard Wah Pedal Review - Sweetwater Sound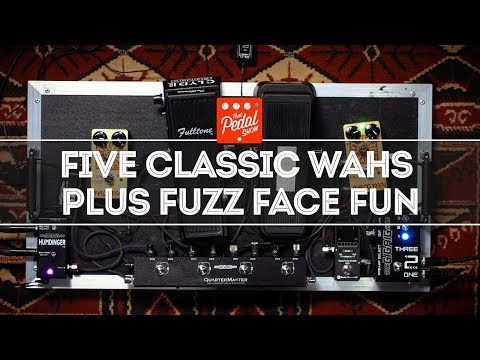 Five Classic Wah-Wah Pedals Compared With Plenty Of Fuzz Face Fun – That Pedal Show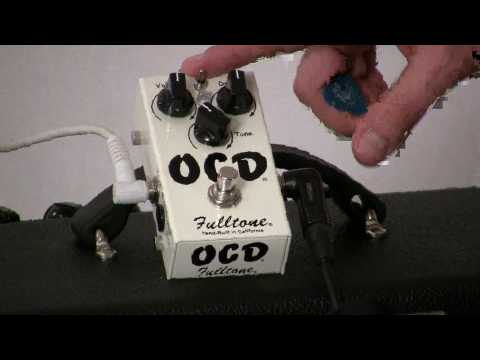 Fulltone OCD & Clyde Deluxe Wah Pedal
Description
The Clyde Deluxe Wah Pedal is the updated version of a Fulltone standard. The Deluxe version of the Clyde wah has all the features that players have come to know and love about the original, but now it has a 10-step variable input level control, it's true-bypass with a bright side-viewable low-current pilot light status indicator, and has 3 selectable modes: Wacked, Jimi, and Shaft.
The Wah Pedal's 3-way mode switch and variable input control pot will let you dial in almost any type of wah sound you can imagine. All the way from classic Voodoo Chile to biting funk to down-and-dirty low-end grunt. The Fulltone Clyde Deluxe can do it all.
Dials up your wah tone of choice with 3 selectable modes.
Specifications
10-step Variable Input Level Control
True-Bypass with bright side-viewable low current Pilot light status indicator
Popular Wah & Filter Effects Pedals