Dunlop ZW-45 Zakk Wylde Signature Cry Baby Wah
A wah built to handle Zakk's wild ways.
The Dunlop ZW-45 Zakk Wylde Signature Cry Baby Wah must be one of the toughest, meanest wah pedals on the planet. Built from the ground up with great tone and rugged durability in mind, the Zakk Wylde ped... read more
CHECK PRICE ON
Reviews
Trusted musician and artist reviews for Dunlop ZW-45 Zakk Wylde Signature Cry Baby Wah
4.5
Based on 9 Reviews
favourite wah for metal
Not a zakk fan (like not at all) but I really like this wah pedal. I saw Phil Demmel and Michael Amott ( I think) using this so I thought I'd give it a try. It's been my favourite wah when I need a more cutting wah tone.
Zakk Wylde Cry Baby Wah Pedal By Dunlop
Cool pedal with nice range, it looks cool as well.
Nice growl
Really nice growl. Haven't tried any else like it. A bit noisy, but hey it's rock n roll
Gnarly Nasty Sounding Wah Pedal
I like this wah very much. It has a rugged vibe. Build like a tank and heavy enough to be used as a weapon.
It's good, but...
It's my way, the one i've choosen , but still isn't exactly what I am looking for, it's cool because of it's sharpy sound, but it loses on the darkest tones , that I love.
it does what genre you need well
funk, metal or plain rock the wylde wah will handle it
5y
over 5 years ago
edited over 2 years ago
One of the greatest!
(UPDATED) I love the sound of the Wylde Wah! It has some nice specs chosen by the papa Zakk Wylde himself. I had this pedal for about 8 years (2008-2016), then I left it in Brazil when I moved to Canada, thinking I would find something better here. I tried hard, even other brands... Finally, I called my dad and he sent me this guy all the way from Brazil. Learned my lesson: this pedal shall never leave my board again. Also, don't fool yourself! This pedal was made by one of the greatest heavy metal guitar players, but I like to use the Wylde Wah for all kinds of music. From slow pop rock, to country-rock, to hard rock, to heavy metal, to metalcore... Trust me, this pedal can handle everything. 10 years old now, and still working perfectly. \m/ Thank you Dunlop, thank you Zakk!
Great build but limited sound
I love playing this pedal but it just lacks the flexibility of a Vox or original Crybaby. It is incredibly robust and is still attached to my gigging pedal board.
Decent wah pedal
Feels great. Does not suck out the tone. However the "wah" effect is quite mild even at the max.
its probably a low Q for the badpass filter because hes a metal guy who plays with bintense gain levels and a high Q filter would sound harsh
yeah i agree, i initially thought it would be worth to try out a signature wah but it really wasn't what i was looking for.
try the joe bonamassa and if the heel position is too deep tape a fender heavy pick down under the heel position so it stops the treadle from going all the way down. Good analog solution to tailor your sweep.... of curse, being a solid state player YMMV with any wah, the signatures are all voiced for specific tube amplifiers. The ZW is voiced for a JCM800 2203, Kirk Hammet's is voiced for a high gain Randall, the slash wah is for a silver jubilee gain channel, Jerry Cantrell's would work well with a Bogner or a Friedman Brown Eye... and Bonamassa's is voiced for a plexifront superlead, lead or a JTM45, etc turned WAY up...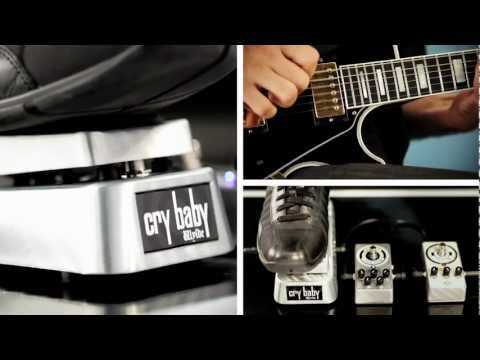 Zakk Wylde Signature Cry Baby

Dunlop Zakk Wylde Signature Wah Pedal ZW-45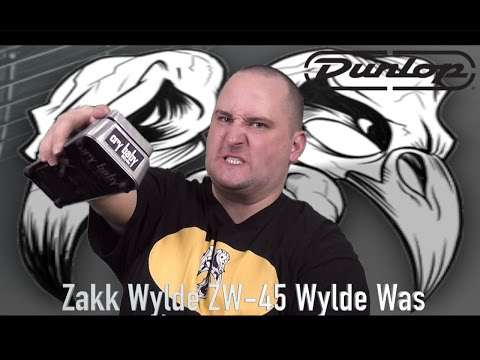 Dunlop Crybaby ZW-45 Zakk Wylde Signature Series Wylde Wah
Description
A wah built to handle Zakk's wild ways.
The Dunlop ZW-45 Zakk Wylde Signature Cry Baby Wah must be one of the toughest, meanest wah pedals on the planet. Built from the ground up with great tone and rugged durability in mind, the Zakk Wylde pedal can stand up to the crushing stomp of metal's reigning king of lead guitar. The Wylde Cry Baby Wah is crafted with a heavy-duty raw-metal casing and roadworthy components to withstand years of abuse. With guts that have been finely tuned to Zakk's specs, including the Fasel inductor, the Dunlop Cry Baby wah is specially voiced to deliver extra-thick and cutting tone. You can power you Zakk Wylde Signature Cry Baby with a 9V battery or the Dunlop ECB-003 AC adapter