NI's flagship beat machine gets an entire new look, feature set, and now Maschine 2.2 software.
MASCHINE STUDIO is Native Instruments' new flagship groove production workstation for professional music production and performance. Now with two hi-r... read more
CHECK PRICE ON
Recommend Related Items & Pairings
This is where you can recommend to readers an alternative - or gear that goes with - Native Instruments Maschine Studio. What gear sounds similar, is less expensive, higher-end or boutique, etc.?
ADD YOUR RECOMMENDATION
Reviews
Trusted musician and artist reviews for Native Instruments Maschine Studio
5.0
Based on 37 Reviews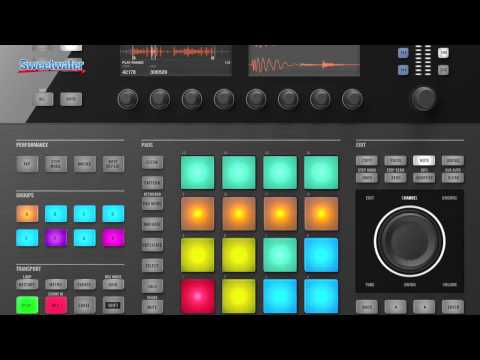 Native Instruments Maschine Studio Demo - Sweetwater Sound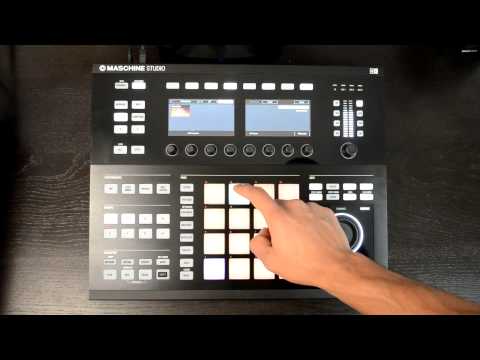 Native Instruments Maschine Studio Music Production MIDI Controller Review Video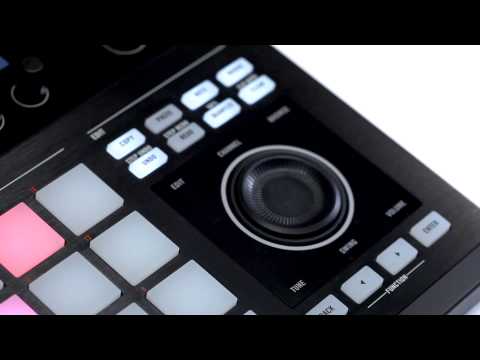 Maschine Workflow 1: Drums | Native Instruments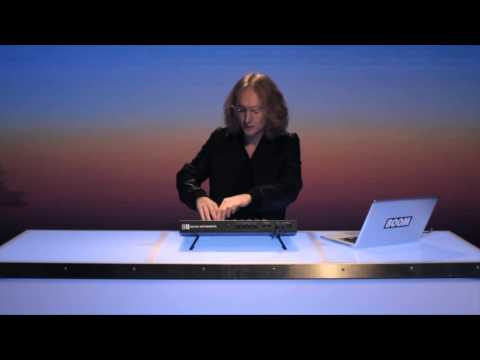 Jeremy Ellis plays MASCHINE STUDIO | Native Instruments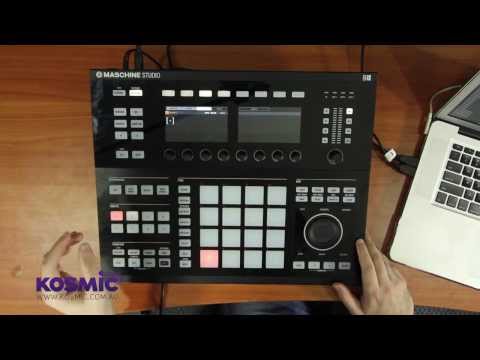 Native Instruments Maschine Studio & Maschine 2
Description
NI's flagship beat machine gets an entire new look, feature set, and now Maschine 2.2 software.
MASCHINE STUDIO is Native Instruments' new flagship groove production workstation for professional music production and performance. Now with two hi-res color displays; 16 touch-sensitive, multicolor pads; a new jog wheel for precise edits and scrubbing; powerful sampling, slicing, time-stretch and editing functions; an 8GB sound library; and a lot more. The sleek design of the MASCHINE STUDIO hardware give you a direct access to all key-functions, with dedicated control buttons and the added jog wheel for fast browsing, editing, level metering, and arranging. The two high-res displays on the MASCHINE STUDIO let you see patterns, scenes, plug-in icons, waveforms, and the powerful built-in mixer feature right from the hardware for an accelerated workflow.
Create and perform rhythms, harmonies, and melodies faster than you ever thought possible. MASCHINE STUDIO's workflow keeps you laser-focused on the quest for the perfect groove. Its pattern-based sequencer and high-performance sampler, exemplary drum synths, incredible suite of creative effects and pro instruments, and acclaimed sound library deliver ultimate production power.
HANDS ALL OVER
MASCHINE STUDIO redefines hands-on control. Big, high-res color screens show waveforms, patterns, scenes, NI product visuals, and mixer and meter levels in full detail. Multi-color pads provide ultimate feel in the thick of the beat.
Eight display knobs, edit buttons, and a jog wheel with LED indicator provide complete tactile control of MASCHINE's sequencer, instruments and effects. A dedicated level section delivers clear metering and monitoring. And a built-in stand delivers the perfect performance angle.
INTEGRATION
MASCHINE STUDIO is the ultimate groove production system, combining software and hardware in perfect harmony. Get absolute, hands-on control of every aspect of all-new MASCHINE 2.0 software without having to resort to hardware shortcuts or use a mouse. See everything you do on two gorgeous, hi-res color displays. And because software can be easily updated, MASCHINE 2.0 will always keep you on the cutting edge of technology, pushing your creativity further than you ever thought possible.
ULTRA-INTUITIVE WORKFLOW
MASCHINE STUDIO is the ultimate instrument for blazing-fast groove production. Start working on the hardware and the ultra-intuitive workflow quickly becomes part of your muscle memory. Devote all your time to making the music you want to make, not learning the tools you use to make it.
MASCHINE STUDIO's luxurious layout lets you control the software functions from the hardware with dedicated controls- no switching menus or navigating complex key commands. This is full-time creative flow.
ADVANCED PROCESSING
MASCHINE 2.0 makes you faster. A top-of-the-line audio engine saves resources while delivering the highest audio quality possible. 32-bit float internal summing gives your tracks a shine you'll instantly notice. Advanced multi-core technology runs multiple processes in parallel, dividing complex tasks between your computer's cores. Run more plug-ins. Mix with ease. Load up even more sounds on unlimited groups, and so much more. The result is the most responsive, fluid, and musical MASCHINE software ever.
BEAT REVOLUTION
Beneath MASCHINE STUDIO's advanced hardware is all-new software - exploding with cutting-edge technology. MASCHINE 2.0 delivers a spectacular, tag-based visual browser, unlimited groups and insert effects, sidechaining, and a sleek, intuitive mixer - all directly accessible from the hardware. MASCHINE 2.0 hosts any VST or AU plug-in and perfectly integrates into any studio setup as a plug-in in all major DAWs. The software also boasts full multi-core support for ultra-fast performance.
SUPREME SOUNDS INSIDE
Get inspired by MASCHINE's 8 GB library of production-ready sounds. Create your own drums with sonically-outstanding drum synths - a broad sweet spot makes it super-easy to dial in just the sound you're looking for. Modulate 24 pro-quality studio effects directly from the hardware. Plus you get full versions of MASSIVE, PRISM, SCARBEE MARK I, and the SOLID BUS COMP.
DRUM SYNTH
MASCHINE 2.0 sets a new benchmark in software drum synthesis. Create your own perfectly-tuned electronic and acoustic drum sounds in truly peerless sound quality. Five monophonic drum plug-ins built exclusively for MASCHINE 2.0, each with several unique algorithms give you any percussive sound you need. All fully tweakable, automatable from the hardware, and perfectly integrated into MASCHINE STUDIO - with the quality that comes from NI's acclaimed DSP expertise.
MASCHINE 2.2 SOFTWARE INCLUDED
MASCHINE 2.2 features a host of new power features including perfect integration with KOMPLETE KONTROL S-Series keyboards. Current MASCHINE 2 software owners can update free. Owners of MASCHINE 1.x who register KOMPLETE 10, KOMPLETE 10 ULTIMATE or a KOMPLETE KONTROL S-Series also get a free MASCHINE 2.2 download. Your workflow is about to get even smoother...
MASCHINE 2.2 Software updates include:
TOUCH-SENSITIVE KNOBS
MASCHINE 2.2 unlocks MASCHINE STUDIO's touch-sensitive knobs. For example, when browsing, touching a knob automatically takes you to the tag cloud on the hardware display. Depending on which control knob you touch, you'll see all available options and functions in a pop-up list. For instance, routing options for sounds and groups. Absolutely no menu diving - a turbocharged workflow.
SCALES AND CHORDS
MASCHINE 2.2 extends Keyboard Mode with a new scale and chord engine - fully integrated into the MASCHINE workflow. Simply select your scale and start playing melodies on MASCHINE's 16 ultra-sensitive pads that are always in key. Engage Chord Mode and play chords directly into your compositions.
ARPEGGIATOR
MASCHINE 2.2 extends Note Repeat into a fully-functional arpeggiator. Play any number of notes and let MASCHINE turn them into a melodic pattern. Use the arpeggiator in combination with Scale and Chord Modes and get polyphonic performances from just one key - always in tune. What's more, the output of the arpeggiator is recorded into the Pattern Editor - perfect for post-performance editing.
KEYBOARD INTEGRATION
MASCHINE 2.2 gives you full keyboard functionality within the MASCHINE environment. Press browse on your KOMPLETE KONTROL keyboard and the KOMPLETE Browser pops up on your computer screen, letting you select and load a sound directly into a sound slot in MASCHINE. Watch scales, chords, and arpeggios light up across KOMPLETE KONTROL's Light Guide, see the color of your sounds in MASCHINE directly on the keyboards, and get perfectly-mapped parameters instantly with Native Map.
*Effective May 1st 2015, purchase any Maschine groove production (Studio, MK2, or Mikro) workstation and get a free software download of Komplete Select bundle, featuring 10 top Native Instruments software titles. This offer is valid upon product registration withNative Instruments and is fulfilled through the Native Instruments website as a software download.
Specifications
Groove production system with enhanced physical control
Touch sensitive multi-color pads
Dedicated edit buttons, level section, 8 display knobs
Precision jog wheel for editing, scrubbing, browsing, and more
Powerful sampling, slicing, time-stretch, sound shaping, and editing
Two large, high-resolution color displays show waveforms, patterns, scenes, and more
8GB library with samples, one-shots, sliced loops, sampled instruments, and more
Mixing and metering directly on the hardware
Fast, powerful drum design with on-the-fly parameter automation
Classic groovebox features including 16 velocity levels, swing, pad link, note repeat, and step sequencer
Seamless KOMPLETE 9 integration with preset browsing, icon view on the hardware, and automatic parameter mapping
24 pro-quality studio and creative effects including filter, EQ, delay, reverb and compressor