Colorfully illuminated, pressure-sensitive MIDI controller with 16 pads, 2 rotary sensors, and 9 touch-sensitive sliders.
QuNeo from Keith McMillen Instruments is a truly distinctive and different species of pad controller that is versatile eno... read more
CHECK PRICE ON
Reviews
Trusted musician and artist reviews for Keith McMillen Instruments QuNeo
4.0
Based on 4 Reviews
Now that I have it... is it what I thought it was?
Some of you may recall that I wrote some rather flattering words for the QuNeo back during my tenure as the Community Manager here at Equipboard, but confessedly I didn't have all that much time with the unit as I'd have liked while writing those words. I had played with the unit, sure— but I hadn't put it through the wringer of a genuine on-stage performance yet. So, how does it hold up compared to my original idea of it (which would probably put it somewhere between winning the lottery and attaining nirvana)?
Yes, nearly everything on this controller is mappable. Every corner of the 4x4 grid's buttons can be mapped to be its own thing, including pressure and X/Y information. It really is capable of as much as it says it is. But... is it really that necessary? I've switched from using the "8x8" setup in live settings to just using them as a basic set of 4x4 buttons with no pressure. The pads feel wonderful when you're using them as just pads; as their own 'knobs', however, getting the pressure right takes a LOT of fine-tuning and tedium. You CAN use it with the pre-set tuning right out of the box, but be ready to over-mash or under-mash in the heat of performance. Using the 'faders' behaves similarly— be ready to adjust them quite a bit over time. (I use this with Traktor in most cases, though the ability to swap into a mode with a channel controlling Ableton Live has made it VERY useful in live situations.)
This is NOT to say that the QuNeo is not ideal, nor that it can't be tuned to suit anyone's needs. It really is one of the most flexible and capable controllers on the market, outside of the MIDI Fighter 3D. However, if you really want to unlock the full potential, be ready for a LOT of trial-and-error and some frustrating nights with the software— all ENTIRELY rewarding, mind, and the constant reminder that you can do as much as you can do with the controller undoes most of the damage of those nights. However, it really shines as just a straightforward set of drum pads— lusciously squishy drum pads that tend to be just responsive enough to hit that 'sweet spot'. DEFINITELY worth a purchase as a 4x4 grid, as well as a more expandable controller. If you don't want to pour a lot of time into a controller, it may not be for you, but the reward of that time is well worth the trouble.
4.5/5 - Some needed fine-tuning for pressure & X/Y keep this controller from pure godliness.
What a great Midi controller
Great build a lot of functionality very compact plus a very good investment.
One of the most advanced controllers on the market.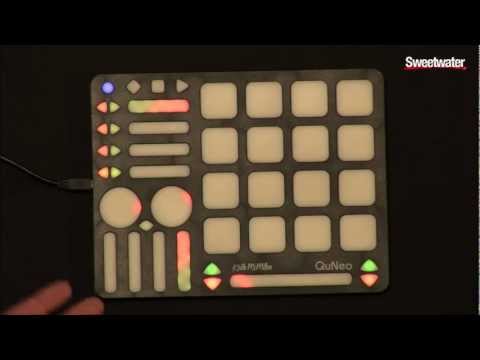 Keith McMillen Instruments QuNeo Multi-purpose MIDI Controller Demo - Sweetwater Sound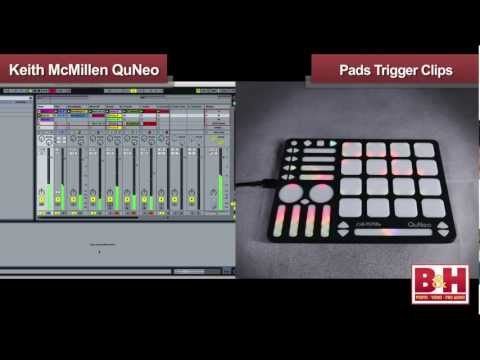 Keith McMillen Instruments QuNeo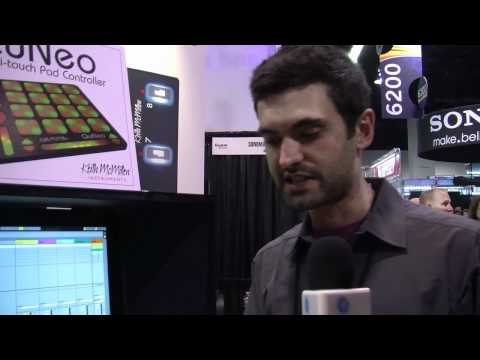 NAMM 2012: Keith McMillen Instruments QuNeo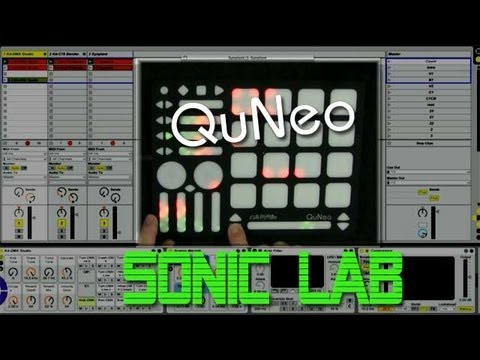 Sonic LAB - Quneo 3D MIDI Controller - Keith Mc Millen Instruments
Description
Colorfully illuminated, pressure-sensitive MIDI controller with 16 pads, 2 rotary sensors, and 9 touch-sensitive sliders.
QuNeo from Keith McMillen Instruments is a truly distinctive and different species of pad controller that is versatile enough to be used by electronic musicians, DJ's and even by VJ's for controlling visual effects. The QuNeo covers all of the basic functionality of a standard MIDI controller with assignable pads, rotary sensors and sliders, but takes the power of touch recognition to a whole other dimension.
QuNeo features 27 tactile pads, sliders, rotary sensors and switches that are all pressure, velocity, and location sensitive. Even the 17 switches respond to just how much pressure you apply. The remarkable illumination scheme combines variably diffusive elastomers with 251 multi-color LEDs providing visual feedback that is immediately responsive and delightfully informative. There are 16 square pads that each provides 127 levels of velocity response, X-Y location and continuous pressure for each pad. Two rotary sensors allow you to scrub, trigger, stretch, pinch and play phrases and sound files, manipulate continuous controllers and more. Each rotary sensor measures angle, pressure and distance from the center. QuNeo's nine touch sensitive sliders can be mapped to fader and effects controls, and the internal LEDs within each slider will act as VU meters so you can monitor your levels, or they can be set simply as visual reminders of where you left off. The multi-touch option let's you select a length between two fingers to set stereo locations or filter resonances, creating intricate effects with just a swipe of your finger. Tapping functions allow you to mute a slider or toggle any track and its function. The switches on the QuNeo Controller are located in smart groupings that allow for easy selection of samples, fader banks, and transport controls. Each of the switches can scan up and down through files at speeds variable with the pressure of your touch. Great for quickly locating that perfect fill or loop that will flatter your performance. QuNeo is conveniently sized the same as the iPad, which allows the controller to fit into most iPad accessories such as mic clips, stands and more. QuNeo works with USB, MIDI or OSC and will communicate with your favorite music software environments right out of the box. More advanced users and programmers can use the development kit and API to create their own code to respond to QuNeo's sensor data.
Specifications
Fully customizable MIDI controller ideal for electronic musicians, DJ's and VJ's
16 Pads with 127 levels of velocity response, X-Y location and continuous pressure control
2 Rotary sensors to scrub, trigger, stretch, pinch and play phrases and sound files, manipulate continuous controllers and more
Each rotary sensor measures angle, pressure and distance from the center
9 Touch-sensitive sliders can be mapped to fader and effects controls
LED's in each slider can act as VU meters for audio levels, or a reminder to where you left off
Multi-touch let's you select a length between two fingers to set stereo locations or filter resonances
Switches are located in smart groupings to select samples, fader banks, and transport controls
Scan up and down through files with touch pressure