Reviews
Trusted musician and artist reviews for Celestion Alnico Blue Speaker
5.0
Based on 3 Reviews
This is a review of the UK made reissue G12 Blue
What can one say about the venerable Blue Alnico G12 speaker. Vox, early Marshall stacks, the 1st purpose-built guitar speaker in history. 1st off, blues are extremely efficient. This is one of the 3 oudest Celestions currently in production. Unless you are using a V30 or H30, they WILL make your amp louder. 2nd, the blue is extremely bright. Some people say the reissues are brighter than the vintage originals, but in my experience this is only true of vintage examples that have been exposed to a lot of humidity or that are on the edge of blowing up... ie old Vox branded G12s that are ready for a recone. The rated power handling of this speaker is 15 watts, but they can handle a good 20 watts in my experience as long as you are not pummeling that hard every night for a year. Now that my reissues are broken in they sound JUST LIKE old ones in good condition. I have done a blind listen (similar cabinets powered by the same Ceriatone head) with discriminating tone junkies like myself and no one can tell which is which including me. These speakers are reputed to be low on bass, but I think that reputation comes from their use in open back combos like the ac30 and jtm45 where the alnico compression character coupled with the open back design makes them seem weaker in true low end than they actually are. When loaded in a closed back cab they kick out easily as much bass as a G12M greenback and can even contend with 75hz lead cone G12H for low end response. When front loaded in a sealed cab the bass can be downright thumpy with the right amplifier and tonestack settings, but it is always controlled and well-defined.
I'm going to come out and admit it, I love this speaker. It may displease some people though because it breaks up pretty early, is heavily compressed unless powered with less than 5 watts, and reproduces distorted sounds in a chimey way that's heavy on the upper midrange versus a G12M's distortion reproduction which has compressed bass and a very woody presence in the true midrange, however this helps them to cut thru the mix on stage like a hot knife through butter. The Blue cannot be made to sound harsh. There is something magical in the treble compression that makes even the brightest amplifier settings pleasant and appealing. The Blue seems incapable of reproducing ANY unpleasant overtones and can make an ostensibly bad tone good. It just sounds great all the time unless you are playing poorly. Being fairly compressed but very detailed, this is a very unforgiving speaker. Weak fretting and sloppy right hand technique will be heard in the back row.
Heads up, if you want more dynamics from it, pair it with a high efficiency ceramic speaker with higher wattage handling in a 2x12 or 4x12 configuration. I like it with a G12H lead cone speaker in a closed back or a G12H bass cone in an open back like an ac30 combo. If you want to sound less vintage, pairing it with a vintage 30 or a G1265 will do wonders. You'll get more of a modern marshall thing going but with that sweet vintage speaker compression and superior detail...
I could wax lyrical about my G12s all day, but I'll spare you. Just try them for yourself.
Some of the best tone out there
This is the speaker of speakers, enough said.
Best speaker ever made by Celestion.
They came preloaded on my AC30C2X and they sound so good and loud. They have a beautiful chime to their sound which you won't hear from any other guitar speakers.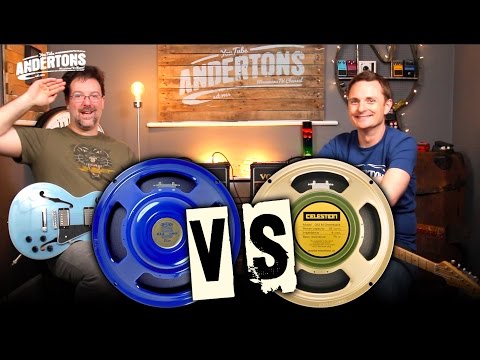 Blueback vs Greenback Speakers - Can you hear the difference??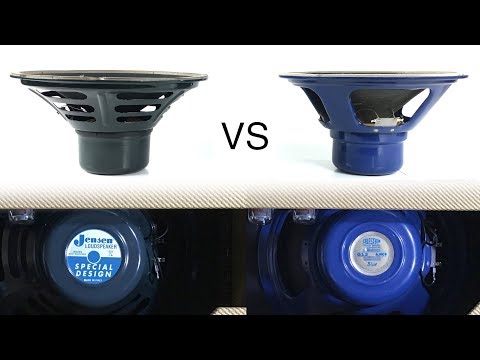 Jensen P12Q vs Celestion G12 Alnico Blue Fender Tweed Deluxe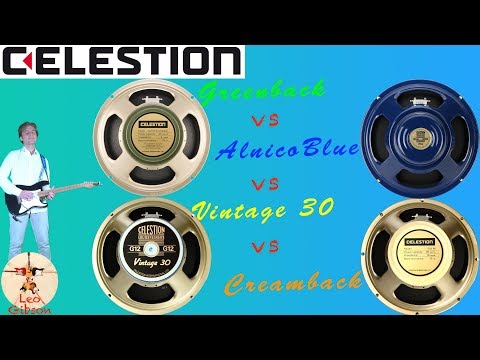 Celestion Speakers: Greenback vs Alnico Blue vs Vintage 30 vs Creamback