The M-Track interface from M-Audio transforms your computer into a digital recording studio with plug-and-play simplicity. A single USB cable provides both power and a data connection to and from your laptop or desktop computer. M-Track offers the... read more
CHECK PRICE ON
Cool Audio Interface
I use this with my PC to get a better sound without latency, really cool and it worked even with a big sound system
It's Good but one issue
It's a good piece of kit don't get me wrong, however I've been having problems concerning startup on my computer. Every morning I wake up and switch on my computer to start producing. The issue is that the device does not turn on when I boot to Mac OS X Yosemite. I don't know if this problem still occurs on Windows 10 but it's been a year since Yosemite was released and yet M-Audio have not released a proper driver for Mac OS X Yosemite. That aside it is easy to use and for a simple Audio Interface, it's pretty cheap at £69.00. If you want to avoid this problem then I'd recommend you invest in something a bit better.
I have 2 computers with Asrock motherboards in them is the same as starting a Windows 7 not start m-track,a restart no problem,usb cable it out and stick and ready, in other motherboards this problem gone, I have tried! Sorry to english.
Good
Good sound card for recording guitar and microphone, with min. delay and small price.
about 3 years ago
edited over 1 year ago
Worth it
A nice mobile two-channel audio card. Well built, good looking and all most of functions you need from this type of cards. No MIDI In-Out interface, but that is not a problem nowadays. Exchanged Line6 UX-1 for this baby because it has more features, especially +48!
Quality for few bucks
Great quality, I use it on stages, no delay or something, all good for the low price
Good, basic, no thrills interface. Good for guitar's and condenser mic's
does exactly what it says on the tin, noise becomes just audible at around 85-90% gain. I would recommend using this with quite a sensitive mic like a condensor, would not work well imo with a Shure SM7B as you would need a preamp to get a clean signal. Guitar's can be plugged straight in with no need for a decibel reduction pad.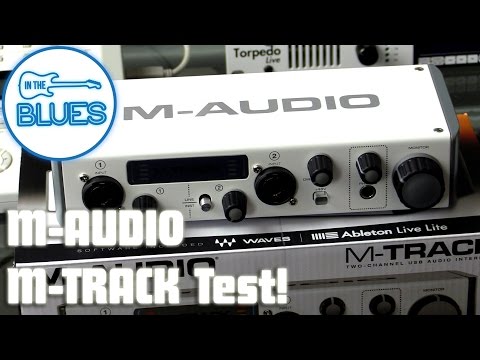 M-Audio M-Track MKII Audio Interface Unboxing & Sound Test
Description
The M-Track interface from M-Audio transforms your computer into a digital recording studio with plug-and-play simplicity. A single USB cable provides both power and a data connection to and from your laptop or desktop computer. M-Track offers the right connections for any instrument, from an electric guitar to a professional condenser mic-phantom power is provided. With an all-metal chassis, and low-profile form factor, M-Track delivers professional control in a robust portable package. For software, M-Track includes both Ableton Live Lite and a select Waves Audio plugin bundle to get things started.
M-Track is equipped with a versatile inputs to provide the best results with any type of audio source. Each channel offers a combined XLR and balanced 1/4" input. The XLR input is designed to work with microphones or other Lo-Z sources. The phantom power switch delivers 48 Volts to the XLR inputs for use with professional condenser microphones. The 1/4" input can be used to receive line level signal and Channel 2 can be switched to allow an electric guitar, bass, or any other instrument level source to be plugged directly into the M-Track, while the gain knob ensures the proper input level.
Improved Inline Monitoring
M-Track offers zero-latency monitoring of the input signal through main and headphone outputs. The monitor mix knob adjusts the balance between the direct inputs and the playback from your computer software. This makes it easy to record new parts or add parts to an existing composition. The Headphone output offers its own level control.
LED Metering
Multi-color LED metering provides instant visual feedback of the input levels.
Recording Software Inside
Ableton Live Lite delivers much of the functionality of Ableton Live-the revolutionary, multi-award winning music production solution that allows you to spontaneously compose, record, remix, improvise and edit your musical ideas in a seamless audio/MIDI environment. Live brings your acoustic, electronic and virtual instruments-as well as your digital audio recordings and MIDI sequences-together in a single interface with unparalleled ease of use.
Professional Sound With WavesThe M-Track software suite also includes an impressive selection of plugin effects from Waves Audio Ltd. TrueVerb delivers a broad, natural reverb with an easy-to-use interface. AudioTrack offers a remarkable EQ, plus gating and compression. Plus, you can add a professional touch with the Eddie Kramer Effects Channel, created with legendary audio guru Eddie Kramer.
Specifications
Solid metal chassis and low-profile design
(2) XLR+1/4" combo inputs with phantom power for recording vocals, guitars, bass, and more
Zero-latency monitoring with USB/Analog Direct Balance control
(2) Balanced 1/4" main outputs with dedicated level control
Channel-specific LED VU meters provide real-time visual feedback of the audio signal
Headphone out with independent level control for private recording and mixing
USB-powered connectivity and solid metal construction for on-the-go use