Fuzz God II by Red Witch is the insane silicon brother of Germanium Fuzz God. It's wilder, it's crazier, it's the loose cannon sonic brother that you wouldn't introduce to your girlfriend, cause you know he'd try his luck with her.
The Fuzz... read more
CHECK PRICE ON
From sputtering 60s Rolling Stones to the Smashing Pumpkins to 8 bit Video Games to all out oscillation ........ this fuzz is versatile!
I purchased this pedal after months of research online and in local guitar shops. I really wanted a fuzz that worked well with both single coil pickups and humbuckers. Between the "ear" switch(which boosts high frequencies) and the internal trim pot, all pickup types are fair game! Let's take a look at the controls.
AWAKEN: True bypass footswitch that turns the pedal on or off
VOLUME: Boosts or lowers the overall level of the fuzz
FUZZ: This is your gain control. From slight boost to chewy velcro, there is plenty of gain on hand
WRATH: When engaged by the DOUBLE LIGHTNING BOLT foot switch, this knob adjusts the frequency(tone) of the oscillation. It also interacts with every other knob or switch on the pedal. You can create octave-down fuzz, ring-mod sounds, arpeggiating oscillation, uncontrollable oscillations, and synth-type sounds just by dialing the knobs!
PUTTER: Fully clockwise, your guitar signal is full and this pedal roars! As you turn back the Sputter knob you signal starts to, um... well... sputter! This might be my favorite knob on the pedal! It really makes this pedal expressive to your pick attack and guitar volume knob.
LIGHTNING TOGGLE SWITCH: Switched to the left, your pedal has gobs of fuzzy overdrive and distortions tones! Switched to the right? Double your gain and ask Santa for a new set of ear drums! So. much. gain. Helpful if you hear too well or if you switch from humbuckers to single coil pickups regularly.
BRIGHTNESS TOGGLE(EAR): Engaging the Ear switch adds brightness to already dark humbuckers making this fuzz pedal more versatile than most!
INTERNAL TRIM POT: Adjusts the master bias of the pedal. You have the power to make this pedal even more sputtery or even more sustainy... these are technical terms, I assure you.
This pedal uses a 9 volt battery or Boss style adapter with wall wart or pedal power supply. If you don't like those options........this pedal is an expensive paperweight! Which would be sad.
Enjoy!
Badass
Super Crazy efect, super rare, fun and some times unpredictable.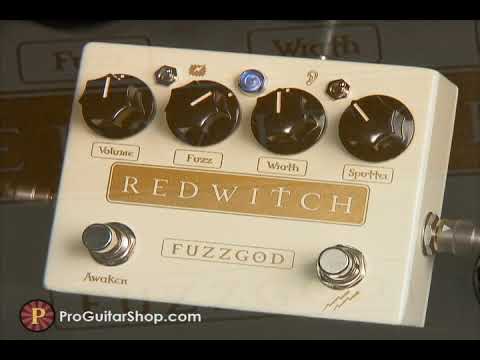 Red Witch Fuzz God II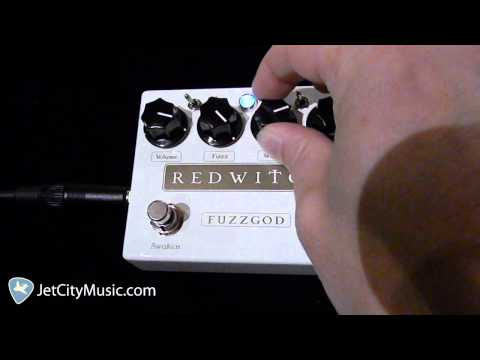 Red Witch Fuzz God II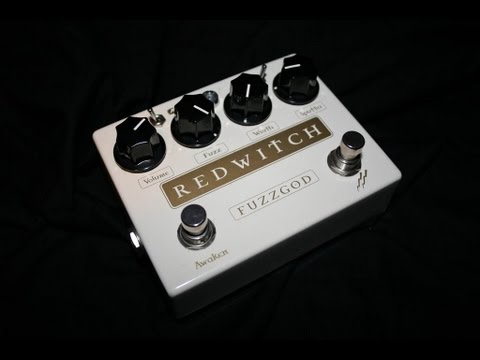 Red Witch - Fuzz God II
Description
Fuzz God II by Red Witch is the insane silicon brother of Germanium Fuzz God. It's wilder, it's crazier, it's the loose cannon sonic brother that you wouldn't introduce to your girlfriend, cause you know he'd try his luck with her.
The Fuzz God II guitar pedal allows you to create fuzzyness of epic proportions (think red seas parting, burning bushes, pillars of salt etc). From your classic fuzz tones of the sustaining, soulful, singing kind through to those of utter chaos - encompassing suboctave madness, parasitic sustain and out of control fax machine dial lunacy.
Controls
Volume - This controls the output Volume - convert the masses quietly or with blasting trumpets (err, guitars)
Fuzz - From a gentle break up to a singing beam of fuzz - you decide!
Wrath - All gods have it and the Lord of the Fuzz is no different - click this only to smite the most brazen of unbelievers. When engaged (by depressing the lightning bolt footswitch) you can dial up all manner of destruction; SubOctave thunder, eternally sustained notes, squealing high frequency note corruption and a myriad number of other terrifying tones.
Sputter - Choose from a smooth singing fuzz to a ragged, rough, sputty gated mess and anything in between. This control will crackle when turned - it's changing a dc bias - and that's ok.
Awaken - A super sturdy true bypass switch to engage the Fuzz God effect.
Engage this footswitch to incur the wrath of the Fuzz God - crazed oscillation and octavization effects.
Lightning Toggle switch - Engage this to double your gain.
Ear Toggle switch - Engage this switch to boost treble frequencies.
Internal trim pot - Inside the Fuzz God II effect pedal is a small blue trim pot which enables you to adjust the master bias on the transistors - make it smoother or more sputtery - it's all down to you.
Power
The Fuzz God II effect pedal can be powered from either a nine volt battery or an external nine volt dc adapter (the Boss PSA style is ideal - though anything with 2.1mm barrel plug with a negative centre pin is fine. Unlike Fuzz God, Fuzz God II doesn't need any flim flammery with powering it up - either the battery or the dc supply will enable the unit to crank (including the LED). Sweet.
The Fuzz God comes finished in vintage pearl with Gold text. The LED is a brilliant diamond white. All components are top notch; Switchcraft jacks, alpha pots, through - hole double sided circuit boards with groundplane shielding etc etc. What more could you want?