In 1967 the legendary Mike Matthews started experimenting with circuits for the electric guitar, and by early 1969 he had created a circuit that has become one of the most legendary, collected and mythical pedals in the history of guitar effects. ... read more
CHECK PRICE ON
Incredible fuzz, definitely worth it
The Muffuletta is great because it combines 5 different Big Muff models with an added tone knob, along with a JHS take on the classic big muff sound. It is tasty and smooth, can be dark and tasty, or just plain loud. The range and quality of fuzz is definitely worth the $230, as you're getting 5 different fuzz types without buying 5 separate, cumbersome, uncomfortably large pedals. If you're looking for good bang for your buck with an all analog circuit, I'd recommend this fuzz.
reminds me of the BYOC large beaver only built for you in a nicely painted box
Pretty much a muff Swiss Army knife
though not 100% perfect to my ears, this little guy has all the classic Muff tones that'd you'd want and more with the JHS muff!
An incredible machine
This thing sounds amazing. It's ludicrous, really. Every mode retains the mojo of the pedals that came before them; the smoothness of the Ram's Head and Triangle modes, the aggressiveness of the Pi/OpAmp mode, the clarity and midrange howl of the Civil War. JHS' own proprietary Muff type is also fantastic, and responds to your volume knob much better than your typical Muff circuit (which means that the pedal can double as a very beefy overdrive if you like, and you will like.
I A/B'd this against my Thorpy Muffroom Cloud, to see which one got me closer to the articulate, smooth Gilmour-esque tones I was searching for. The Muffuletta won at that hands down. It's not necessarily a better sound, but I got exactly the sound I was chasing from it, and the Muffroom Cloud was unable to really get there.
Massive muff
I wasn't sure before purchase that this would be a good replacement for a Fulltone 69 MkII (which I liked but was just a little too muffy sometimes). I am sooo glad I took the chance, this is not a cheap pedal but boy it fills more muff space than redtube and xhamster combined.
Crank it up and it cries like a baby
i personally love the jhs mod, it's cruncy and heavy, perfect for post-grunge sounds.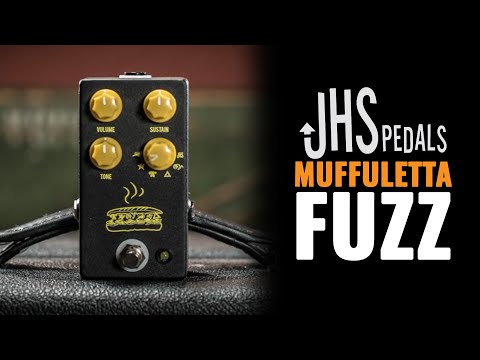 JHS Pedals Muffuletta Fuzz Pedal Demo | First Look | CME Gear Demo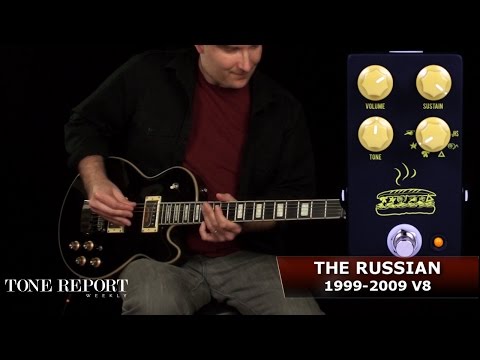 JHS Muffuletta Distortion / Fuzz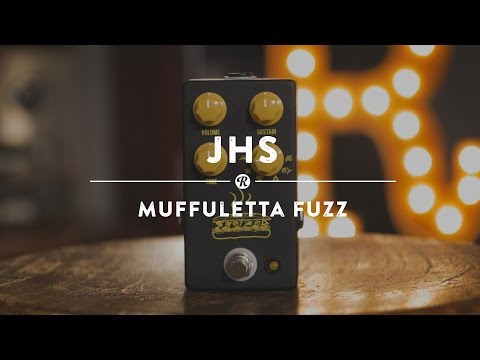 JHS Muffuletta Fuzz | Reverb Demo Video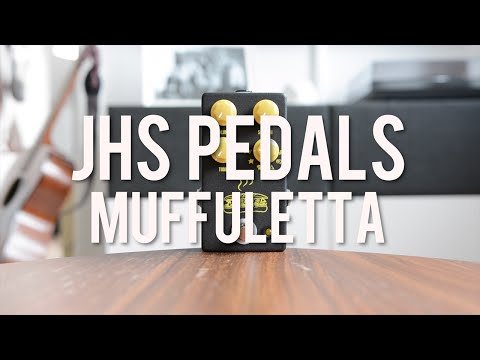 JHS Pedals Muffuletta (demo)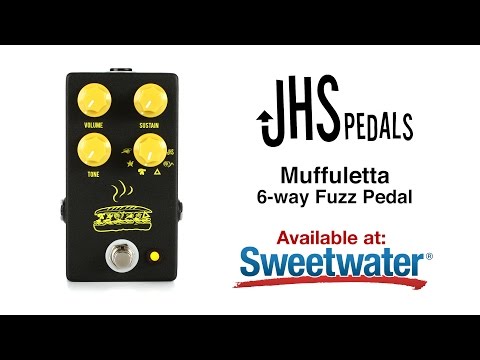 JHS Muffuletta 6-way Fuzz Pedal Review by Sweetwater
Description
In 1967 the legendary Mike Matthews started experimenting with circuits for the electric guitar, and by early 1969 he had created a circuit that has become one of the most legendary, collected and mythical pedals in the history of guitar effects. With 30+ versions made throughout its almost half a century lifetime, the Big Muff Distortion/Fuzz has personally pioneered the sounds of some of the biggest bands and musical movements in history. The Muffuletta is our tribute to the legend and story of one of the greatest pedals ever invented. Let's take a look at what makes the Muffuletta the ultimate recreation of this circuit in a way that has never been done before.
The heart of the Muffuletta is the fact that it replicates five (yes five) classic Big Muff circuits from years gone by as well as a new and original JHS version for a total of six Muff models. All executed without any digital signal processing or digital emulation. When you choose a model, you are achieving analog tone that uses real components and values found in the original units. We have selected our favorite classic versions from the pages of history and made them available in one small format pedal that is easy to understand, operate and do what it should do… replicate rare, expensive, mythical and sought after versions of this circuit with ease.
Looking at the pedal, there are four controls: Volume, Tone, Sustain and Mode. The "Volume" control works just like any other volume control allowing you to adjust the overall output of the pedal to your taste. The "Tone" control lets you brighten or darken your overall tone. The "Sustain" control is best understood as a gain or distortion control as it gives more distortion to the circuit. The "Mode" control lets you choose from our six different versions of the Big Muff on the fly. Looking at the "Mode" control you will see six icons around the lower 50% of the knob. Let's take a look at each mode and why they made the cut to be in the ultimate Big Muff tribute.
JHS - "2015" The JHS Muff is a JHS original take on the classic circuit. You will find this version more powerful, less compressed with a more haunting mid range. It is also the best for bass guitar.
73 Rams Head - "1973-1977 V2" The 73 Rams Head gets its name for the strange little elfin looking face that appears on the lower right corner of the pedal. Over the years people nicknamed this unit based on the fact that is looks somewhat like a lamb or animal. It is best known for having a scooped mid range, less gain and being overall darker. Famous users include David Gilmour (main Pink Floyd recordings), Ernie Isley (Eisly Brothers), and J. Mascis (Dinosaur Jr.)
The Triangle - "1969-1970 V1" The Triangle Muff gets its name from the triangle arrangement of the knobs on the original unit. It is best known for having more low-end response and being more articulate. Famous users include Santana, David Gilmour's Pete Cornish made pedal boards, John Lennon, Kevin Shields (My Bloody Valentine), and possibly Jimi Hendrix.
The Pi - "1977-1978 V3" The Pi Muff gets its name from the instantly recognizable red Pi symbol on the top. This is not to be confused with the later redesigned NYC version released much later in 2000. It is best known for a more aggressive sound. Famous users include Frank Zappa, Billy Corgan (Smashing Pumpkins), Jack White, The Edge (U2), Beck, and Pete Townsend (The Who).
The Russian - "1999-2009 V8" The Russian Muff gets its name from the "Made in Russia" text found on the back. It is best known for having less clarity and less low end. Famous users include Dan Auerbach (Black Keys), Chris Wolstenholme (Muse), and Robin Finck (Nine Inch Nails).
The Civil War - "1991-1993 V7" The Civil War Muff gets its name from the old style Civil War era font found on the enclosure as well as the navy and grey colors found on many. It is best known for having more mid range, brighter overall tone and less gain. Famous users include Thurston Moore (Sonic Youth), John Fogerty, Jeff Tweedy (Wilco), Mike Mills and Peter Buck (REM).
The Big Muff has an amazing history and has been used by some of the most influential guitarists ever. Never before has there been a single pedal that gives you all these different eras of it's tone. We are convinced that the Muffuletta can fit in anyone's rig who loves dirt, distortion and fuzz, and we think it will be hard for you to disagree once you plug it in and play.