3-Mode Fuzz Distortion Effects Pedal. Recreate the whole variety of famous fuzz tones of the '60s and '70s. This Behringer product has been designed to compete head to head with leading products on the market. 3 different sound modes for classic f... read more
CHECK PRICE ON
---
Posted on TSP's facebook page on 2011/03/27 with the caption "current weapon of choice!" more
Got the pedalboard nearly done for the solo show - see you 9:00pm at alphaville. more
5y
almost 5 years ago
edited over 1 year ago
Cheap box, cheap pots, great circuit.
I missed my vintage superfuzzz... okay, when I had a ton of vintage fuzzes before they became collector's items I used to own an original, early 70s univox superfuzz with pink and blue cosmetics and in a fit of frustration with how finicky she could be with different guitars and amps I sold her for a huge profit (also, the footswitch was sketchy as hell and she had to be run on a looper for reliable switching, but as her value rose I was afraid to replace ANYTHING inside her with new, functional parts even if they were drop-in replacements).. see my review of the univox.
I knew that the boss fz2 hyperfuzz was a modified univox and discovered that even though boss discontinued the hyperfuzz, the vile Uri Behringer copied the fz2 as his superfuzz. I got mine for 25 bucks shipped on ebay.
As expected the box is crap. The knobs are tiny and hard to access. The pots are chintzy and stiff. Features are gain, treble/bass (the big selling point for this superfuzz or the hyperfuzz as the vintage superfuzz has no tone controls and can be picky with amps and guitars as a result), volume and a mode switch that does flat mids and scooped mids like the univox and a clean transistor boost in mode 3 like the fz2. Forwhatever that's worth, boosts are a dime a dozen, why bother unless 3 way switches are cheaper in bulk than 2 ways!
The sound quality is surprisingly great. It could go toe to toe with my vintage pink/blue univox with treble and bass controls flat at 5. Same exploding attack seguing into compressed octave favoring highs but with some skronky 1 octave down as well, same ring moddy quality with the guitar's tone controls rolled back... super hendrixy and not over the top like a Foxx Tone Machine and its descendants like the Dano Fish 'n Chips. Better low octave tracking than my vintage unit too. Scooped mode sounds good for bass and is tameable for guitar with the bass and treb controls. Drop the bass and treb controls in scooped mids mode and you will get a stronger octave effect with your guitar's controls wide open without the silly, over the top scoop sound, flat sounds are achievable for great solos that cut a dense band mix. I am shocked! This thing delivers way more than I expected at a higher price point.
Pleasantly shocked here. Now the real skinny...
Cons:
1) not true bypass, the bypass sounds okay, probably jfet buffered like better Boss pedals (not sure what bypass circuit the fz2 hyperfuzz got). But it eats some top because it has the Univox nominal impedance of 500kohms versus a non-jumpered tube amp which is a reactive 1megohm. Then again we never whine about the impedance drag from a jumpered plexi at a nominal 500k, so is it a big deal? But that's a variable impedance based on the tube's voltage/current draw, so it sounds better than a fixed 500k to most ears. Its a small thing and easily remedied. See, I am running my Behringer Superfuzz in a true bypass loop anyway.
2) shoddy case and pots
3) doesn't look as cool as the 2 tone Univox superfuzzes
4) purchasing it gives $10-15 bucks to the vile Uri Behringer, who is a creep and a thief. If he were an Aerican or subject of QE2 I would even call hima traitor... Oh well.
pros:
1) sounds right, will do live at leeds, beasties, pumpkins, mudhoney etc ... will also cop hendrix tones with a strat, wah and marshally amp
2) has additional boost mode (though why bother)
3) did I mention you can get one for $25 versus over 50 bucks to build your own univox clone stock or with a big muff style tone control, 100 bucks for a FZ2, or$ 300 to $1k for a working univox, jax, Ibanez (shin-ei icensed this great circuit a lot of places)? Not to mention the assfucking the couple boutique builders who copy this simple circuit will give you for their copy.... hint, bring your own lube.
4) much smaller than original shin-ei and Canadian units, reasonably smaller than boutique copies, slightly smaller than Boss FZ2
5) boss 9V negative tip battery jack
6) sturdy enough for set and forget use in an effects looper...
7) has THE sound (I had a real univox guys, its close as hell and the tone controls finish the job making it fine tunable) plus a lower noise floor than the original Univox fuzz. Without ABing it I am still wowed. Plenty close for stage work and way more versatile thanks to the baxandall tonestack.... maybe less gainy due to the extra gain eaten by the tonestack, but maybe that's accounted for by a hotter Q1, its the 2nd transistor that stands a better of chance of shaping the sound anyway! And like I said, the vintage Panasonics are nothing special.
8) way cheaper than a Watson or black cat clone, don't believe the hype, there is nothing special in a univox superfuzz, and assuming you use good germanium resistors for the full wave rectification/clipping (they do). The vintage panasonic transistors get a lot of attention, but given that the wave is clippedoff by diodes for the octaving effect the transistors don't play a big role in the circuit unless the gain is at 1 or less. For all I know Behringer used the right Panasonics, they are still readily available and cost nothing.
9) better signal to noise ratio than a vintage, 2 knob unit (not sure about Boss version)
If you don't intend to stomp on it and you wanna do 70s Who, certain Smashing Pumpkins, some Mudhoney, Beasty Boys sabotage bass in addition to a fakey Hendrix octave. Really great sound, low noise floor, just wow.
good
Pretty damn good for a $25 pedal. It has two different tones for fuzz and a gain switch these all sound good but my personal favorite is the second fuzz tone with the bass turned up to about 4 o'clock on either a bass or guitar. Worth your money if you don't want to invest into something you may or may not enjoy.
Amazing tone, bad build quality.
This pedal is an absolute monster on Fuzz 2 setting. Think Electric Wizard/Monolord type tones. This pedal is basically a clone of the Boss FZ-2 Hyperfuzz. Run it in a bypass loop so you don't have to ever stomp it, and it'll serve you well.
Big fuzz
Best $25 you can spend. Build quality is shit but the sound is awesome!
Magnificent Clone of the Boss FZ-2
Yeah the enclosure is plastic, but it holds up pretty well. The circuit is a direct clone of the Boss FZ-2, a classic fuzz pedal used by many doom bands. The original circuit was based on the Univox SuperFuzz. The sound can be sculpted with the active bass and treble EQ.
Mode 1: This is more like the classic Univox, but with a more pronounced mid range. The EQ can be used to extend the frequency response, keeping the mids pretty intact. Great vintage sound, with tons of grit and character.
Mode 2: In this mode, the fuzz is really really scooped, and expecially useful on bass. The bass and treble knobs are a bit more useful, and it's the sound of many bands like Electric Wizard.
Boost: This pedal is also a pretty versatile boost. The EQ is still active in this mode, and it offers up to 24dB of gain IIRC.
MODE 1.5: I found that keeping the switch between the Mode 1 and Mode 2 position creates a fuzz with a pretty linear frequency response. It's quite fiddly and won't hold up in a live situation, but it's an interesting property of this pedal.
Great value
Really cool, plenty of different sounds, great price, just a little bit too plastic and cheap, probably will not last with live use.
It's a great fuzz
Fuzz number 1 is good for vintagey sounds, fuzz number 2 is good for 80s and 90s stuff and the boost is a perfectly good boost, I don't have a tube amp so I can't tell you how it drives tubes, but I use it to raise volume when I tap
Cheap case, amazing tone.
This is the exactly same circuit and sound than the famous Boss Hyperfuzz, for like less than half the price. It's a Behringer pedal, so maybe you can consider rehousing it in some more resistant case. Boost mode is nice as well.
great vintage fuzz tones
but not what Im after. It covers your /jimmy hendrix , Mark Boland 70s type Era.
behringer super fuzz
this pedal is a good starting fuzz pedal with many options and setting including boost and 2 fuzz modes with multiple tuning options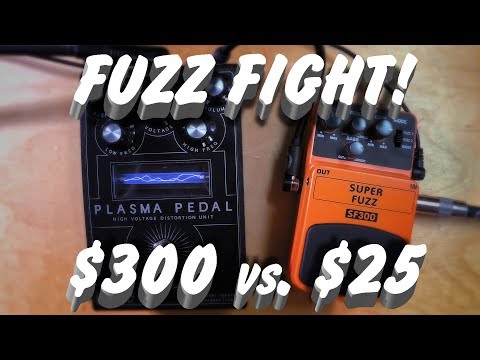 FUZZ FIGHT! Plasma Vs. Behringer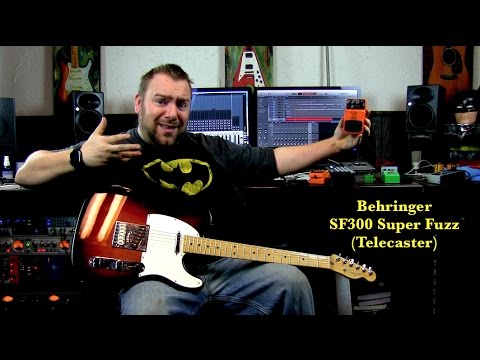 Behringer SF300 Super Fuzz (Telecaster)
Description
3-Mode Fuzz Distortion Effects Pedal. Recreate the whole variety of famous fuzz tones of the '60s and '70s. This Behringer product has been designed to compete head to head with leading products on the market. 3 different sound modes for classic fuzz, grunge and gain boost. Dedicated Gain, 2-band EQ and Level controls for awesome sound shaping. Status LED for effect on/off and battery check. Runs on 9 V battery or the Behringer PSU-SB DC power supply (not included). First-class electronic On/Off switch for highest signal integrity in bypass mode. 3-Year Warranty Program. Designed and engineered in Germany.