Classic Big Muff sound packed into a compact pedal perfect for any pedal board.
The Nano Big Muff Pi works and sounds identical in every way to the classic NYC Big Muff Pi. Electro Harmonix took the Big Muff circuit and simply shrunk it without... read more
CHECK PRICE ON
AS FEATURED IN
Upgrades and Related Items
Reviews
Trusted musician and artist reviews for Electro-Harmonix Nano Big Muff Pi
4.5
Based on 24 Reviews
One hell of a pedal
Don't let the size of this pedal fool you, it captures some great fuzzy-distorted Big Muff tones in a pocket-sized package. I highly recommend this pedal for any fuzz-fiends out there.
2y
over 2 years ago
edited 8 months ago
Excellent Pedal
The Big Muff has been around since 1969 and I can see why. Its distortion is truly unique: a thick and creamy buzzsaw that has the capacity to make your instrument sound heavy. This one in particular is cheaper than the original!
Contrary to its advertising, the Nano Big Muff Pi does not have the same tone as its larger predecessor. In YouTube comments on video reviews of the Nano, people have stated that they had emailed Electro-Harmonix about the claim and were told that the Nano actually has a bit more prominent high end frequencies (this is a result of the smaller circuit, which reduces capacitance). To me, this is part of the Nano's appeal; it balances out the mid-scoop that is characteristic of the NYC Big Muff.
The fact that the Big Muff walks the line between distortion and fuzz also gives it versatility. When I play the opening riff to Radiohead's "Airbag," its buzzy tone works as a good substitute for the studio recording's Marshall Shredmaster, which is discontinued. For Guster enthusiasts, the Nano also reminds me of the distortion present in the opening riff of "Demons."
A fair warning, however: the Big Muff is a powerful pedal. Depending on what pedals you use in conjunction with the Nano, the Nano will overpower those effects that come before it in a signal chain. This comes in handy if you only want a little bit of those pedals to bubble beneath the surface of the Big Muff, but keep the distortion's strength in mind.
Perfect Fuzz
Perfect Fuzz every time. Pairs perfectly with a nice overdrive to push it further putting it more in front of other sounds.
I would just recommend you try it out in person before you buy it.
I got this used for around $70. Previously, I mentioned that I had some issues. But I tried it again after messing with the EQs on the amp and the pedal, and it sounds great with my Tele. Strangely, I don't like it as much on the LP.
its because a big muff has no midrange and very little attack, it gets swallowed up by drums and bass. Those sounds you want are in there, but you need to have the right guitar and amp and play hella loud.
Devastating but tricky
Devastating pedal, wide range of sounds, but a little bit tricky to use and to set: you have to spend quie a loto of time setting this pedal!
Mid Scooped
The nano pi makes a huge sound, but I find that I can't actually use it for anything. It's a wall of bass and treble with no mids.
It sounds great solo jamming, but whenever I try to use it in a song it just sounds horrible. It wants to eat the whole sonic landscape - except for the mids - which is where a guitar is supposed to live.
A fun toy, but not an actually useful fuzz for my needs.
HAHAH! the big muff curse... tis not even a fuzz, 90% of the distortion is produced by clipping stages utilizing the susual back to back diodes to ground, dude... its a very gainy distortion with discrete transistors instead of a dual opamp like most other diode-clippers...the big muff is the most useless and over-myhtologized effect ever. I have owned tons of different ones over the last 15 years and I just give up. Swap it for a rat if you want a distortion that can do fuzz.
Not enough mids to use on its own but great stacked
Could see myself selling this for the Deluxe Muff with mid control but I've really enjoyed pairing this with a RAT and SD-1
Just like the classic, only smaller.
This has all the tone of it's big brother, only in a much more pedalboard friendly size. This fuzz will not be leaving my board anytime soon. It has such a classic and intense sound, especially when used with other pedals. It is a staple in my set up.
3y
over 3 years ago
edited about 3 years ago
little monster !
I love everything on this pedal. Its good for solos, good for powerchords, and to riffs. It sounds great.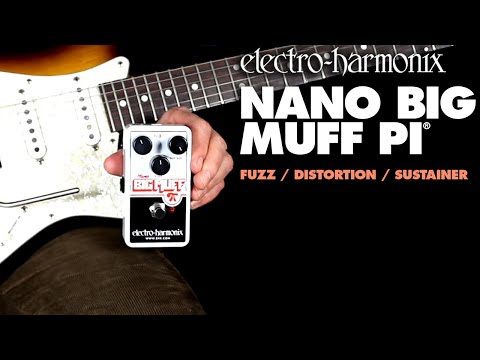 Electro-Harmonix Nano Big Muff Pi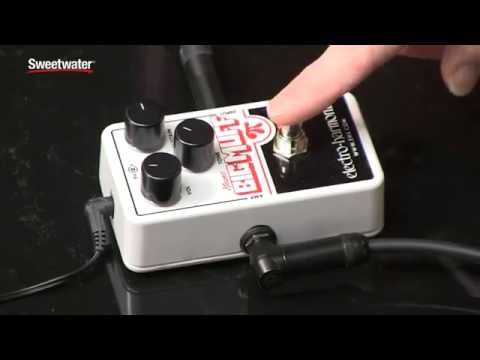 Electro-Harmonix Nano Big Muff Pi Fuzz Pedal Review by Sweetwater Sound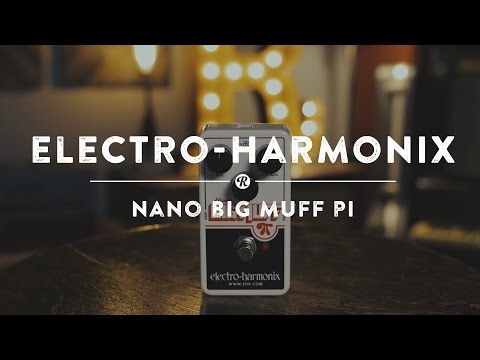 Electro-Harmonix Nano Big Muff Pi | Reverb Demo Video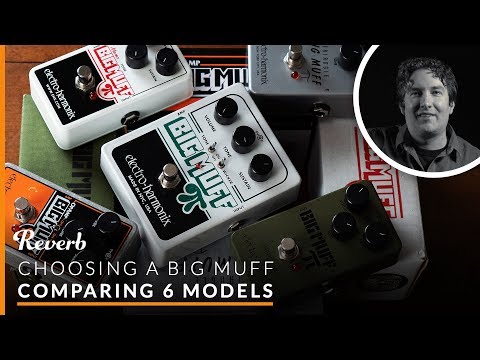 Choosing a Big Muff Pedal: Comparing 6 Varieties | Reverb Tone Report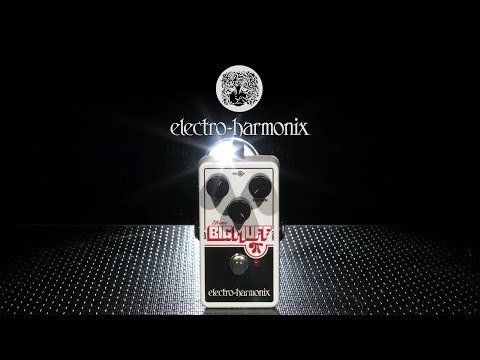 Electro Harmonix Nano Big Muff Pi Distortion Pedal | Gear4music demo
Description
Classic Big Muff sound packed into a compact pedal perfect for any pedal board.
The Nano Big Muff Pi works and sounds identical in every way to the classic NYC Big Muff Pi. Electro Harmonix took the Big Muff circuit and simply shrunk it without changing its rich sustain and legendary sound.
For over 40 years, the Big Muff Pi has helped define the sound of rock guitar. Three flexible yet powerful controls let you dial in the perfect sound. Crank the Volume to bring on the distortion while the Tone knob focuses on sonic color and the Sustain control unleashes a powerful, silky, singing tone.
Revered by contemporary guitarists and rock legends alike for its rich, creamy, violin-like sustain, everyone wants a piece of the Pi. Now you can have it in the time-honored classic chassis, or the new, compact nano design.
Specifications
Singing sustain with attitude
Crushing distortion
Compact, rugged enclosure
Adjustable tone
True bypass for maximum signal integrity
Comes with a 9 Volt battery