Yamaha HS8 Powered Studio Monitor
The Yamaha HS8 is a 2-way bass-reflex bi-amplified nearfield studio monitor with 8" cone woofer and 1" dome tweeter. The Yamaha HS-Series have the inherited universal mix-translation legacy and distinctive white cones of the industry-respected NS-... read more
CHECK PRICE ON
Reviews
Trusted musician and artist reviews for Yamaha HS8 Powered Studio Monitor
5.0
Based on 46 Reviews
Nearly perfect for the price, especially if you take care to really learn how your equipment translates the music you know
That much is clear: every price point has inherent limitations associated with it. I won't comment on all the things you've probably already read about the HS8 - they are most likely all true. I will, however, say this: once you've learned to make peace with the slight bass 'hump' around the 50-80Hz spot, and once you know exactly how your (and other) tracks sound, this is a very good option. That said, as with most sub-$1,000 models, the bass will slightly overpower the lower mids in untreated rooms, but that's a small price to pay, and, arguably, something you'll face with almost every pair below the $1,000 mark. The upper mids is where the HS8 really shines - and that's an important place to shine, at least to me. This goes for vocals, just as it does for all instruments in the vocal range. Very lifelike 800Hz-10KHZ representation!
I have a tendency to strip a lot of the low mids out of mixes for clarity, that's why I like the old NS10s, I kinda want to check out the HS8 after reading your excellent review.
Thank you, I'm not really an audio engineer, just go by ear. Never heard the NS10s, but know a lot of people swear by them. I'm guessing it's because they got used to them and learned to compensate for the differences (I keep reading negative reviews about their uneven curve). What made me go for the HS8 in the end was the fact that they're deep enough not to have to get a subwoofer. Yamaha does have a weird way of measuring them, however: they go as low as 35Hz, but with a -10db rolloff - unlike other manufacturers, where the low extreme is listed at -3db. So you'll get a noticeable drop-off after 40Hz+, but with a spectrum analyzer on hand, I can't see that being a problem. In any case, the HS8s are still deeper than anything at this price (aside from Event 20/20 v3, which I couldn't find here in Moscow, but also really wanted to try). Good luck with your purchase.
Great monitors, if you have the space to put em
Sound-wise, no complaints. mid frequencies seem a bit scooped, but every speaker will have its own characteristics. sturdy construction, lots of features too.
be aware that this is a large form factor. for the home studio, make sure you have enough space to distance it from your walls and that you have an acoustically adequate room to put these in. do this and you will have a lot of joy form them
almost 5 years ago
edited almost 5 years ago
Amazing
These sound really good. Bass, Mid, High, everything is really good for the money I definitely recommend these!
Boom
Flat, everything sounds so smooth and round, the bass/ low end is a step up / superior than my previous KRK Rokit 5 G3.
Best active monitors available for under £500
These babies are by far the best active reference monitors for under £500 they offer flat monitoring and portray your music exactly as intended no gimicks here a proffessional bit off kit with a frequency response of 38 hz to 30khz it want um ha!
Accurate, Crystal Clear Monitors
I bought these monitors recently, upgrading from my older JBL LSR2325 pair. These are clean, more on the accurate side, and don't break the bank for the aspiring bedroom producer like myself!
price-quality relationship very good!
Monitors to production, a great frequency response. Don't need a subwoofer with this ones
Best in the price range.
Amazing monitors with an extremely flat frequency response. I previously used HS7 monitors but found them to be severely lacking in bass. Upgrading to HS8s has solved this issue without the need to purchase secondary bass speakers or a subwoofer, but it is worth noting that the HS8s are massive both the HS7s and HS8s are heavy. Would recommend.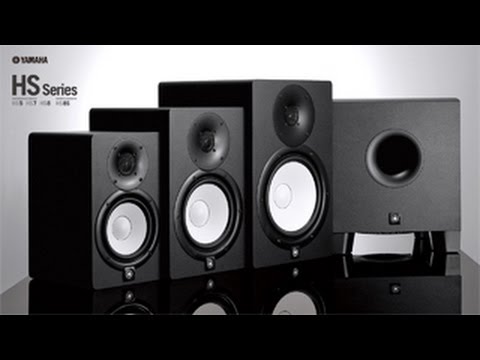 Yamaha Powered Studio Monitor Speaker "HS Series"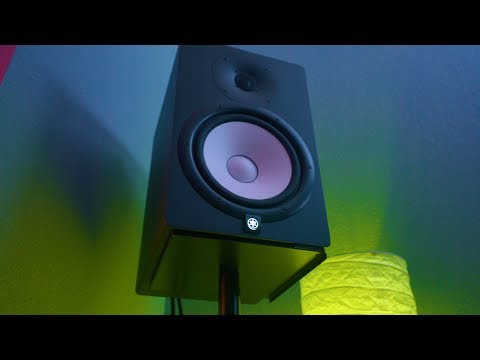 Yamaha HS8 Studio Monitor Review! Why Did I Wait So Long?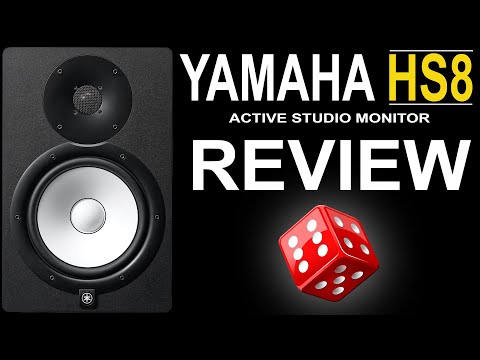 Yamaha HS8 Studio Monitor Review - The Best Affordable Option For EDM?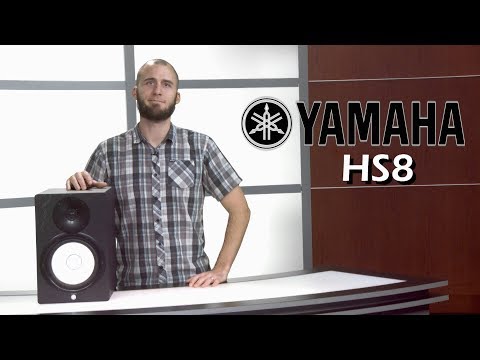 REVIEW: Yamaha HS8
Yamaha HS8 Studio Monitors Review - Home Studio Monitors 2019!
Description
The Yamaha HS8 is a 2-way bass-reflex bi-amplified nearfield studio monitor with 8" cone woofer and 1" dome tweeter. The Yamaha HS-Series have the inherited universal mix-translation legacy and distinctive white cones of the industry-respected NS-10's, designed to deliver your mixes with transparent honesty. Room control and frequency response switches allow custom tailoring of the monitor's response to give you accurate performance in any environment.
High-performance Speakers and Mounting System
The elegant white-cone speakers used in the HS-series monitors deliver superlative audio performance that is further enhanced by a carefully engineered mounting system. A system of screws and a specially designed mounting ring eliminates spurious vibration and resonance, allowing the speaker to deliver its full sonic potential. Another feature that boosts woofer performance is a magnet selected to produce accurate, solid low-end response. The tweeter frames employ an advanced smooth-contour design that minimizes losses so that high-frequency details come through with remarkable accuracy. The extra thickness of the tweeter frame also minimizes resonance that can interfere with high-end clarity. The overall result is extraordinarily smooth, accurate response throughout the audio spectrum.
The Benefits of Built-in Power and Bi-amplification
Powered, bi-amplified monitor speakers simply make the most electrical and sonic sense, and that's why they have become the first choice of sound professionals the world over for near- and mid-field monitoring applications. In addition to the obvious advantage that you don't need separate power amplifiers, the fact that power and speakers are integrated in one unit means that the amplifiers can be perfectly matched to the characteristics of the speaker units used so you get consistently superior performance with any source in just about any listening environment. Bi-amplification means that separate power amplifiers are used to drive the low-mid and high-frequency speaker units, and this eliminates interaction between the units as well as the response and phase anomalies introduced by passive crossover networks. Both speaker units can function at optimum performance levels for correspondingly high overall sonic quality.
Large Magnets in an Advanced Magnetic Circuit Design
One feature of the HS-series monitors that you'll hear but are not likely to see is the extra large magnets. In combination with an advanced magnetic circuit design these magnets provide a powerful, uniform, tightly controlled flux field that results in exceptionally smooth response and dynamic capability over a wider frequency range.
Portable, Versatile Monitoring for Your Audio Workstation
All you really need for top-class stereo production capability is a good audio workstation and a pair of HS-series monitors. A system like this is not only portable and extremely easy to set up anywhere you need it, it can deliver outstanding monitoring performance that will let you get your mixes just right. The response-control features of these monitors let you tweak them for the best response no matter where you set them up.
Serious Surround Production
Although stereo is still the most common format for basic music listening, 5.1 surround has become the audio format of choice for today's advanced visual media, and is beginning to be recognized as a superior vehicle for pure musical enjoyment as well. But to properly mix and produce surround sound you need a good 5.1 monitoring system. The HS-series speakers and subwoofer are the perfect choice if you want competitive surround-monitoring performance without having to spend big-studio megabucks to get it.
Optimum Response In Any Room
Speaker response can vary greatly depending on the size, shape, and surface acoustics of the room in which they're used, as well as how they're placed within that environment. The HS8 gives you extra room-matching and speaker placement versatility with ROOM CONTROL, MID EQ, and HIGH TRIM response control switches that are specifically designed to compensate for common acoustic deficiencies and monitoring needs. The ROOM CONTROL switch, for example, can be used to compensate for the unnatural low-end exaggeration that usually occurs when speakers are placed close to walls or in corners. The MID EQ switch gives you subtle midrange boost and cut options in addition to flat response, while the HIGH TRIM switch offer the same type of response-tailoring capability for the high frequencies.
Specifications
Size:Near-field
System type:Active
Configuration:2-way
Drivers
Low-frequency driver: 8"
Mid-frequency driver:Not applicable
High-frequency driver: 1"
Full-range driver:Not applicable
Driver type: Info not available
Sound
Frequency response: 38Hz – 30kHz
Max peak SPL: Info not available
Amplifier class: Info not available
Output power: 120W
Onboard Features
Input connectors:XLR, TRS
Standby mode:Info not available
Acoustic space control:Yes
Power indicator:Yes
Other
Width: 9.8"
Height: 15.4"
Depth: 13.1"
Weight: 22.5 lb.