Great guitar for beginners and pros alike
Traded this for an Epiphone LP standard and have had no regrets since. Its well known that the superb quality of Epiphones these days makes it unjustifiable to spend so much on Gibsons, and this guitar is a perfect example of that.
My favourite part of this instrument is the neck- I have never played anything so perfect! It is perfect to my tastes, and the fret board itself is beautifully crafted.
I knew just from the feel of this guitar that it was a keeper, and have since replaced the stock pups with a pair of Gibson's Angus Young customs and plan to work on upgrading the tuners soon.
You'll never get the feel-good factor you get from saying 'hey I own a Gibson' from playing this, and to be fair that's one of the few reasons I force myself to keep my real Gibson SG, but with a bit of handywork this instrument can easily be transformed into a pure-bread Gibson killing machine!
The 'Gibson feel good factor' is overrated, but once you weed through about 100 dogs to get a good one the epi is not going to touch a gibby. As I get older I find I just like to buy up large quantities of guitars from good years and sort out the cream and sell off the crap. But if you know a few good local dealers they'll set you up in a quiet room in the back with rows of new and used gibbies to try all day.... just be ready to buy when you request this service.
I would suggest that if you are looking for spectacular Gibson alternatives to consider late 70s and early 80s MIJ brands. Tokai is most famous, but I particularly like Greco as any model number over 800 in a particular body style is made at least as well as a good Gibson and many can hold their own with the Memphis reissues. Burny made a great Gibson copy too, but its harder to figure out what sort of finish you are getting and the application of said finish is a crap shoot compared to Greco. However, if you're loving an epi then the Fernandes made Burny line of the early 80s may be for you.
Got my heart set on an old Tokai that's going local to me so will definitely give that a blast. Just 'aint much in the way of Gibsons going near me- I'd love to dig out an old battered gem that plays and sounds like a dream, but all I seem to come across up here in North Cumbria are pristine 21st century models going for well over a grand or studios and specials that just don't have the same appeal. Until I find that good one, its copies for me! xD
fucking nice
if u wanna fucking play fucking punk rock music then this is the shit for u
no though with vintage voiced pickups you would want something hotter and an sg for punk rock? les paul is better and really you want a strat with a really fucking hot humbucker wired to the volume to the output and block in the trem turn your amp to 10 and your set to powerchord it up
Good, but NOT A GIBSON
Sounds not perfect, not bad. Mediocre guitar for medium price. TERRIBLE NECKDIVE. Recently I got a 2013 Gibson SGJ and these two are incomparable.
It's already obvious that Gibson triumphs over imitaters.
A gorgeous tone from an inexpensive guitar!
This guitar has been my trusty electric for almost four years now. It is in the mid range of Epiphone guitars and is one of the most cost effective and quality instruments you can buy! I own the 1966 Gibson reissue version that features a full face pick guard and it is nearly identical to a 66' Gibson model! Gorgeous tone, and a wonderfully playable neck make this guitar a keeper for years. I love putting on nickel wound strings on mine for a beautiful jazz tone!
An "okay" guitar.
A playable guitar but it can sometimes sound a little "dead."
pretty solid
Long ago i had one of these. I really liked it but a few months after i found something i liked more and just trashed this one. It was a well build guitar, durable and strong but i couldn't get a versatile tone from it and the neck profile was not my cup of tea.
Great guitar for the money. This guitar has a wide range of tonal options-coil tapping, very playable neck and overall remarkable instrument for the price. I highly recommend it.
This guitar has a wide range of tonal options-coil tapping, very playable neck and overall remarkable instrument for the price. I highly recommend it.
This guitar is religiously amazing
I played this guitar and became 15 years younger.. what an amazing guitar
Brilliant tone from a cheap guitar
This was the second guitar I got and I still play it often because the tone is very nice. It has a really nice tone even though it is quite cheap
Black Epiphone SG
One of my main guitars. In the spring of '13 I replaced the neck pickup with a P-90 pickup that fits in a humbucker slot and it produced a very warm and clear sound to balance out the hard sound coming from the bridge humbucker.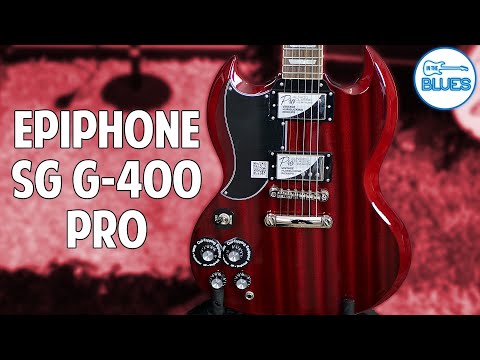 Epiphone SG G-400 Pro Electric Guitar Review
Epiphone Worn G-400 SG Review