Years of Production: 1958 - 1965, 1969 - 1973, 2016-
Body Style: Orchestra/Auditorium,
Wood Composition: Mahogany body, Rosewood fingerboard,
Design Elements: Rosewood bridge, tortoiseshell pickguard, 24 3/4-inch scale length, dot inlays read more
CHECK PRICE ON
3y
over 3 years ago
edited about 1 month ago
Wonderful mahogany guitar (1969) , nice balance, very special sound .
From the book'Nick Drake, Remembered for a while , The authorized companion to the music of Nick Drake': "Contrary to public belief, the guitar on the cover (of Bryter Layter) was not one of Nick's. It's an early 1960's Guild M20, formerly property of Eric Clapton who left it at his flat in the Pheasantry, Kings Road, as Nigel Waymouth moved in. It was given to Nigel who sold it in 1973 to Nick Laird-Clowes (later of the Dream Acedemy) for 100,- ". I own a 1969 Guild M20 and, contrary to this information, I can imagine Nick played this beautiful guitar on some of his recordings, judging the characteristic sound. It's a guitar with a distinctive mellow dark sound, great for finger picking, but not a very versatile guitar. I would say less suitable for strumming. I recently played on a new Guild M20. It sounded totally different than the one I own. Maybe it's because of the different age of both guitars. Listen to the Guild M20 on the tracks of my album ' Trick of light': soundcloud.com/bernard-brogue/slightly-and-shortly .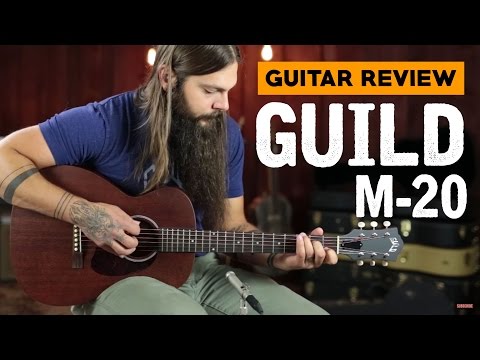 Guild M20 ★ Guitar Review (NAILED it!)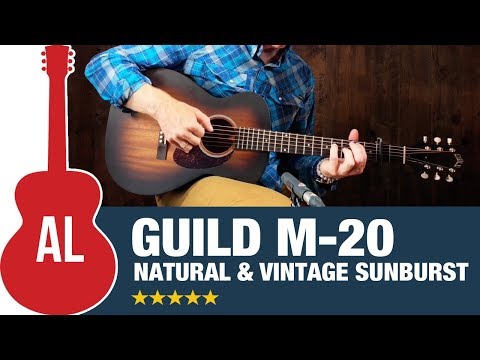 Guild M-20 - The Iconic Mahogany Model
Description
Years of Production: 1958 - 1965, 1969 - 1973, 2016-
Body Style: Orchestra/Auditorium,
Wood Composition: Mahogany body, Rosewood fingerboard,
Design Elements: Rosewood bridge, tortoiseshell pickguard, 24 3/4-inch scale length, dot inlays
Popular Steel-string Acoustic Guitars