The T-Rex Fuel Tank Junior is a power supply for your guitar effects pedals that features 5 isolated 9V outputs (120 mA each) to deliver clean, quiet power to your pedals. This keeps your board free of messy power cables and complicated extension ... read more
AS FEATURED IN
Recommend Related Items & Pairings
This is where you can recommend to readers an alternative - or gear that goes with - T-Rex Engineering Fuel Tank Junior. What gear sounds similar, is less expensive, higher-end or boutique, etc.?
ADD YOUR RECOMMENDATION
* Product prices and availability are updated by Equipboard every 24hrs and are subject to change. Equipboard may receive compensation for purchases made at participating retailers linked on this site. This compensation does not affect what products or prices are displayed, or the order of prices listed. Learn more here.
Reviews
Trusted musician and artist reviews for T-Rex Engineering Fuel Tank Junior
4.5
Based on 9 Reviews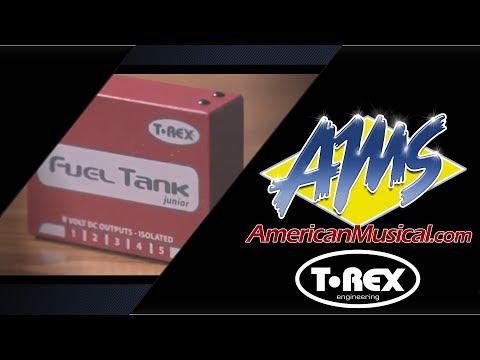 T Rex Fuel Tank Junior Overview - American Musical Supply
Description
The T-Rex Fuel Tank Junior is a power supply for your guitar effects pedals that features 5 isolated 9V outputs (120 mA each) to deliver clean, quiet power to your pedals. This keeps your board free of messy power cables and complicated extension cords, and reduces setup and tear-down times. Don't let the Junior's compact size fool you - this Fuel Tank Junior is a real powerhouse!
Fuel Tank Junior comes with 5 DC connection cables, and will power just about any 9V pedal you own. It can also power an 18V pedal by combining two outputs using a special T-Rex Voltage Doubler cable (sold separately).
Delivers clean, quiet power for 5 - 9V pedals.
Popular Effects Pedal Accessories