Reviews
Trusted musician and artist reviews for Zoom MS-70CDR MultiStomp Chorus/Delay/Reverb Pedal
4.5
Based on 13 Reviews
swiss knife mod/delay/reverb pedal
it's the last part of my fx loop, i only use it for reverb and just one fx at a time but it can stack a lot of things, in the order u want, there's a really nice pc editor that someone maid that its relly good, but dont use it live (it adds noise via usb cable and it has some delay) just use it to desing your presets. to sum up: -it has tuner or tap tempo -tons of fx (reverb and delay being the best par of it, some of them are a bit rubbish) -budget price -stereo in/out
Best pedal in the world
I bought this gem one year ago for a ridiculous cheap price,i use it so much for my project and you can really dive in a lot of sounds and magic stuff with the effects on it. My songs need a lot of textures and this glorious machine works perfect for that,a great thing about it is that you will find here effects from expensive pedals like Strymon Big Sky or Eventide Space,amazing.
1y
about 1 year ago
edited 23 days ago
The absolute GOAT budget pedal
If you're getting into effects but you're not neccesarily sure what sounds you like and dislike, you should absolutely get this pedal. Not only do its recreation of classic effects/sounds sound great, you can use up to six at the same time.
Pros:
-Great, perhaps perfect, introduction to guitar effects beyond distortion & fuzz
-Has a fantastic variety of choruses, delays, reverbs, and other effects, and most sound great
-Most of its imitations of classic pedals sound incredible, if not exactly like the real thing
-Slightly cheaper than the Boss RV-6, while also having more reverb sounds and a far better spring tone.
-The tweakability of said effects is unrivaled for pedals in this price range (my favorite is easily the Dual Digital Delay, which can be filtered to sound uncannily like a dual-head tape echo)
Has a whole subreddit devoted to it and the MS-50G, so there are a ton of resources for exploring the pedal's vast sonic capabilities, even if it seems intimidating at first.
-Has tap tempo
-Can create 50+ patches, all of which can be navigated through toggling
-It's 70 pedals in one
-Capable of both beautiful subtlety and chaotic noise
-Mojo Roller effect shows that Zoom can create incredible sounds without replicating existing effects units.
-Rewards time invested in perfecting its use
-Perfect for experimentation while recording
-Has a tone of equalizers to help polish your sound
Cons:
More than a few effects cause noticeable volume drops (Phaser, Small Clone, Tape Echo 3, among others)
-While very tweakable, it requires a ton of button pressing when compared to other pedals
-Reverbs take up a shit ton of memory meaning it can reduce a patch to 4-5 effects rather than the whole six
-Bit awkward in live settings, though I've seen that people have made foot controllers to resolve this
the only choice if you want relatively authentic sounding choruses, delays, reverbs all in one pedal on a budget!
it's the only choice if you want to have choruses, delays, reverbs and a few more digital simulations of some boutique pedals in ONE pedal. A/B'ing it with analog pedals showed me that this isnt actually half bad! In fact, it saves a lot of pedal space. But it does get a little bit getting used to as it does a lot of things for its small size. Go through the manual and you'll be set. I am a simple person though and I like every effect separately on separate pedals. It's a bit of a hassle to bend down during a concert, scroll to the effect to switch off. So I end up using it for long shimmery reverbs and crazy tremolo delays etc switching on and off with one tap.
Great pedal!
This thing is like 50 FX pedals in one! It has a on of pre-made 'pedals' built in and you add them to a virtual pedalboard in an FX chain on this unit. You can even mute individual pedals on your patch or setup a master bypass. It's so customizable and you can easily get a nice shimmer reverb or tape delay. I don't use too much outboard FX gear but this is at the top of my list and I even use it with my DAW. I primarily run my Novation Bass Station through it and it makes that keyboard sound like keyboards 2-3x more expensive.
best for budgeted guitarist
if you wanted to build a small pedaboard, i think you should place this....1 pedal for almost anything!!
the modulations great + the reverb & delay not that bad!!
wow!
nice reverb- and delay- sounds...plus tuner etc. it is a steal
6y
over 6 years ago
edited about 3 years ago
Classic Beauty...
This is what I need about my synths who have no any fx, such as NL2.
Good but numeric
Very good but numeric sound
also sometime you mess up pushing a button you should'nt and youre fucked !
Zoom have a reputation for being a bit tacky, but this is really quite good!
This is a surprisingly good-sounding digital multieffects unit offering a range of sounds; not just the 'chorus/reverb/delay' mentioned, but other things too, like pitch-shifting, filtered delays, vinyl crackle, tremolo and triggered machine-gun delays. Effects can be strung together - up to six in theory, but more like 2 or three in practice. Where possible the DSP boffins at Zoom have attempted to recreate and model pedals from other manufacturers, so there's attempts at the BOSS CE-1, the EHX Small Clone, and some of the wackier spatial effects available on the Eventide pedals.
My first impressions are that this is a very useful pedal to have around. Ok - let's be clear. It doesn't sound as good as the dedicated standalone effects boxes it's trying to replicate. But it's not so far off as to be unusable either, and some of the effects - like the amazing 'particle reverb', with its gorgeous swelling atmosphere - are worth the asking price alone. It's a very quiet pedal, and if you pair it up with some more expensive boutique effects (I've been feeding it into pedals by Earthquaker devices and Neunaber), it can help to expand your sound considerably.
A word of warning about the 'shimmer' effect; it's horrid and metallic! Look elsewhere for that.
On the plus side, some of the modulation effects are surprisingly warm for a digital effects box. There's also lots of control parameters within the individual effects; it's great for tweaking stuff.
Once again; don't buy this thinking it's a miracle box that can replace your Strymon Blue Sky. It can't compete with that. But with prices starting at just £75 in some places, this is astonishingly good value for money.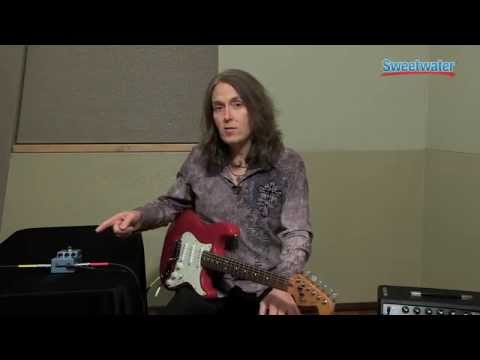 Zoom MS-70CDR MultiStomp Chorus/Delay/Reverb Pedal Demo - Sweetwater Sound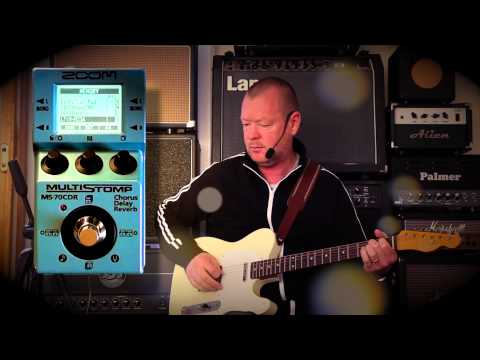 Zoom: MS-70CDR Chorus/Delay/Reverb MultiStomp
Popular Multi Effects Pedals