The total-recall B-CONTROL BCR2000 USB/MIDI Controller combines the unlimited versatility of today's audio software with the feel of real handson controls. With the BCR2000 you can move real high-resolution encoders to control all of your computer... read more
CHECK PRICE ON
Reviews
Trusted musician and artist reviews for Behringer BCR2000 MIDI Controller
4.5
Based on 8 Reviews
The Ultimate MIDI Rotary Knob Encoder Controller
Behringer is one of those companies that you love or hate, ..or both. :-) They make some mediocre stuff, but other things they make are either first-rate, or they can be upgraded to be first-rate, ....all at great (non-expensive) prices. The BCR2000 is one of those devices. It has 32 "totally recall-able and cascadable rotary encoders (knobs) with visual LED rings for setting/status. The unit is big, but the encoders are precise, smooth, and have a good feel to them. There are other controls for MIDI-learn and memory, as well as jacks for foot-controllers, and it also functions as a USB-to-MIDI interface.
The neat thing about the BCR2000 is that it has become a slight standard over the past decade. Other products and software (plug-ins) have already included MIDI-mapping of their own products to this particular controller. I use both SonicProjects "OPX Pro II" and "OPX V-Machine Bundle" Oberheim synth VSTs, and the company has included the programming and mapping to the BCR2000.
Bought to use with Zaquencer
And it does work well but I have had trouble getting my mind completely around this feature filled program. The hardware works perfectly though and I may try it as its intended use as a MIDI controller though it would mean a firmware change. The Zaquencer firmware for this hardware does turn it into a very fully featured sequencer that you would have to pay a lot more than the cost of the unit and the Zaquencer program so I recommend it if you need a sequencer for your MIDI synths.
Any opinions? I usually avoid Behringer products...but if the Duo uses it then maybe...?
One of the greats
if you are doing any midi this could possibly be one of your best controllers. Amazing design and very versatile. There is a whole community online dedicated to modding these bad boys. There is even software to turn it into a midi step sequencer!
I have two of them.
Great customizable controller
I've used the BCR2000 from 2007 to 2015 as controller for NI Traktor (Pro). Never disappointed me. Though the programming is a little bit tricky, once you have it, it's rock solid. Plastic all over, but I've never lost or broken anything!
Funcionalidad total a cambio de un precio rompedor.
Por encima de todo, la BCR2000 de Behringer es útil. Bien construida, knobs bastante suaves y un precio inigualable para sus prestaciones. El único punto negativo es su configuración. Una vez la entiendes, no hay problema. Pero al principio te puede costar bastante. La utilizo para controlar Ableton Live.
Another great piece from behringer
One of the best midi controllers out there. the learn function is super cool and helpful. build quality is fantastic, the led indicators are clever overall a great piece of gear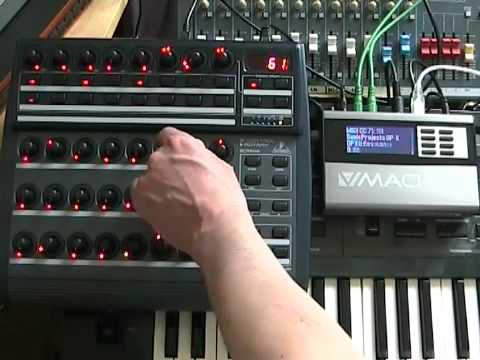 V-Machine: SonicProjects VMB and BCR2000
Description
The total-recall B-CONTROL BCR2000 USB/MIDI Controller combines the unlimited versatility of today's audio software with the feel of real handson controls. With the BCR2000 you can move real high-resolution encoders to control all of your computerbased virtual gear. Want to control your synth, mixer, effects or signal processor with real controls? It's amazingly simple to set up the BCR2000 to help you perform myriad tasks, all of which were never intended to be done with a mouse! the B-CONTROL BCR2000 has 32 supercool rotary encoders for ultra-easy control of your virtual mixers, organ-drawbars, synths and samplers, but it has so many more features that will make this little marvel your go-to USB/MIDI controller – for everything. Full MIDI In/Out/Thru capability and 32 endless rotary encoders, each with a 15-element LED indicator. Eight of these encoders have a special push-to-set function allowing you to select, adjust and control an endless array of functions. Assign a dedicated knob or button to your most frequently used functions and make edits, all without ever touching a mouse. Tweak "front panel" settings by simply turning a knob. It's like having the real knobs for every control on your computer screen. Best of all, you'll discover things you can do with MIDI you never thought of before! Simply connect your B-CONTROL to your computer via USB. Then assign and control MIDI/audio sequencers, software mixers or virtual synths/plug-ins with real knobs and faders – without using your mouse! You'll spend less time clicking around, and more time enjoying your music! The incredible BCR2000 is an innovative control surface with a total of 32 rotary encoders for the ultimate control of virtual synths, samplers, effects and signal processors. How about more intuitively controlling your synth or MIDI expander? With the BCR2000 controller this is reality – intuitive control with a real hands-on feel! Unlike using a mouse, the BCR2000 allows you to make multiple adjustments simultaneously – as many as your fingers will allow.
Total-recall, cascadable desktop MIDI controller with analog feel and intuitive user interface
24 high-resolution encoders with LED rings for ultimate control over virtual mixers, synths, samplers and effects processors
4 virtual groups with 8 dual-mode, high-resolution encoders that feature LED rings and an additional push function
16 + 4 illuminated buttons freely assignable to all types of MIDI functions from note on/off, control change and program change to MMC and system exclusive data
All panel elements freely assignable?manually or via user-friendly learn mode
Two additional multi-function foot switch connectors can be used to address all types of MIDI data
32 user presets each with 4 encoder groups
Configurable MIDI and USB modes for ultra-flexible system integration
1 MIDI In plus 2 MIDI Outs, usable as an additional USB to MIDI interface
Multi-function, 4-digit LED display with real-time parameter indication plus write-in fields for your own labeling
MIDI Input with merge function for cascading several control units
Easy connection to any computer/expander, etc. using standard MIDI In/Out connectors
Generic USB MIDI support with Windows XP* (or higher) and Mac OS X* operating systems
Additional drivers and editor/librarian software available for free download at www.behringer.com