Polyphonic Octave Generator Pedal with Octave Up, Sub Octave, Dry Control, and Compact Housing read more
CHECK PRICE ON
Reviews
Trusted musician and artist reviews for Electro-Harmonix Nano POG Polyphonic Octave Generator
5.0
Based on 5 Reviews
Awesome pedal!
This is next in the chain after my comp. I love octave pedals. They add a whole new dimension to your playing when they're used right. A basic setting that I use with this pedal is I usually have the dry signal all the way up and the octave up at around 2 o'clock and the sub octave at around 10 o'clock. I keep my original signal prominent while having enough octave up to add sparkle to the tone and just enough sub octave to beef it up. I recently had a mod done on this by Matthews effects, so now I essentially have two presets on this thing. Sometimes I want to be able to pull of a Whammy octave up kind of thing, so on the second preset, I have the octave up dimed and the dry and sub knobs completely off. Highly recommend this and the mod by Matthews Effects (you can get one pre-modded of Matthews' website) if you wanna explore different flavors to your tone.
5y
over 5 years ago
edited over 2 years ago
Finally!
Though it doesn't sound exactly as its big brother, EHX says that it has an improved algorithm compared to the Micro POG, I just think that it sounds different), it seems to be a better option for over populated pedalboards due to its practical size.
Electro-Harmonix nano POG
In my opinion there is no sound difference between nano and micro POG.I choose nano because the size.It is a great octaver!
Great Octaver
Pretty Good and small footprint and great Tone both for Acoustic and an Electric Guitar .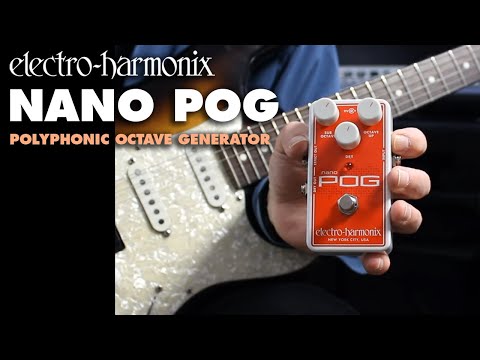 Electro Harmonix Nano POG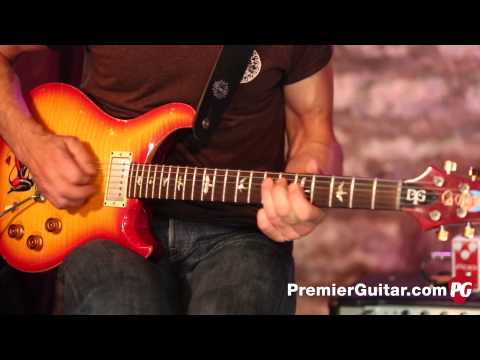 Review Demo - Electro-Harmonix Nano POG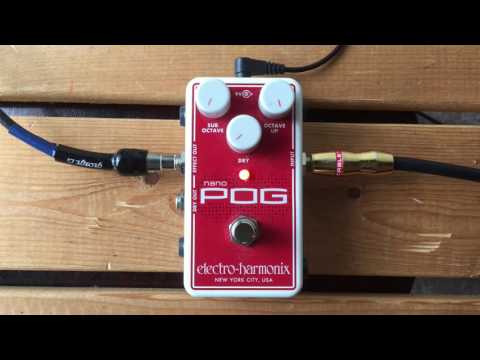 5 Minutes with the Electro-Harmonix Nano Pog - Pedal Demo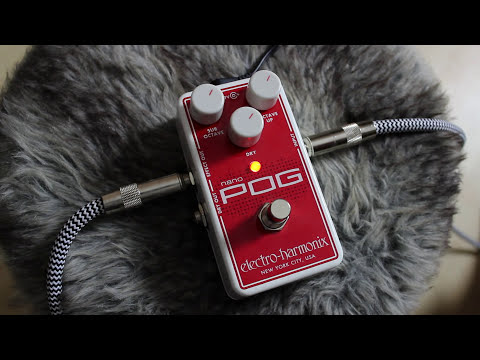 Electro-Harmonix Nano POG | polyphonic octave generator
Description
Polyphonic Octave Generator Pedal with Octave Up, Sub Octave, Dry Control, and Compact Housing
Specifications
Super, space saving design
Tracks chords, sweeps or single notes with no hitches or glitches
Great 12-string guitar sound or turn your guitar into a bass
Amazing organ-like sounds
Adjustable original pitch volume, one octave up volume and one octave down volume
Dry output jack in addition to the effect output jack
Silent footswitching and road worthy die-cast package
EHX 9.6DC-200 power supply included